Updated Jun 19, 2023 -

World
Blinken has "robust conversation" with China's Xi Jinping in Beijing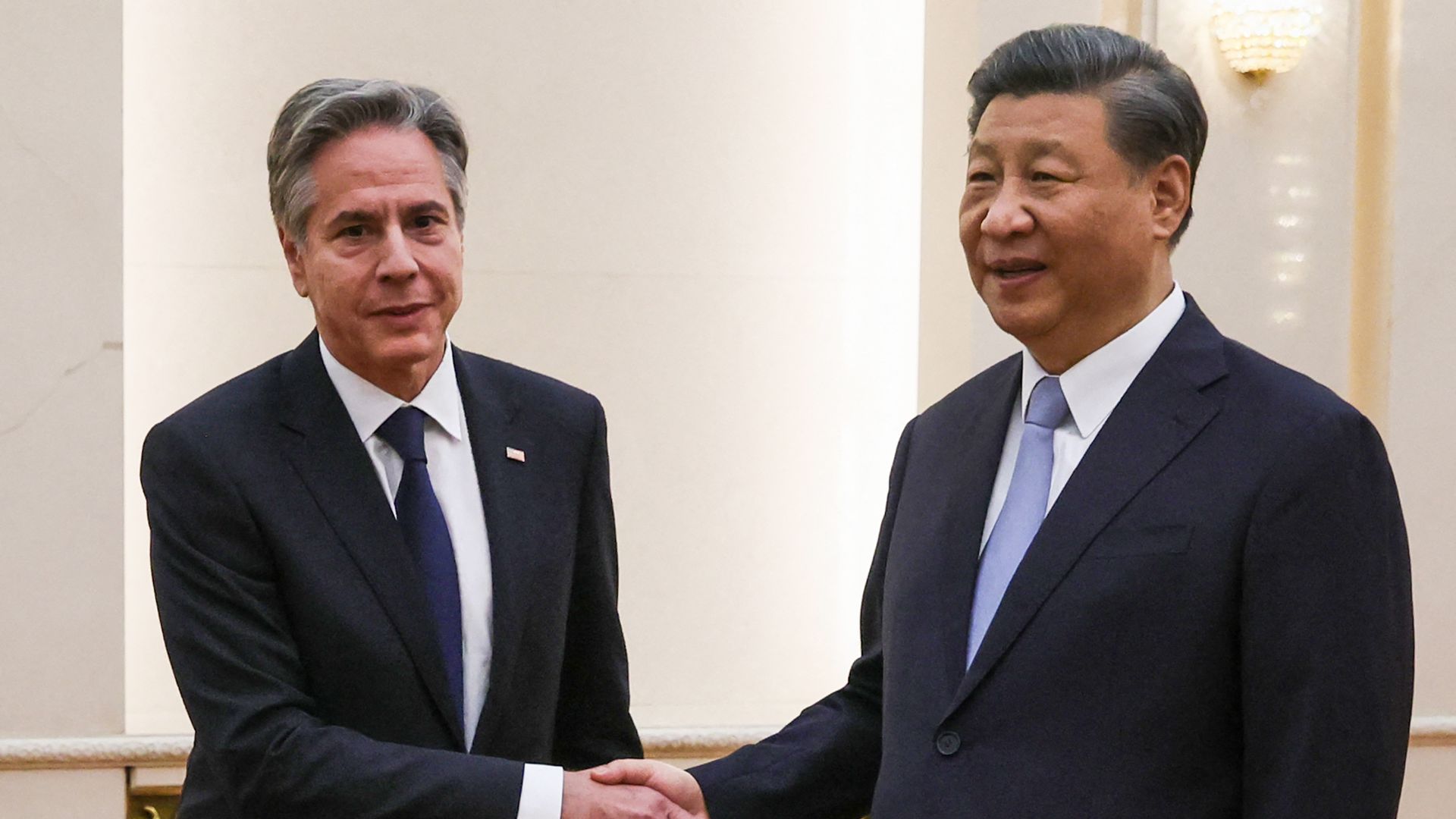 U.S. Secretary of State Antony Blinken told reporters on Monday that he had a "robust conversation" with Chinese President Xi Jinping in a meeting that capped off a two-day visit to Beijing to stabilize strained ties between the two superpowers.
Why it matters: Though fundamental disagreements remain, the consensus on Monday between Blinken, Xi and other Chinese officials to continue high-level discussions going forward is a crucial step towards ensuring that tensions between the two superpowers do not escalate into conflict.
Blinken is the first U.S. secretary of state to visit China in five years and the most senior Biden administration official to make such a trip.
During the visit, Blinken also met with other senior Chinese officials, including Chinese Foreign Minister Qin Gang and China's top diplomat Wang Yi.
What they're saying: In a Monday press briefing with reporters in Beijing, Blinken said Qin agreed to visit Washington D.C. at a "suitable time."
But Blinken said that China did not agree to set up a crisis military-to-military communications channel, which was one of the biggest hopes for the U.S. visit.
"We have no illusions about the challenges of this relationship. There are many issues on which we profoundly and even vehemently disagree," Blinken said. Even so, "the United States has a long history of successfully managing complicated relationships through diplomacy."
Blinken had earlier said in a statement that his talks with Qin were "candid, substantive, and constructive," but he did not mention whether progress was made on key areas of disagreement, including Taiwan, human rights in Xinjiang or trade.
He also told reporters on Monday that the Chinese side agreed to set up a joint working group on narcotics as the U.S. continues to face a fentanyl crisis. China is a major source of illicit fentanyl-related chemicals flowing to the U.S.
Xi told Blinken during their meeting that "China respects U.S. interests and does not seek to challenge or displace the United States," but in "the same vein, the United States needs to respect China and must not hurt China's legitimate rights and interests," according to a readout released by the Chinese government.
Flashback: Blinken postponed what would have been his first trip to China in February amid a diplomatic dispute over a Chinese spy balloon in the skies over the U.S.
Since then, CIA Director Bill Burns and national security adviser Jake Sullivan have both met senior Chinese officials, though China's defense minister declined to meet his U.S. counterpart when they were both in Singapore earlier this month.
Go deeper: Listen to the Axios Today podcast, where host Niala Boodhoo shares more details about the meeting between Secretary of State Antony Blinken and Chinese President Xi Jinping in Beijing.
Editor's note: This article and headline have been updated with additional details.
Go deeper