Blinken meets senior Chinese officials in Beijing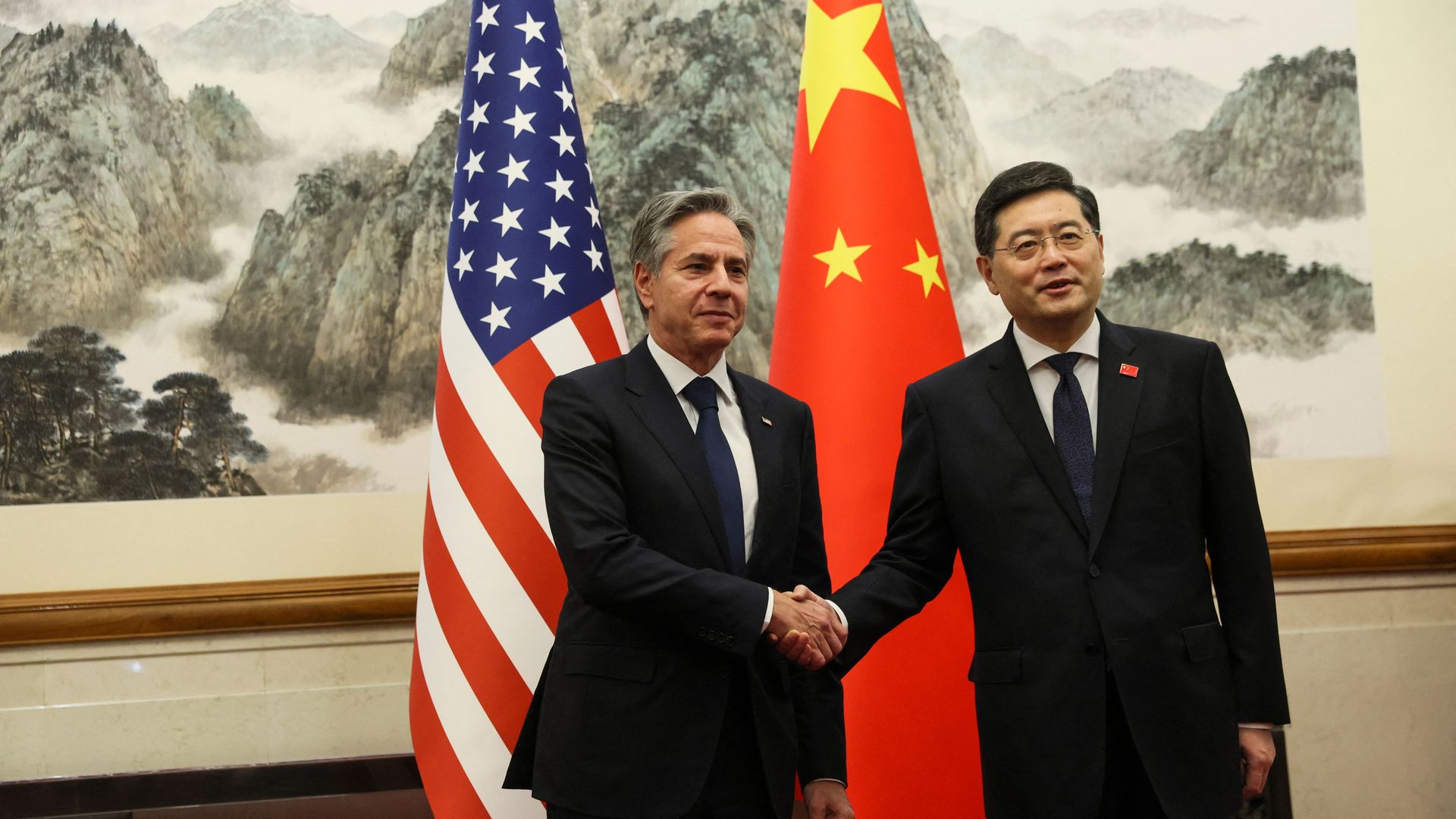 U.S. Secretary of State Antony Blinken met today with senior Chinese officials in Beijing, as the U.S. and China try to reduce tensions in their bilateral relationship, which is at its lowest point in decades.
Why it matters: Blinken is the first U.S. secretary of state to visit China in five years, and the most senior Biden administration official to make the trip. It comes as part of an effort to stabilize ties and restore normal channels of communication.
What to watch: U.S. officials would not saying prior to the trip whether Blinken would meet with Chinese President Xi Jinping, and Chinese officials haven't said whether Xi would be willing to meet him.
Xi did meet business leaders including Bill Gates in recent days, so it would further reinforce the negative state of relations if Xi didn't make time to see Blinken.
Details: Blinken met Sunday with Chinese foreign minister Qin Gang and is scheduled to meet with top diplomat Wang Yi on Monday. Expectations ahead of the visit were low on both sides.
"We're not going to Beijing with the intent of having some sort of breakthrough or transformation in the way that we deal with one another," Assistant Secretary of State for East Asian and Pacific Affairs Daniel Krittenbrink said in a press briefing last week. The goal is "to manage our competition in the most responsible way possible."
"Since the beginning of this year, China-U.S. relations have encountered new difficulties and challenges, and it is very clear who is to blame," Chinese Foreign Minister Qin Gang told Blinken in a phone call last week, according to the Chinese Foreign Ministry readout of the call.
Qin called on the U.S. to "stop undermining China's sovereignty, security, and development interests in the name of competition."
Between the lines: A fundamental problem is the U.S. and China have different visions for how to responsibly manage competition, Amanda Hsiao, senior China analyst at International Crisis Group, told Axios.
"Washington seeks to lower the risks of competition by establishing clearer guardrails and identifying areas of cooperation," Hsiao said. "Beijing however does not want to make competition easier for Washington by lowering its costs; it seeks to reduce the pressures it is facing from the U.S. and its allies by making clear the attendant risks."
It's unlikely a visit can resolve this mismatch in goals, but it can at the very least help lower the risk of miscalculation and conflict, she added.
Flashback: Blinken postponed what would have been his first trip to China in February amid a diplomatic dispute over a Chinese spy balloon in the skies over the U.S.
Since then, CIA Director Bill Burns and national security adviser Jake Sullivan have both met senior Chinese officials, though China's defense minister declined to meet his U.S. counterpart when they were both in Singapore earlier this month.
Go deeper