U.S.-China tensions dominated Singapore security dialogue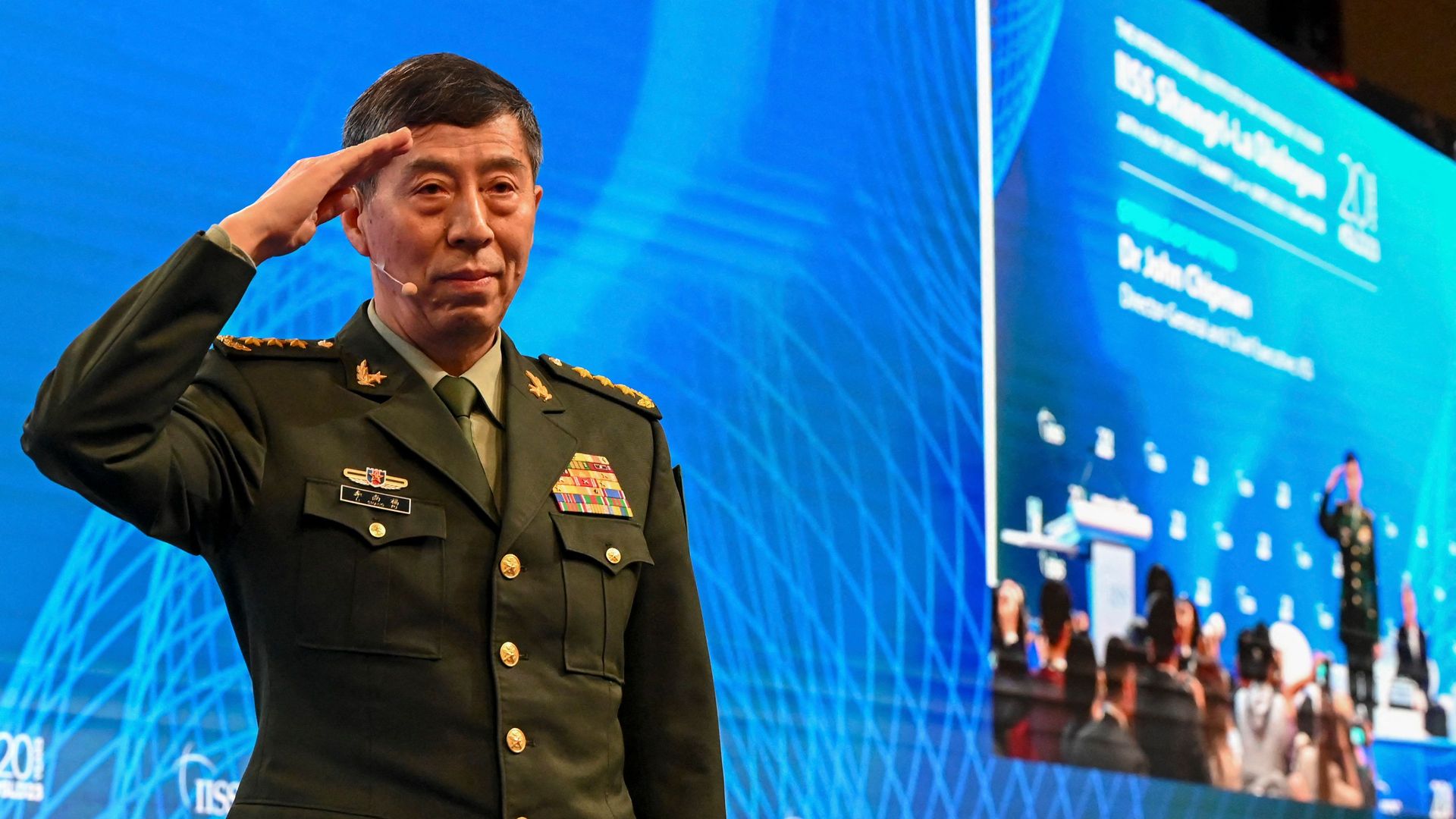 Tensions between the U.S. and China dominated an annual defense summit in Singapore over the weekend.
Driving the news: A tense encounter between U.S. and Chinese military planes occurred last week over the South China Sea, and during the summit, U.S. and Chinese naval vessels nearly collided in the Taiwan Strait, adding to the tensions.
What's happening: General Li Shangfu, China's defense minister, refused to meet with U.S. Defense Secretary Lloyd Austin, who had requested a meeting. The two defense chiefs traded criticisms in their speeches, though both also stated an overarching desire to avoid war.
"A cold war mentality is now resurgent, greatly increasing security risks," Li said. "A severe conflict or confrontation between China and the U.S. will be an unbearable disaster for the world."
"Make no mistake: Conflict in the Taiwan Strait would be devastating," Austin said. "Conflict is neither imminent nor inevitable. Deterrence is strong today — and it's our job to keep it that way."
The big picture: The U.S. has been trying to stabilize its relationship with Beijing and reestablish channels of communication after the U.S. military shot down a Chinese spy balloon that had traversed the continental U.S., an incident that pushed bilateral relations to a new low.
Assistant secretary of state for East Asian and Pacific Affairs Daniel Kritenbrink and NSC senior director for China and Taiwan Affairs Sarah Beran visited Beijing this week. Their meetings with Chinese counterparts were "productive" and "candid," the State Department said.
CIA director Bills Burns made an unannounced trip to China last month.
Between the lines: Chinese officials suggested U.S. sanctions on Li contributed to China's refusal to accept a meeting with Lloyd. The Trump administration sanctioned Li in 2018, before he became defense minister, for his role in acquiring Russian arms.
"If the United States says it wants to communicate while suppressing and containing China by any means and imposing sanctions on Chinese officials, institutions and enterprises, what is the sincerity and meaning of such communication?" Chinese Foreign Affairs Ministry spokesperson Mao Ning said late last month.
The U.S. said that the sanctions do not preclude meetings between Li and U.S. officials.
This year marked the 20th Shangri-La Dialogue, and "it was supposed to be a milestone," Jingdong Yuan, a professor at the University of Sydney who researches Asia-Pacific security, told Axios.
The dialogue was founded as "a platform so that major powers could engage in conversation to develop some sort of security architecture," Yuan said.
"But this did not happen at this dialogue. So it's a missed opportunity."
Go deeper