Thousands of dead fish wash ashore along Texas Gulf Coast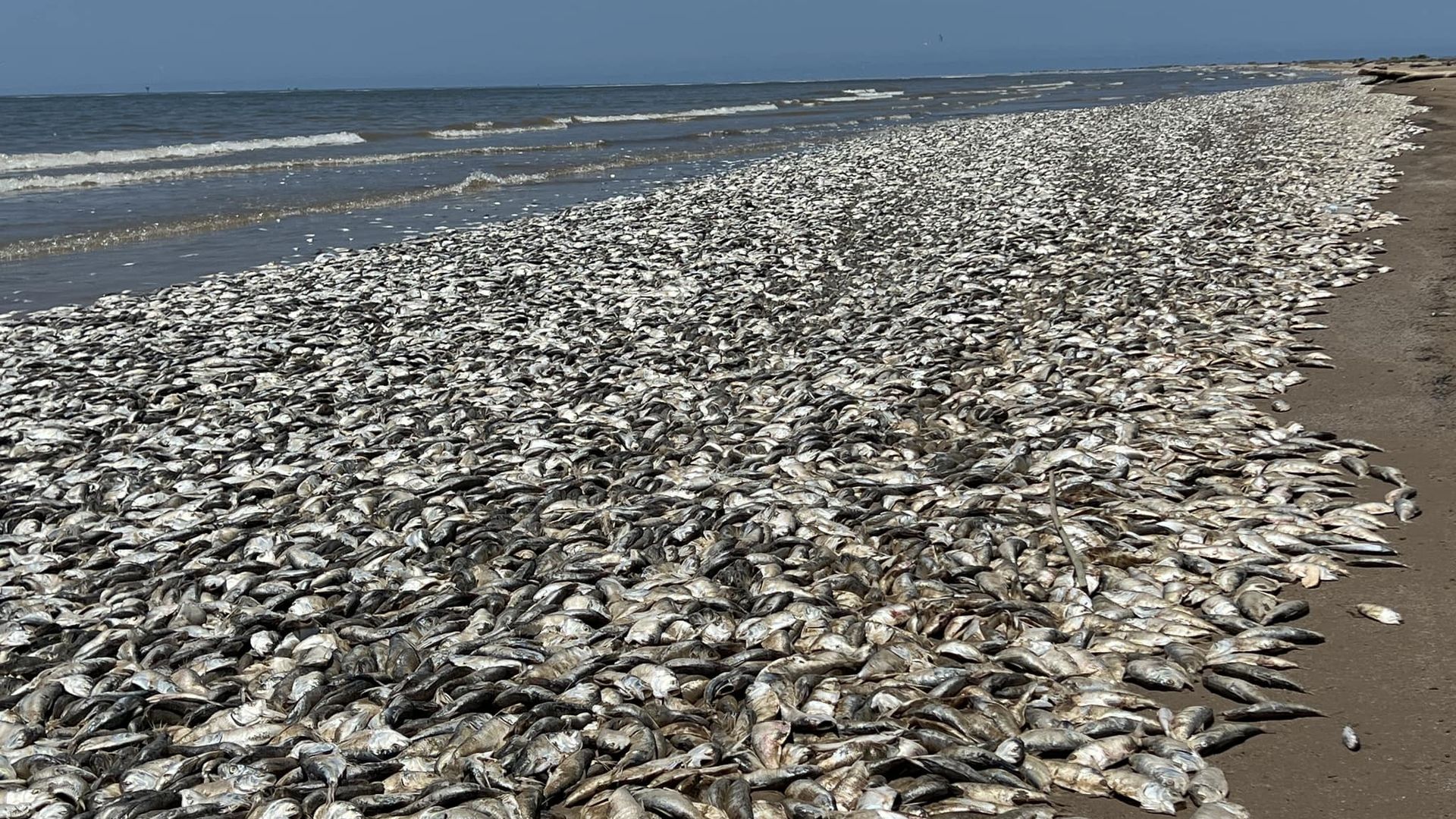 Texas officials have scrambled to respond to thousands of dead fish washing up along the Gulf Coast over the weekend.
Driving the news: Cleanup efforts at Quintana Beach in Brazoria County have been under way since the event began on Friday, when the temperature there hit 92 degrees Fahrenheit.
Investigators have determined the fish kill was "caused by a low dissolved oxygen event," per a statement from the Texas Parks and Wildlife Kills and Spills Team included in a Facebook post from the Quintana Beach County Park.
"The species most impacted was Gulf menhaden. Fish kills like this are common in the summer when temperatures increase. If there isn't enough oxygen in the water, fish can't 'breathe.' Low dissolved oxygen in many cases is a natural occurrence."
Of note: "Gulf menhaden have the largest fishery yield in the Gulf of Mexico and support the second largest fishery by weight in the United States," according to the National Oceanic and Atmospheric Administration.
Between the lines: Katie St. Clair, the sea life facility manager at Texas A&M University at Galveston, said Gulf Coast waters that are warming through climate change may have been a contributing factor to the event, per the New York Times.
"As we see increased water temperatures, certainly this could lead to more of these events occurring, especially in our shallow, near-shore or inshore environments," St. Clair told the NYT Sunday.
Zoom in: The North Atlantic basin, which includes the Gulf, is experiencing record warm for this time of year, Axios' Andrew Freedman notes.
The Gulf waters are unusually warm for this time of year, but the most anomalously warm waters are in the "Main Development Region" of the Atlantic and the northeast Atlantic, per Freedman.
Hurricane forecasters and climate scientists alike are worried about this.
Zoom out: The pedestrian beach was "cleared with the exception of a spattering of fish that the machinery couldn't get" as of Sunday afternoon, per the Quintana Beach County Park Facebook post.
"High tides over the next couple of days should sift the rest down into the sand and bury them."
Go deeper