Experimental Alzheimer's drug endorsed for full approval by FDA advisers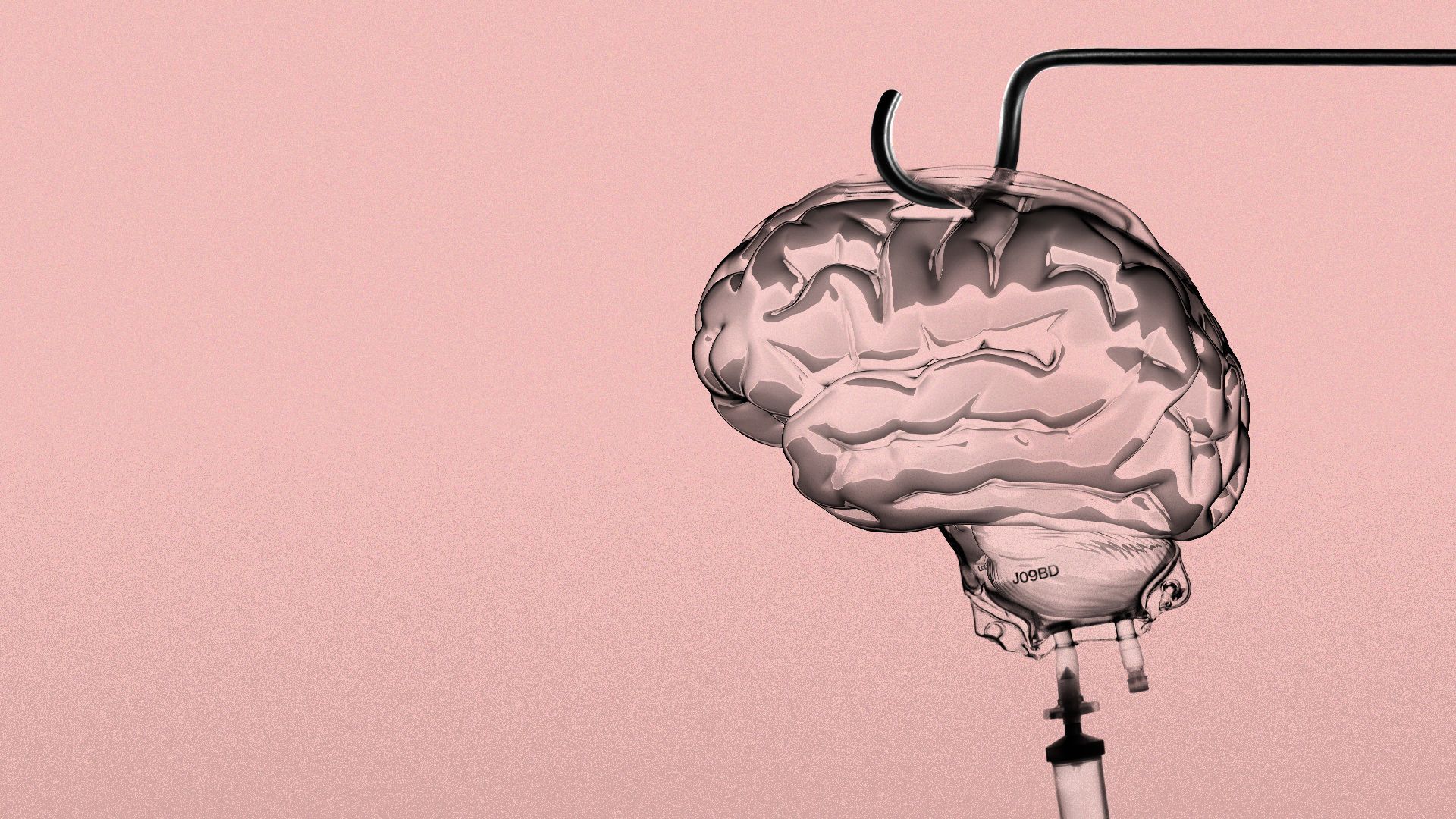 A panel of Food and Drug Administration advisers on Friday unanimously endorsed an experimental Alzheimer's drug that's been shown to have modest success slowing the progression of the disease, clearing a hurdle for full agency approval.
Why it matters: Eisai and Biogen's Leqembi was found to delay cognitive decline by 27% over 18 months, but it has been plagued by safety concerns following three patient deaths during clinical trials.
Context: FDA staff said in briefing documents earlier this week that the safety concerns "do not appear to preclude traditional approval," though they could not rule out the drug's role in the deaths.
There are also potential risks of brain swelling and brain bleeding among people who take the treatment.
How it works: Leqembi targets proteins in the brain known as amyloid plaques that are believed to contribute to the development of Alzheimer's. FDA staff expressed support for this so-called "amyloid hypothesis."
Details: In a unanimous vote, the advisers said that there was a clinical benefit of Leqembi for the treatment of Alzheimer's.
"There seems to be strong support that the [clinical trials] demonstrate the clinical benefit of lecanemab," said Robert Alexander, acting chair of the FDA's Peripheral and Central Nervous System Drugs Advisory Committee.
Colette Johnston, one of the advisers, said some groups of patients will have more concerns that should be addressed with their physicians, but the overall risk-benefit was "very positive."
What they're saying: Eisai and Biogen celebrated the endorsement, saying in a joint statement the companies were "pleased with today's outcome and the progress it represents for the Alzheimer's disease community."
"We look forward to our discussions with the FDA as it continues its review" of the drug's application, the companies said.
The big picture: Leqembi could become the first treatment of its kind to receive traditional approval from the FDA, which is expected to make a final decision by early July.
While drugs that treat specific symptoms of the disease have been authorized, Leqembi would be "the first disease-modifying agent for Alzheimer's disease" to be fully approved by the agency, said Howard Fillit, co-founder and chief science officer of the Alzheimer's Drug Discovery Foundation.
Yes, but: While the decision is a "tremendous breakthrough," the ultimate goal is not to just slow Alzheimer's, but to completely stop the disease, Fillit told Axios.
"To do that, we're going to need combination therapy" that targets different aspects of the disease, he said.
State of play: While FDA staff did not raise any specific concerns around Leqembi, they urged the advisory committee to discuss the risk of serious side effects associated with the drug in patients that have cerebral amyloid angiopathy (CAA), which can be difficult to diagnose.
Staff said that individuals with "MRI findings consistent with CAA" were not enrolled in Leqembi's clinical trials, but the condition is common among Alzheimer's patients. It's possible that some patients who have it potentially undetected might have taken the treatment and it's not yet understood if the drug's benefits outweigh its risks for this population.
While advisers said that they would not advocate to exclude patients with CAA pathology from the treatment, some said that there is a need for more data to understand the risk for people in this group.
Michael Gold, a non-voting member of the committee, suggested that health providers would be able to make a decision on whether their patients should take the drug if they are diagnosed with CAA.
Zoom in: Some advisers said that some patients with conditions that could make them more likely to suffer from a safety risk should not take the drug.
FDA staff said during the meeting the risks should always be discussed between the patient and their health provider.
"We want prescribers to be aware of the risk, but we also want to encourage good clinical judgment on an individual assessment level of a patient," said Teresa Buracchio, acting director of the FDA's Office of Neuroscience.
Catch up fast: The FDA granted accelerated approval for Leqembi in January, becoming the second Alzheimer's drug to receive any kind of FDA authorization.
Biogen's Aduhelm is the only other similar treatment to receive accelerated approval, despite strong objections from the FDA's own advisory panel over the lack of evidence that the drug actually works.
Between the lines: Full approval for Leqembi would speed the way for the Centers for Medicare and Medicaid Services to expand coverage for drugs that show Alzheimer's progression.
Currently, CMS limits coverage to patients enrolled in clinical trials. This would change if the FDA grants traditional approval, expanding coverage to beneficiaries in Medicare Part B if the prescribing physician agrees to collect, and share with CMS, data about the drug's performance.
Don't forget: Over six million people are living with Alzheimer's in the U.S., and the number is expected to increase to more than double by 2050, according to the Alzheimer's Association.
Editor's note: This story has been updated with additional details.
Go deeper