Scoop: Senator Hawley enters the AI chat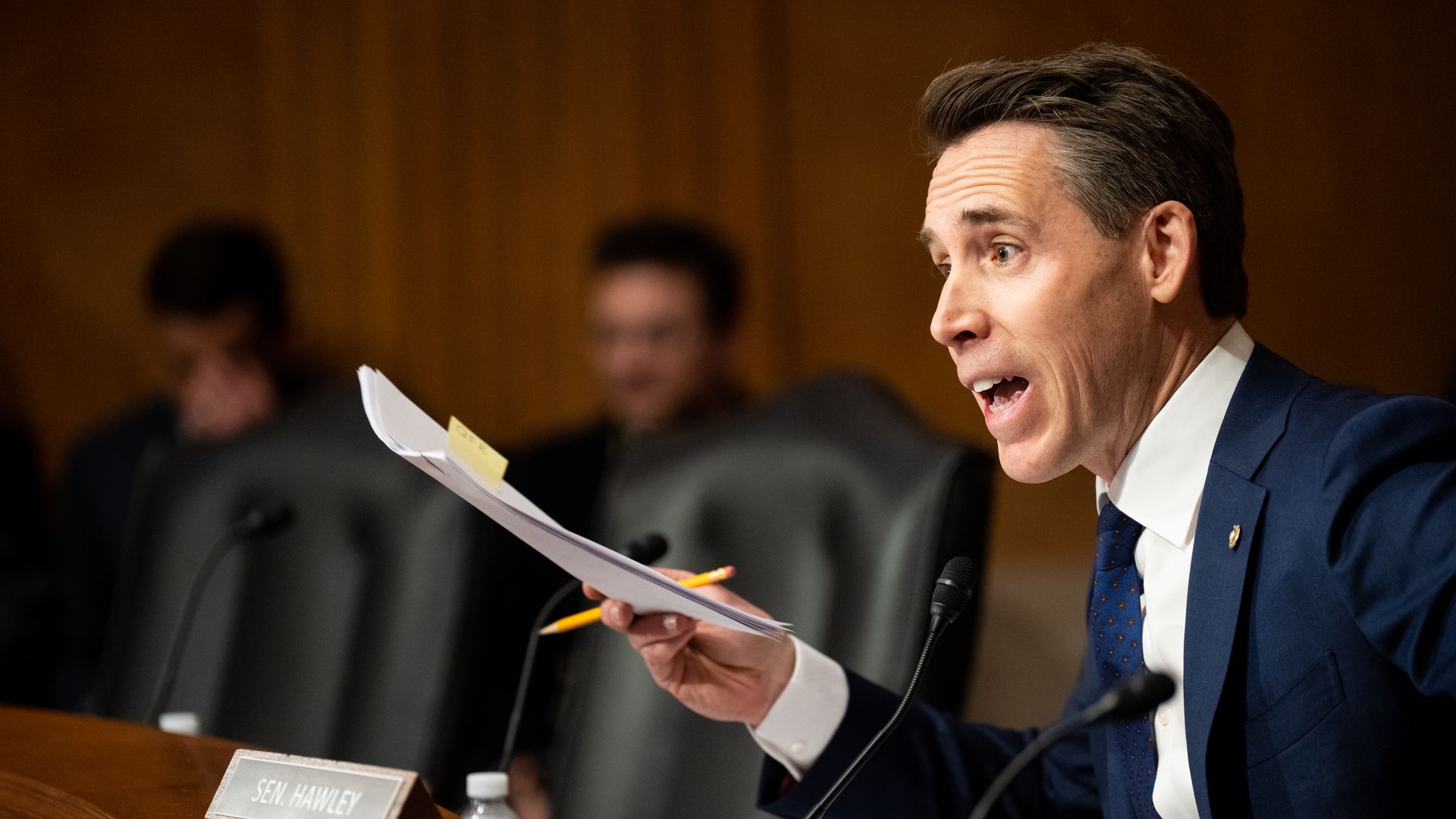 Sen. Josh Hawley (R-Mo.) is looking to use his perch atop a panel that oversees technology to shape the emerging discussion in Congress around regulating artificial intelligence, Axios has learned.
Why it matters: The issue represents a rare opportunity for Congress to try to tackle a major issue in a bipartisan way as lawmakers display growing interest in legislation to govern AI.
Hawley, a right-wing populist who is ranking member of the Judiciary Subcommittee on Privacy, Technology and the Law, has enjoyed unusual alignment with liberal Sen. Richard Blumenthal (D-Conn.), the subcommittee chair.
The details: Hawley is unveiling, and circulating to colleagues, a framework for AI legislation focused on corporate guardrails. The five principles in the outline, according to a document viewed by Axios, are:
Creating a legal avenue for individuals to sue companies over harm caused by AI models.
Imposing stiff fines for AI models collecting sensitive personal data without consent.
Restricting companies from making AI technology available to children or advertising it to them.
Banning the import of AI-related technology from China and prohibiting American companies from assisting China's development of AI.
Requiring licenses to create generative AI models.
What he's saying: Any AI legislation, Hawley told Axios in an interview, is "going to need to need to move through the Judiciary Committee, it's going to need to move through our [sub]committee."
"Looking at different pieces of this is going to be important, and so that's why I think we absolutely need to make sure that individuals have real power here," he said, noting the power of AI will likely be "in the hands of corporations and governments."
Hawley argued Congress should "move with all deliberate speed" before development of the powerful technology — along with potential industry efforts to oppose new rules — puts effective government action out of reach.
"I think it's time to start moving toward legislation, and ... finding areas where we can agree on," he said, expressing optimism that bipartisan consensus is possible.
The big picture: Hawley is the latest in a series of lawmakers in both parties trying to put their imprint on what could be sprawling bipartisan regulatory legislation.
Senate Majority Leader Chuck Schumer (D-N.Y.) and Sens. Martin Heinrich (D-N.M.), Mike Rounds (R-S.D.) and Todd Young (R-Ind.) have formed a working group to explore potential legislation.
Several House members have also introduced legislation they hope will either pass individually or be grafted onto a broader package — most recently, Rep. Ritchie Torres' (D-N.Y.) bill to require a disclaimer on generative AI outputs.
Yes, but: Similar efforts to regulate social media with a private right of action, consent rules for personal data, and age limits have so far failed under the weight of aggressive lobbying campaigns.
Hawley said he is "very concerned" about a repeat of that dynamic: "I think that's absolutely where we're headed ... where these very powerful, very rich, very influential corporations will begin to circle the wagons."
He also pointed to the lack of social media legislation under Schumer, calling the majority leader's interest in AI "encouraging" for getting a bill on the floor, but "skepticism is merited given his track record."
Unlike with the push for social media regulations, Schumer plans to release his own AI legislation.
What we're watching: Hawley signaled more to come with Blumenthal, telling Axios: "I would look for some significant, bipartisan action from the two of us soon."
Go deeper