Bipartisan Senate group looks to tackle AI legislation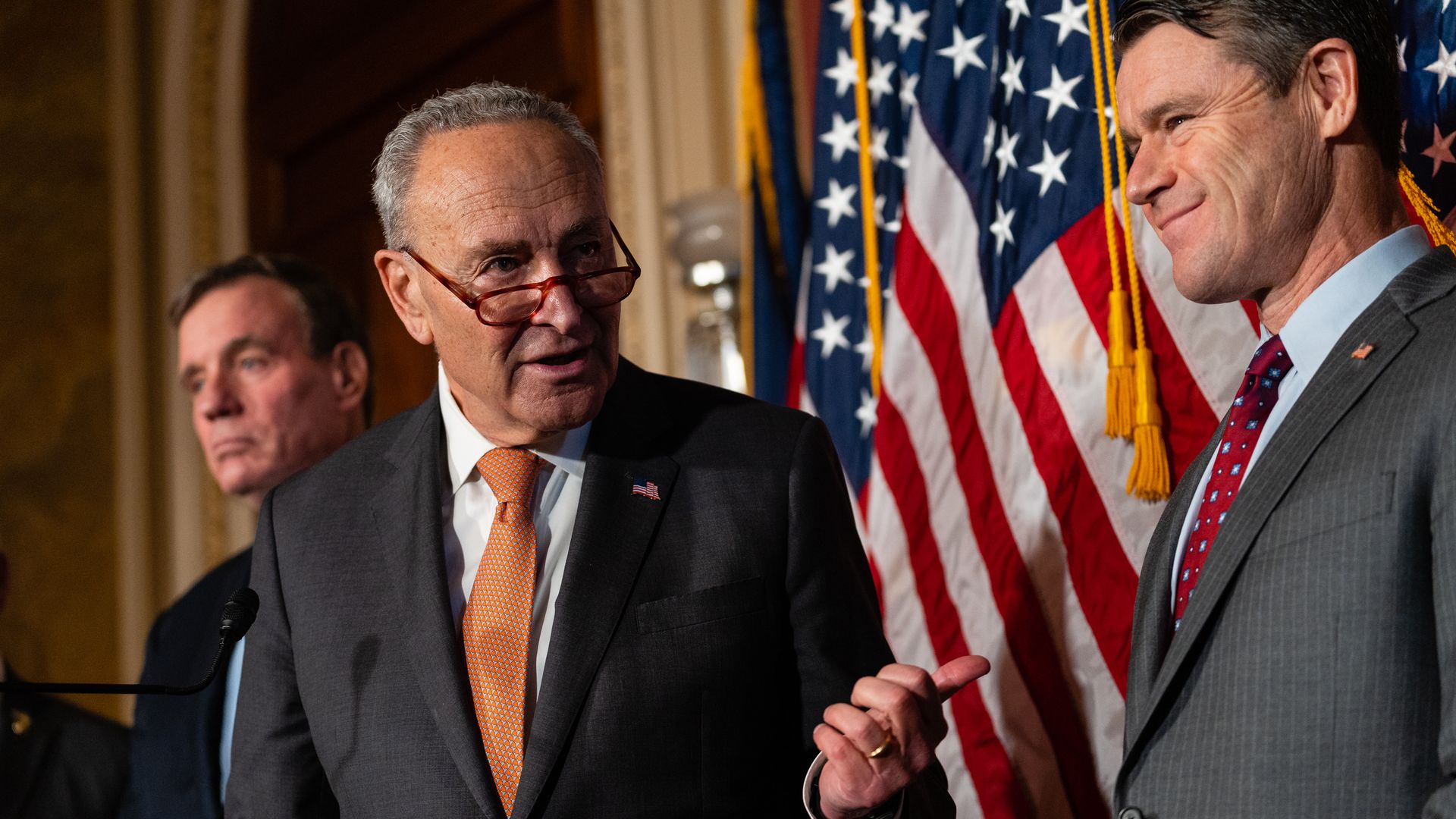 A bipartisan group of senators is working on regulation for artificial intelligence as lawmakers consider the best avenue for passing legislation.
Driving the news: The effort is part of a growing fervor on Capitol Hill about understanding and regulating the rapidly evolving technology.
Driving the news: Senate Majority Leader Chuck Schumer (D-N.Y.) on Wednesday met with Senators Mike Rounds (R-S.D.), Todd Young (R-Ind.), and Martin Heinrich (D-N.M.) about crafting a comprehensive AI bill, a source familiar with the meeting told Axios.
Rounds said the group is "not taking ownership of the concept," but simply "providing an avenue for lots of different avenues to coalesce."
"We have to start some place, recognizing that it is here today, it is not going away," he said, "Let's get ahead of this, rather than trying to react after it's already ... full speed ahead."
The backdrop: Bipartisan Senate groups have proven a potent launchpad for legislation in recent years, from infrastructure to COVID aid to election reform.
Those groups are crucial because of the 60 votes needed to bypass the legislative filibuster.
Young told Axios that, in addition to speaking with experts, the group is "identifying how we can pull more colleagues in."
What they're saying: In Senate floor remarks on Thursday, Schumer said he thinks Congress' approach to AI must be fast-moving and regulatory efforts must be bipartisan.
"We can't move so fast that we do flawed legislation, but there is no time for waste, or delay, or sitting back. We got to move fast."
Between the lines: Some lawmakers argue that urgent concerns — like the use of AI in political ads or the role of AI in nuclear-weapons decisions — mean Congress should act fast with specific measures. Others want to craft a comprehensive regulatory framework to establish a common ground where U.S. companies can innovate and compete.
What they're saying: Senate group members said they plan to solicit suggestions from across the caucus, with Rounds floating the idea of a wide-ranging bill similar to the National Defense Authorization Act.
"This is going to be complicated stuff," said Heinrich. "We're talking to all of our colleagues and we're asking for ideas."
Rep. Don Beyer (D-Va.), who is sponsoring a bill to restrict the use of AI in the nuclear launch process, told Axios he believes a piecemeal legislative approach is more likely.
"I don't think it will be one bill... I'm sure that there'll be bills on bias, bills on privacy protection, a bill on interpretability," Beyer said. "Big comprehensive bills, they're really hard to pass."
The big picture: OpenAI CEO Sam Altman this week testified before a Senate panel and participated in two briefings with House members, one of which included speaker Kevin McCarthy and minority leader Hakeem Jeffries.
BSA, a trade group of software companies, held meetings with senators and House members this week to push for rules on high-risk AI uses and to focus on issues such as bias and discrimination.
Lawmakers were receptive to the industry's desire to avoid a patchwork of AI regulations similar to what has happened with privacy, BSA board chair Scott Morgan told Axios.
Further reading: Schumer lays groundwork for Congress to regulate AI
Go deeper