Bipartisan Senate group releases $1 trillion infrastructure bill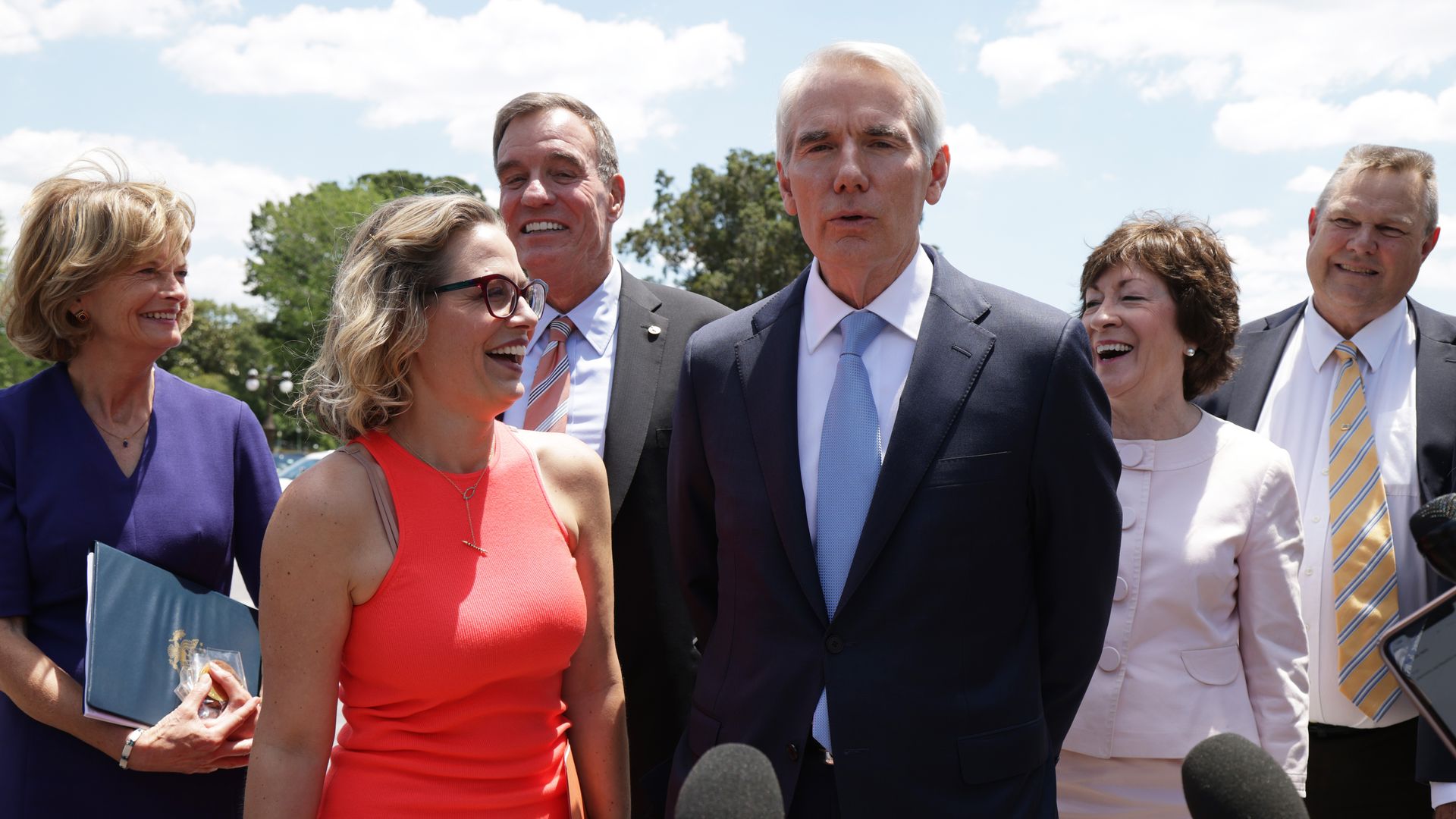 A bipartisan group of senators released full legislative text for their roughly $1 trillion "hard" infrastructure bill late Sunday night, setting it up for debate on the floor this week.
Why it matters: Senate Majority Leader Chuck Schumer (D-N.Y.) kept senators in town for a rare legislative weekend in order to formally begin debate on the 2,702-page bill. Now the Senate can begin a potentially days-long amendment process before a final vote as early as this week.
The bill needs 60 votes to advance in the Senate.
What they're saying: Schumer touted the bill during floor remarks at 9:30pm on Sunday, noting that it has been decades since Congress passed "such a significant, stand-alone investment."
Schumer also made clear that as soon as the Senate finishes its work on this bill, he plans to immediately move forward with Democrats' $3.5 trillion budget resolution.
Schumer has stated for weeks that he wants the Senate to pass both bills before breaking for their August recess, which is scheduled to begin at the end of this week.
As of now it looks like senators will be kept in town for several days longer to complete this work and meet Schumer's deadline.
Details: Last week, the group of five Democratic and five GOP senators announced they had finalized an agreement and released an outline of key provisions in the bill, which offers $550 billion in new spending and will be fully paid for.
They then spent the latter half of the week and the weekend completing the bill text and making additional edits.
Sens. Tom Carper (D-Del.) and Shelley Moore Capito (R-W.V.), chairman and ranking member of the Senate Environment and Public Works committee, will manage the debate on the floor this week.
Go deeper: Read the bill.
Editor's note: This article has been updated with new details throughout.
Go deeper