Coinbase, Binance suits a "big step" in SEC's crypto crackdown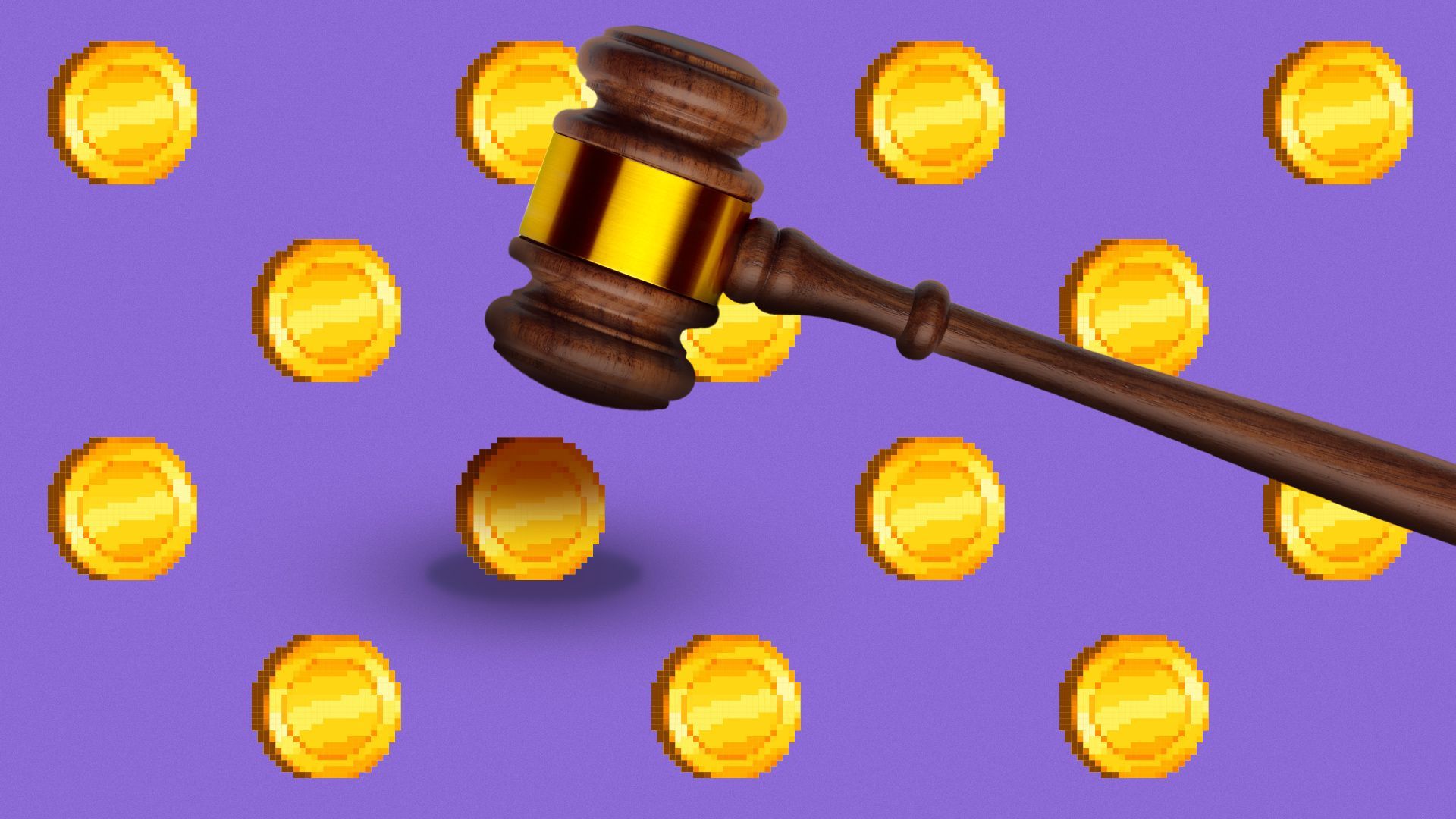 Big examples make a big point.
Why it matters: The U.S. securities regulator's pair of suits this week against crypto exchanges Binance and Coinbase punctuates the steady drumbeat of enforcement action levied at the industry with the bang of a gong.
"It's a big step for the SEC," Jeremy Senderowicz, a lawyer at Vedder Price, says of the case against Coinbase, the largest exchange in the U.S. "This is where they take the most detailed position, with analyses as to why those tokens are securities."
State of play: Much of what the crypto industry has to offer has now been addressed through the spread of enforcement actions on companies like Kraken, Gemini with Genesis, Terraform, and Bittrex.
The SEC has covered a range of allegations of securities laws violations from the way platforms list tokens, offer staking services, lend or strike lending agreements with their partners, plus straight-up fraud.
The list of tokens alleged to be securities across the SEC's lawsuits also covers the big ones — Cardano, Solana, and Polygon's MATIC — representing billions in market capitalization.
The big picture: This week's lawsuits "will make every U.S. exchange fearful of the assets they have," Clara Medalie, Kaiko's director of research, tells Axios, saying Coinbase's exchange is similar to others in the U.S.
"The Binance suit lists BUSD as unlicensed security, how is that different from Tether's and Circle's?" she says, referring to Binance's namesake stablecoin.
A spokesperson for Circle maintained that its stablecoin, USDC, is not a security.
The other side: The suit was "disappointing," "not surprising," and Coinbase intends to make its own case in court, legal counsel Paul Grewal tells Axios. "We are confident that the SEC has simply got it wrong."
Separately, "unwarranted" is what Binance.US called the SEC's motion to freeze the exchange's assets — the latest development in that thread. It also said that "user assets remain safe and secure" on the platform.
Binance, and founder Changpeng "CZ" Zhao, who is also named in the SEC's suit against the company, said they would fight their suit too.
Zoom out: These cases may take months to years to resolve by the looks of others.
And precedent-setting cases like Brad Garlinghouse's Ripple and the SEC might help ease any tension among the smaller crypto firms bracing for their own penalties.
Compliance costs are rising, and even remediating enforcement action, less fighting it, would take substantial resources.
What we're watching: If the SEC is following a thread, it'll go after a comparable firm over similar issues, but if the regulator is trying to go big one more time, perhaps it'll pursue a case against a stablecoin issuer.
Paxos — previously the issuer of Binance's BUSD — received a Wells Notice in February.
Paxos has not received formal regulatory action from the SEC since the Wells Notice, according to a spokesperson for the firm.
Yes, but: Maybe it will be all downhill from here.
"This is standard operating procedure. The SEC historically goes after bigger and bigger targets as they get comfortable," Matt Hougan, chief investment officer of Bitwise Asset Management, says. "Though, there is no way to know."
The bottom line: As the majors make their cases in court, what lines can be crossed, and which shouldn't be, will be made plain to those smaller crypto companies down the chain.
Go deeper