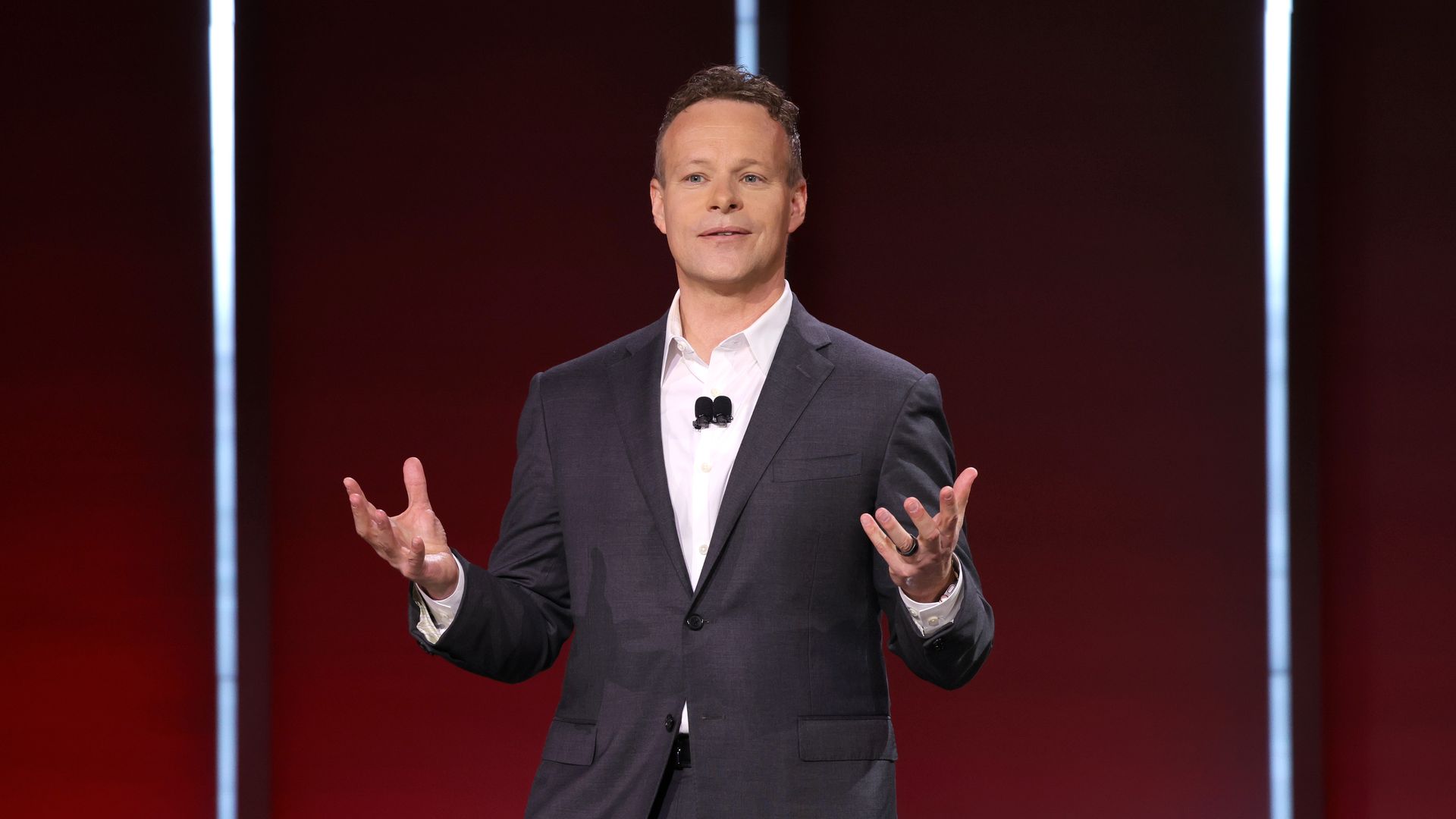 Chris Licht, the embattled CEO of CNN, is out at the company after 13 months, he confirmed to Axios on Wednesday.
Why it matters: Licht's leadership became untenable following a damning profile about him published by The Atlantic last week.
The day before the story was published, Warner Bros. Discovery executive David Leavy — a longtime confidant of CEO David Zaslav — was named chief operating officer of CNN, forecasting a leadership shakeup.
Details: Zaslav formally announced the news of Licht's upcoming departure on CNN's 9am editorial call Wednesday, and took full responsibility for Licht's failed tenure.
"For a number of reasons, things didn't work out, and that's unfortunate," Zaslav said. "It's really unfortunate. And ultimately, that's on me. And I take full responsibility for that."
Zaslav spoke highly of Licht, saying: "I've known him for over 15 years ... I have enormous respect for him personally and professionally."
"Chris pours his heart and soul into this show," Zaslav said. "Like all of you, he was in the line of fire and he's taken a lot of hits. We appreciate his efforts. His love for journalism and his love for this. And we wish him every success and all the best."
Between the lines: Zaslav said the search for a new CEO is underway, and will evaluate both internal and external candidates.
He named Amy Entelis, CNN's executive vice president for talent and content development, Virginia Moseley, CNN's executive vice president of editorial and Eric Sherling, CNN's executive vice president of U.S. programming, as interim editorial leaders.
Leavy will continue to manage business-side operations as COO.
CNN PR chief Kris Coratti, who was brought in by Licht in July 2022, is officially out at the company, as is longtime CNN spokesperson Matt Dornic, two sources confirmed to Axios.
State of play: More than 800 people joined Wednesday's call, a source on the call said, which is more than double the number that typically joins.
Zaslav, who appeared to be reading his remarks from a prepared script, opened the call in a conference room in New York. He was joined by Leavy, Entelis, Moseley and a few other CNN executives, such as Jim Murphy, Athan Stephanopoulos and Ryan Kadro.
Licht was not in the room and did not deliver any remarks on the call. The call shifted to its normal editorial updates after Zaslav's remarks.
The news of Licht's planned departure was first reported by Puck.
The big picture: Licht joined CNN in May 2022, replacing longtime network boss Jeff Zucker, who resigned in the wake of a relationship with a longtime senior colleague that he failed to disclose.
Zucker had reportedly been trying to obsessively knife Licht. That tension was made palpable in The Atlantic's profile of Licht.
Be smart: Licht joined CNN at a chaotic time, but his efforts to turn the network around ultimately failed to drive ratings and drive credibility within its newsroom.
Weeks before Licht started, Warner Bros. Discovery executives shut down CNN+, an expensive and expansive new streaming service launched by Zucker and his team.
Licht, facing a brutal ad market and depreciated ratings, announced lay-offs late last year. Sources inside the company said Licht failed to deliver the kind of empathy and personal touch needed to couch some of the blows of those tough decisions.
Be smart: Licht was tasked with helping to drive CNN's editorial operations in a direction that was less focused on opinion and more heavily focused on reporting. As Axios has reported, he personally lobbied lawmakers from both parties to go on air.
One of Licht's biggest moves, as part of the effort, was to remove Don Lemon as CNN's 9pm primetime host and place him on CNN's new morning show, CNN This Morning, alongside veteran anchor Poppy Harlow and former White House correspondent Kaitlan Collins.
But Lemon's bombastic personality ultimately didn't work for the show, which didn't rate well with audiences. Tensions between the hosts, coupled with small blunders on Lemon's end, led Licht to fire Lemon earlier this year.
Licht's most controversial move, however, was the decision to host a live town hall event with former President Trump in primetime. The town hall was criticized for giving Trump a platform to lie and to make a mockery of CNN in front of an audience of Trump supporters.
What to watch: Sources at CNN say staffers were facing a crisis of confidence in Warner Bros. Discovery's leadership, following all of the drama surrounding Licht.
That distrust was becoming palpable as the network began to gear up for coverage of the 2024 election.
Go deeper: Chaos looms over CNN
Disclosure: This author is a CNN contributor.
Editor's note: This story has been updated with additional details throughout.
Go deeper