Devastating profile dogs CNN boss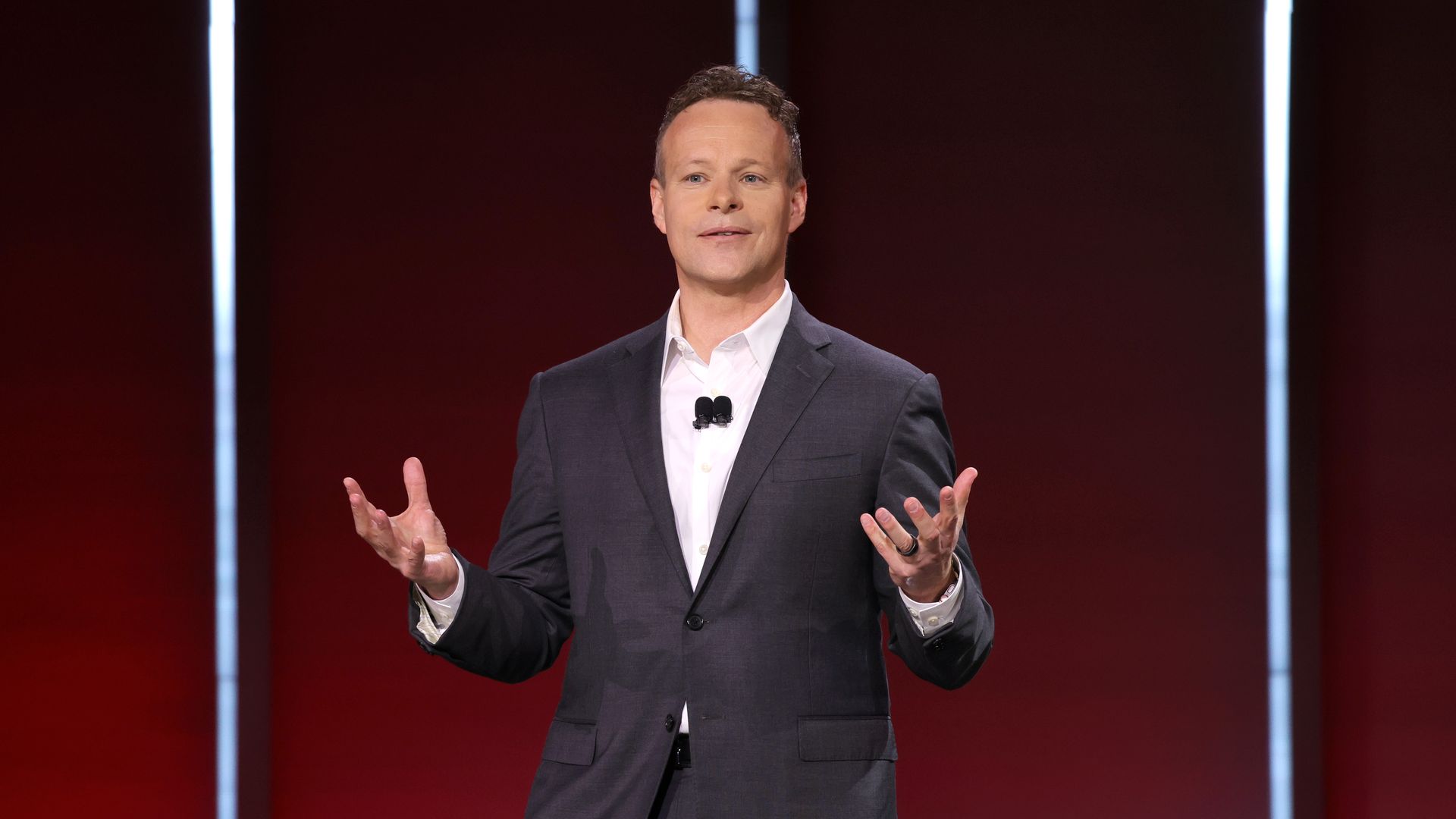 Editor's note: Chris Licht is out at CNN.
Chris Licht, chairman and CEO of CNN Worldwide, felt so confident in his plan to reinvent cable news that he allowed extraordinary, months-long access to a magazine writer. The result is devastating.
Why it matters: The Atlantic's Tim Alberta paints a brutal portrait of the head of one of the world's most famous, consequential and profitable brands — in what's destined to become an iconic magazine profile.
Alberta, who wrote the piece, and Puck's Dylan Byers, a very wired regular on the CNN beat, report that Licht has lost the support of CNN staff and perhaps the man who matters most — his boss, David Zaslav, president and CEO of Warner Bros. Discovery.
Alberta got access that any magazine profiler would dream of — and few other newsmakers would dream of granting: riding the Acela with him, eating Sweetgreen with him, going to the gym and chatting with his trainer, writing down his four-letter rants in the control room.
How it happened: Two sources familiar with the negotiations tell Axios that Alberta pitched the story a year ago, and said he was writing with or without cooperation. CNN said no initially, but Alberta kept pushing.
Licht and Alberta had a meal, and Alberta pitched again. Finally, CNN decided it would be better to play.
Here are the six parts of Alberta's 15,000-word piece, "Inside the Meltdown at CNN," that are causing the biggest backlash:
Town hall debacle: Backstage in New Hampshire last month, Licht told former President Trump: "Have fun." Alberta twists the knife: "Trump obliged." Licht knew in advance that the audience was what he called "extra Trumpy" — a phrase that lit up internal Slack channels. The upshot: "The only one who wasn't angry, it seemed, was Trump, most likely because he'd succeeded in disgracing the network on its own airwaves."
Lost the room: People at CNN think he's "projecting this persona of a bulletproof badass because that's what Zaslav wants to see. ... Licht's circle was small and getting smaller ... Whereas he was guarded with CNN employees, our many hours of conversations began to feel like therapy sessions for Licht, safe spaces in which he vented grievances."
Bad judgment on big moves: "Licht's theory of CNN — what had gone wrong, how to fix it, and why doing so could lift the entire industry — made a lot of sense. The execution of that theory? Another story. Every move he made, big programming decisions and small tactical maneuvers alike, seemed to backfire. ... I asked Licht to explain that mission ... 'Journalism. Being trusted. Everyone has an agenda, trying to shape events or shape thought. There has to be a source of absolute truth.'"
Obsessed with press: At a holiday dinner for his D.C.-based talent at Café Milano, Licht spent much of the dinner looking at his phone, including "reading a critical story about him in Puck."
Obsessed with his predecessor, Jeff Zucker: Licht, who went from 226 pounds to 178 via a celebrity trainer, told Alberta why he was skipping a meal: "I'm a fucking machine." Working out at his Manhattan gym, Licht "squatted down to grab a long metal pole lying flat on the ground. 'Zucker couldn't do this shit,' Licht said through clenched teeth, hoisting the pole with a grunt."
Mocks his own staff's Zucker-era COVID coverage: Licht "slapped his palms on the table between us, mimicking the feverish pace of an imaginary broadcaster. 'COVID, COVID, COVID! Look at the case numbers! ... No context. And, you know, the kind of shaming.'"
Zaslav declined to meet with Alberta on the record for the profile, but said in a statement that "we have great confidence in the progress that Chris and the team are making and share their conviction in the strategy."
Licht declined to comment to Axios.
Go deeper