Scoop: Discovery CEO David Zaslav signs new contract through 2027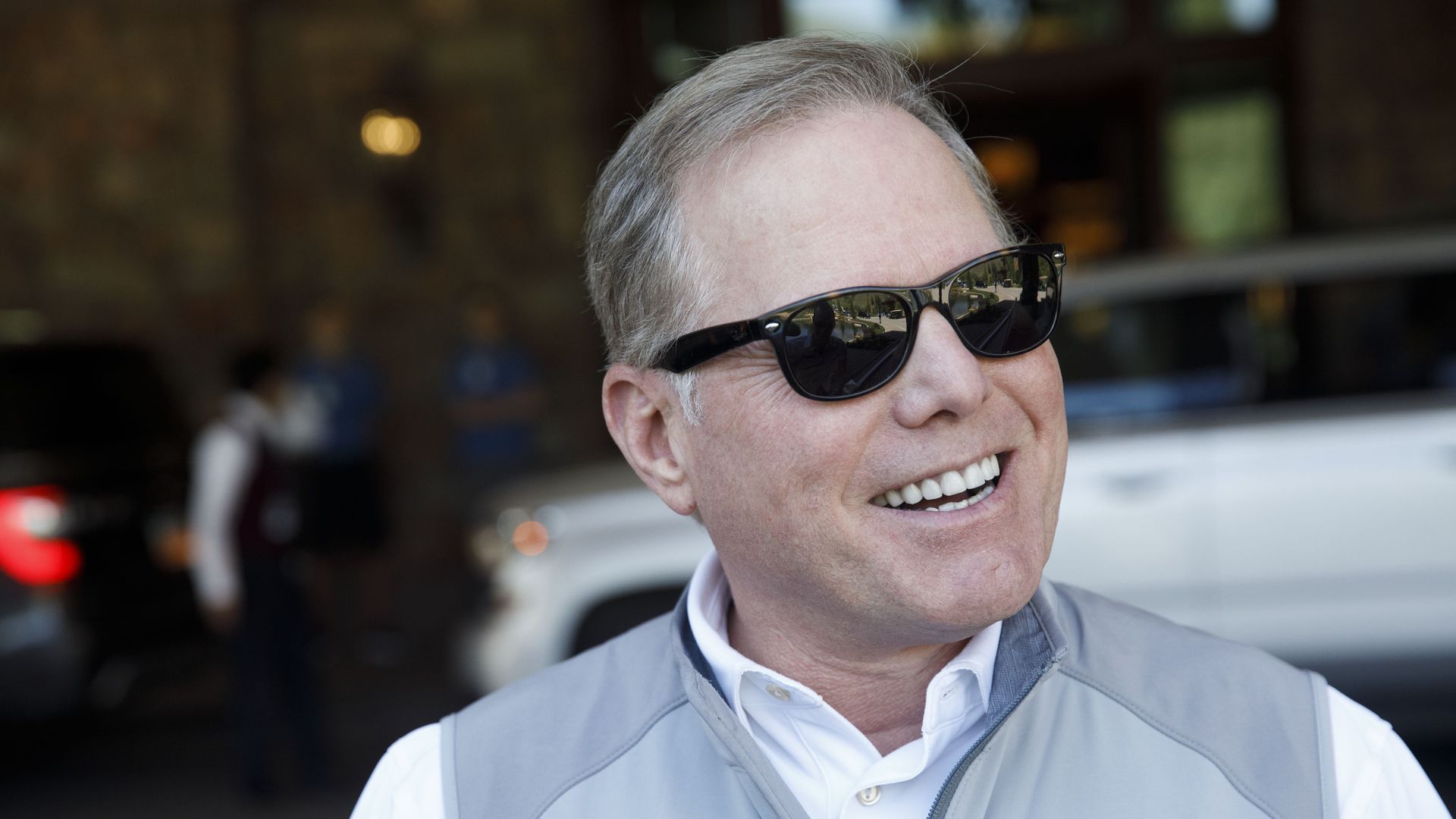 David Zaslav will stay on as Discovery CEO through at least 2027, leading the massive joint venture with WarnerMedia announced on Monday, sources tell Axios.
Driving the news: Zaslav's new contract will be announced next week in conjunction with the name of the new company that he just unveiled with AT&T CEO John Stankey.
Zaslav's previous contract extended through 2023. He has led Discovery since 2007.
Before that, Zaslav spent years with NBCUniversal, helping to develop and launch CNBC and MSNBC. He is a close friend and mentee of billionaire media mogul John Malone, who will sit on the board of the new joint venture.
Details: Sources say Zaslav, 61, will bring most of his C-suite executives at Discovery over to take on executive positions at the new joint venture. Discovery will lead the joint venture, although AT&T will have majority ownership.
From a leadership perspective, the deal is structured similarly to Discovery's 2018 acquisition of Scripps Networks Interactive.
Zaslav will likely bring his top strategic team on to lead the new company. Much of that team has worked together at Discovery for over 15 years, including international CEO JB Perrette, chief corporate operating officer David Leavy and chief development, distribution and legal officer Bruce Campbell.
Zaslav will try to keep much of the creative talent in place at WarnerMedia, but business and corporate groups from WarnerMedia are likely to get cut, sources say.
One WarnerMedia executive that may stay on is CNN chief Jeff Zucker, a longtime friend of Zaslav's, Axios' Mike Allen reported Monday.
WarnerMedia CEO Jason Kilar is likely to depart, roughly a year after AT&T brought him in to run the business. Sources say some of the top leadership from WarnerMedia was caught off guard by the deal's announcement.
The deal was tightly brokered between Zaslav and AT&T CEO John Stankey over the past few months. Sources say Zucker was read-in, but Kilar was not.
The big picture: Zaslav is a well-liked figure within the industry. Peers Axios has spoken to describe him as "disciplined," "mature," "humble," and "traditional."
"He may not be as public-facing, but certainly among his peers, he's a rockstar and everybody knows it," says Hollywood veteran and WndrCo founder Jeffrey Katzenberg.
"He's not quite the Hollywood insider," one source notes. "He's not press hungry. You see him eating at Michael's in New York (a popular media hangout), but he's not trying to schmooze editors or curry favor."
Be smart: Zaslav's peers see his ascension to the top of the media food chain as a brilliant, well-timed maneuver, although some suggest his legacy TV history could get in the way of his focus on streaming.
"He saw a distressed asset and took advantage of it," a source notes. One peer called it "the ultimate escape act."
A source close to Zaslav says he's good at doubling down on blind spots. Zaslav focused on building an unscripted entertainment empire at Discovery, while most of his peers focused on serialized dramas.
"He continues to surprise people in just how determined, focused and strategic he is," Katzenberg said.
The big picture: For some Hollywood insiders, Zaslav's deal with John Stankey feels emblematic of legacy media's struggle to balance streaming innovation with nursing legacy business lines that are profitable, like linear TV and theaters.
"I think that what you're seeing is re-entrenchment of the traditionalists of Hollywood business models," one Hollywood veteran said. The deal, struck between two older white, male executives, "reinforced the traditional ways of doing business."
While the new joint venture will be centered around streaming, Zaslav made it a point at a press conference on Monday to recognize the value the deal would bring to Discovery and WarnerMedia's traditional TV businesses.
Be smart: What the past year has shown is that entertainment giants are largely judged by Wall Street based not on traditional business metrics, but on their streaming potential.
"The win (in the streaming arms race) is really about how it moves your share price," one source said.
Disney's record stock performance, despite massive pandemic-driven headwinds to its parks and theaters business, is an example of that.
What to watch: The Discovery-WarnerMedia deal will include $3 billion worth of synergies, which is typically viewed as corporate speak for layoffs.
One source noted that Discovery's low-budget reality TV programming may push WarnerMedia executives to be more scrappy. WarnerMedia has already gone through drastic cuts and restructurings under AT&T.
Disclosure: Jeffrey Katzenberg's WndrCo is an investor in Axios.
Go deeper