Scoop: ICE director announces retirement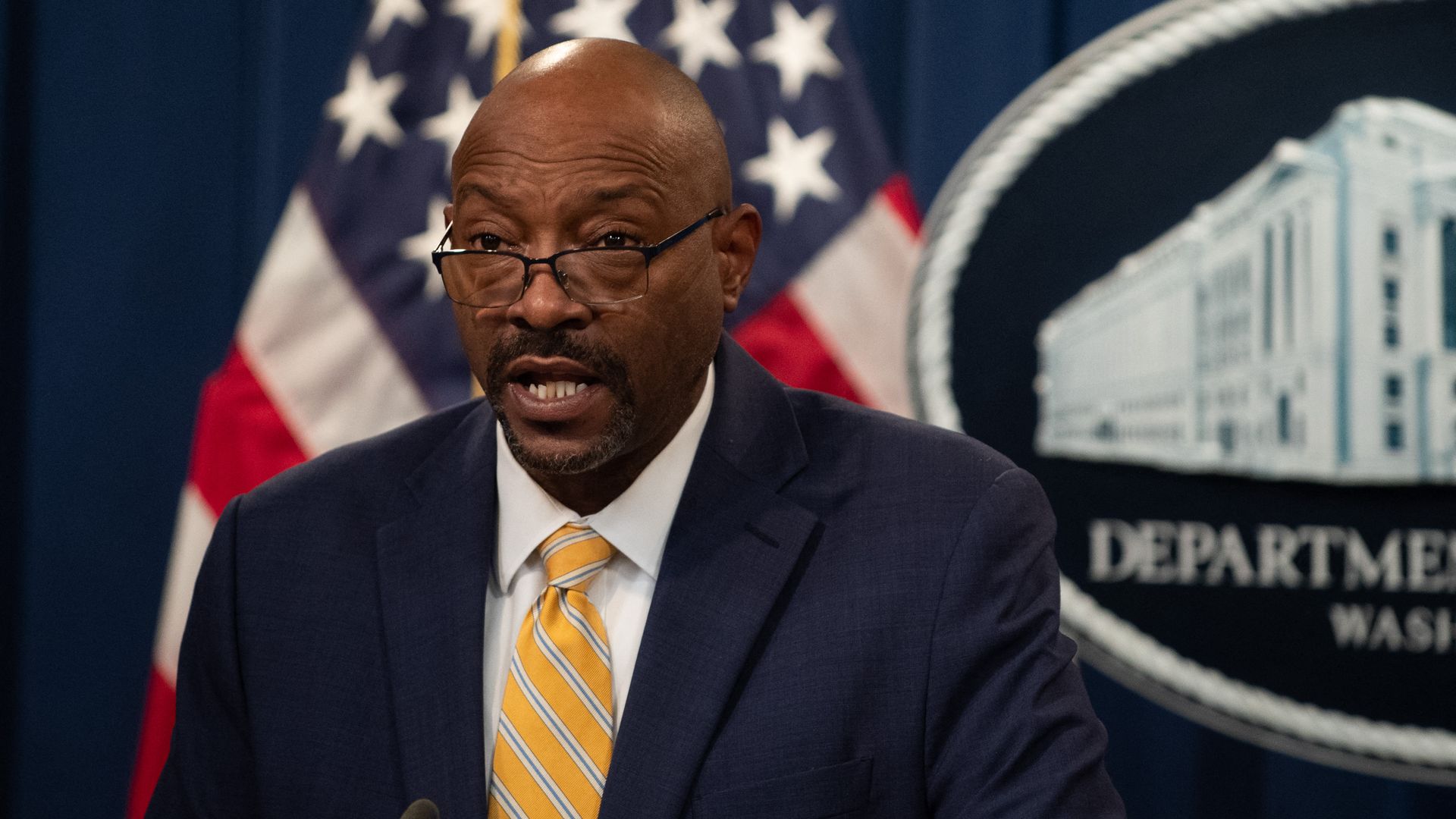 Acting Immigration and Customs Enforcement (ICE) director Tae Johnson is announcing his retirement on Monday after 30 years with the agency, Axios has learned.
Why it matters: Johnson is the second senior immigration official to announce their departure during the past week — less than a month after the long-anticipated end of pandemic-era restrictions on immigration that enabled rapid expulsions of many migrants who crossed the southwest border.
That policy, known as Title 42, has been replaced by strict asylum rules imposed by the Biden administration, resulting in a dramatic decline in crossings during much of the past month.
Zoom in: Johnson has been acting director of ICE since the start of the Biden presidency, leading an agency that has been at the center of controversy because of its role in arresting, detaining and deporting immigrants unlawfully present in the U.S.
Mass migrations of people from Central America, South America and beyond arriving at the U.S. border with Mexico have further complicated ICE's mission.
"Leaders come and go, but ICE's workforce has always remained steadfast, adaptable, and committed to keeping our homeland secure," Johnson told colleagues in a prepared announcement of his retirement, viewed by Axios.
Johnson's retirement has long been in the works, sources say.
Zoom out: ICE hasn't had a Senate-confirmed director for more than 6 years.
President Biden's nominee for the position — Harris County (Texas) Sheriff Ed Gonzalez, whose jurisdiction includes Houston — withdrew from consideration nearly a year ago, after a long and tumultuous nomination process in which he failed to gain support even among Biden's fellow Democrats in the Senate.
The Government Accountability Office determined earlier this year that Johnson had been serving too long in his "acting" capacity — violating the Vacancies Reform Act.
The Washington Examiner first reported in April that Johnson planned depart at a future date.
Johnson's retirement comes a week after Border Patrol Chief Raul Ortiz announced his retirement. It's unclear who will fill either role, though Johnson plans to help with the transition during the next month.
State of play: Immigration policy has become an increasingly hot political issue. Navigating outdated immigration laws, easily changed executive policies and frequent interference by courts is no simple ask for federal leadership.
Under Johnson, ICE continued to be in the middle of political debates over whether the U.S. government was being too lenient on undocumented migrants — or too harsh on them.
Republicans railed against historically low enforcement numbers, while the left has long been critical of the agency tasked with immigrant arrests, detention and deportation.
ICE now faces a shortfall for the fiscal year in the hundreds of millions, as resources increasingly have been diverted to help its sister border agency, Customs and Border Protection (CBP), according to sources familiar with the situation.
CBP is most directly tasked with enforcement at the border, but ICE handles the transportation, deportation, detention and tracking of migrants. ICE also handles "Alternative to Detention" programs, charging and providing court dates to migrants when the Border Patrol is overwhelmed.
Under Biden, ICE ended detentions of migrants families in 2021 — but the administration then considered whether to restart such detentions.
ICE made historic investments in tracking programs that are used as alternatives to detention, but funding limits have forced it to cut back.
New guidelines on which immigrants ICE agents should prioritize for arrest have been at the center of court disputes.
ICE and Homeland Security investigators have increased their efforts to target human and drug smuggling throughout the Western Hemisphere.
Johnson "has been instrumental in advancing many of DHS's critical missions," DHS Secretary Alejandro Mayorkas said in a statement first provided to Axios. "He helped transform the organizational culture of ICE by focusing its resources on public safety and national security."
What we're watching: The political wrangling over immigration is already a key focus of 2024 election campaigns, with ICE's actions at the center of the issue.
Go deeper