Scoop: Jim Jordan demands answers on ICE's low deportations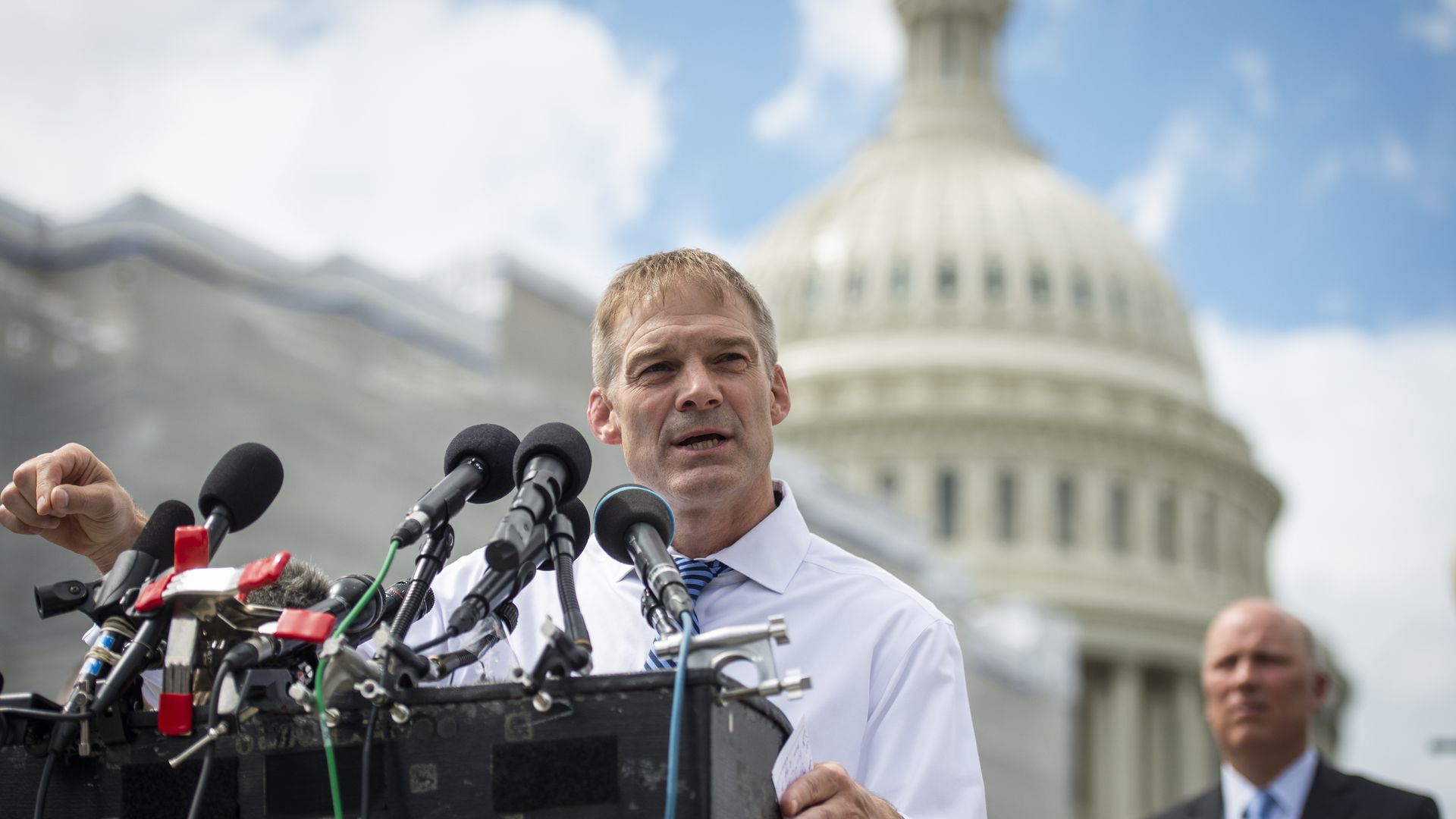 House Judiciary Chairman Jim Jordan (R-Ohio) is questioning whether U.S. immigration officials are moving aggressively enough to detain and deport those who enter the U.S. illegally.
Why it matters: Jordan, who has launched a series of probes into the Biden administration, is demanding that Immigration and Customs Enforcement (ICE) officials explain a decline in deportations and their use of detention space at a time when the House GOP is hunting for ways to slash government spending.
Driving the news: Jordan sent letters to 10 high-ranking ICE officials on Monday requesting they appear for transcribed interviews with his committee, according to copies of the letters obtained by Axios.
The letters were sent to five acting assistant directors at ICE's Enforcement and Removal Operations (ERO) office, as well as field office directors in Miami, Chicago, New York City, Newark and San Antonio.
Jordan's letter highlights relatively low numbers of deportations in 2021 and 2022, the growing population of non-detained immigrants at various stages of the legal process, and unused detention space.
"This decision to leave so many spaces empty raises serious questions about ICE ERO's performance of its mission to 'protect the homeland through the arrest and removal of those who undermine the safety of our communities and the integrity of our immigration laws,'" Jordan writes.
The majority of ICE detention center beds are used. Court orders, logistical hurdles and preparation for surges all contribute to beds not being used, officials have told Axios.
The big picture: ICE arrests and deportations have declined. This is at least partly because the agency's resources are being directed toward handling the massive numbers of migrants and asylum seekers crossing the Southwest border during the past two years.
The border issue has continued to drain ICE resources, and the agency faces a roughly $500 million shortfall already for this fiscal year, sources familiar with the situation have told Axios.
Money issues already have forced the agency to lessen its use of Alternative to Detention programs, which place migrants in various tracking programs instead of physical detention spaces.
The agency likely will need to move around Homeland Security funds or receive supplemental money from Congress to maintain its current workload and programs.
Any such request would come as House Republicans are threatening widespread budget cuts — with a special eye on agencies they're investigating.
The bottom line: ICE is tasked with the most politically divisive and contentious aspects of the immigration system — detention and deportation.
It has thus long been a target of both Democrats opposed to detention and deportation and Republicans who think ICE should be doing more to crack down on people here illegally.
Go deeper