Biden eyes restart to migrant family detention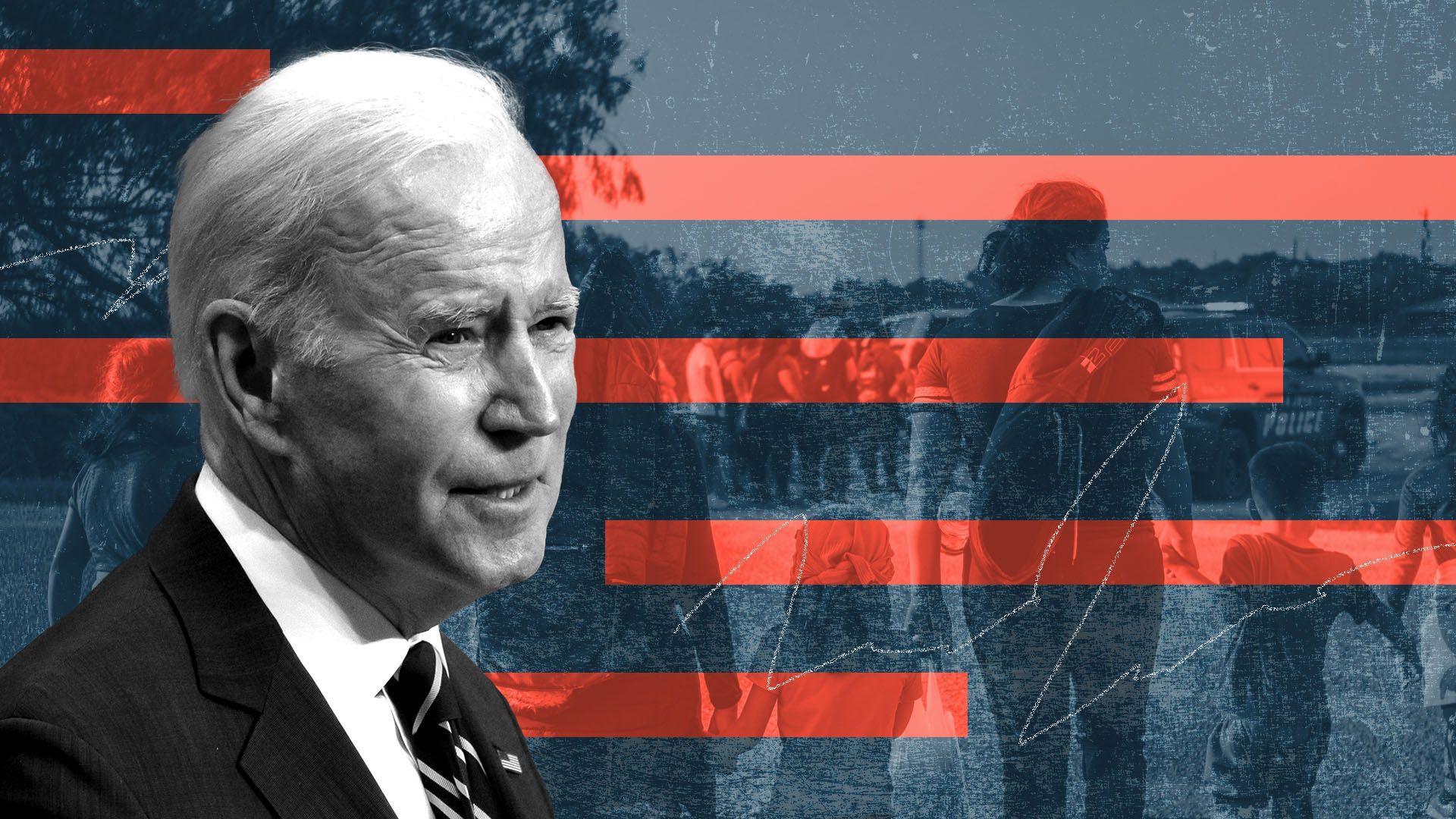 The Biden administration is considering once again detaining families that illegally cross into the U.S. — potentially adding to a cascade of new border restrictions typically favored by Republicans.
Why it matters: News that President Biden could reinstate the controversial policy triggered a flood of condemnation from Democrats and immigration activists, with many blasting it as "inhumane" and an ugly relic of the Trump era.
Biden's pivot to the center on immigration reflects the severity of concerns about another wave of migration when pandemic border policies end in May — as well as his sensitivity to political attacks heading into 2024.
"No decisions have been made as we prepare for the Title 42 Public Health Order to lift," a Department of Homeland Security spokesperson told Axios, adding that the administration "will continue to prioritize safe, orderly and humane processing of migrants."
Driving the news: The possibility of restarting family detention, after Biden halted the policy in 2021, has been discussed in recent high-level meetings, sources familiar with the conversations told Axios.
In January, Biden publicly announced new carrot-and-stick border policies in an effort to stem the surge of illegal crossings. He also visited the border for the first time after relentless pressure from Republicans.
DHS and the Justice Department last month unveiled a new proposal that would severely restrict access to asylum in ways that echo a controversial policy from the Trump administration.
Officials are also looking at ways to deport non-Mexicans to Mexico as a means of continuing the new programs even after pandemic policies end.
The New York Times first reported on the consideration of resuming family detention.
The other side: These policies have been combined with new legal options for migrants hoping to come to the U.S. — including through humanitarian parole, which provides legal status and work authorization for up to two years.
36,500 Venezuelans, Nicaraguans, Cubans and Haitians have already been admitted into the U.S. through these parole processes.
Between the lines: The sweeping changes largely stem from the expected end of Title 42 — a policy that for three years has cited COVID-19 concerns to allow the U.S. to rapidly expel migrants and asylum seekers at the border more than 2.6 million times.
Officials are looking at a range of ideas and would not consider detaining families for long periods of time, one source familiar told Axios. The Trump administration attempted to allow indefinite migrant family detention.
"There's an anxiety that's brewing about the end of Title 42. It's being used as a crutch," Jason Houser, recently departed chief of staff at ICE, told Axios.
What they're saying: The idea has already raised concerns among Democratic lawmakers, humanitarian organizations and some U.S. immigration officials who are skeptical about the effectiveness of policies intended to punish and deter illegal border crossings.
The decision to end family detention in 2021 came with a lot of "conviction and values," said Houser, who expressed his support for how Homeland Security Secretary Alejandro Mayorkas has handled his job.
While discussions on family detention are serious, Houser told Axios he personally finds it hard to imagine Mayorkas and Biden returning to a policy that evoked so much anger during the Trump era.
Houser was the highest-ranking political appointee at ICE, which still has no Senate-confirmed director. He actively pushed for the end of family detention and wanted to expand the use of tracking programs as an alternative.
The big picture: In the middle of this shift on immigration, several of the administration's top immigration policy officials are preparing to depart, as Politico has reported.
Migration trends are complex. Working around outdated laws and a backlogged immigration system involves multiple agencies — often without a clear point guard.
"There's no one there that has the authority across all these agencies," Houser said. "Immigration is the taboo, dirty issue that nobody truly wants to own, because then you're accountable."
Zoom in: Family detention has long been a complicated and contentious issue, especially following court rulings under the Obama administration that require families to be released from detention within 21 days.
"Expanding pathways for legal immigration, increasing border security and reducing illegal immigration have been principles core to President Biden's approach on immigration from day one," a White House official said in a statement.
"The administration has held true to those principles even as we tailor our response to shifting migration patterns, new court orders and Congress' continued failure to act."
To return to family detention would be logistically difficult, as the old family facilities are currently being used for single adults.
The potential shift also comes as ICE, which oversees immigration detention, already faces an estimated half-a-billion-dollar shortfall for the fiscal year, sources tell Axios.
Editor's note: This story has been corrected to note that several of the administration's top immigration officials are preparing to depart, but have not yet left.
Go deeper