Biden proposes severe asylum restrictions at the border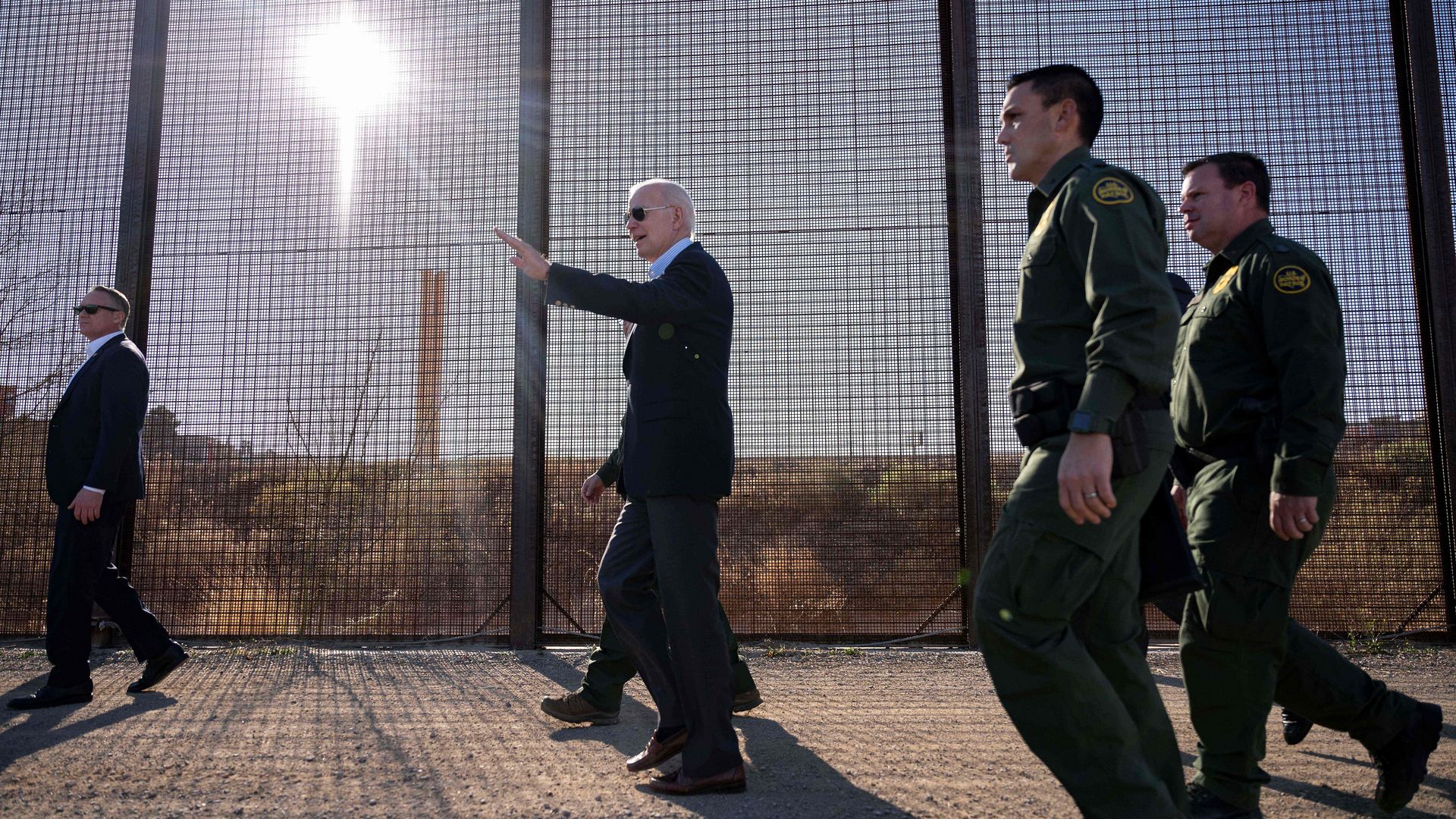 The Biden administration rolled out a proposal on Tuesday that would bar migrants from seeking asylum if they attempt to cross the southwest border illegally without first asking for protection in a country they traveled through.
Why it matters: It's the latest in a string of new policy moves by the Biden administration to deter migrants and asylum seekers from illegally crossing the U.S.-Mexico border.
This proposal — which after 30 days allowing for public comments would be in effect for two years — echoes a controversial immigration policy under former President Trump.
The Biden administration proposal cites the government's "anticipation of a potential surge of migration at the southwest border" after the end of pandemic border policies, expected in May.
It is expected to severely restrict access to the asylum process, allowing for easier deportations for some migrants seeking protection in the U.S.
The details: The rule would be applied to both migrant single adults and families, though it would not be applied to children and teens who cross without their parents.
To pursue asylum in the U.S., people will have to schedule an appointment at a legal port of entry through an app, apply for legal pathways such as new humanitarian parole processes or be rejected by a country they travelled through, such as Mexico.
There would be exceptions for those with medical emergencies or facing imminent or extreme threats to their lives or safety— such as rape or torture.
What they're saying: The move is expected to infuriate immigration advocates and some Democrats.
"We successfully sued to stop the Trump asylum bans and will sue again if the Biden administration enacts these anti-asylum rules," Lee Gelernt, an ACLU attorney who has led several high-profile immigration litigation efforts, told Axios.
Between the lines: Homeland Security Secretary Alejandro Mayorkas in January announced plans for a rule that would presume migrants ineligible for asylum if they did not use legal pathways or seek refugee in a country they transited through.
The announcement came while the government rolled out a new process for Venezuelans, Nicaraguans, Cubans and Haitians.
This controversial process allows for the rapid expulsion of those four nationalities to Mexico if they attempt to cross the border without authorization, while also opening up new, legal, temporary pathways to enter the U.S.
By the numbers: The administration has already seen some success from the policy, with the number of illegal border crossings plummeting in January — driven by a decline in Venezuelans, Nicaraguans, Cubans and Haitians.
The big picture: The new policies come after years of the Biden administration struggling to get a handle on an unprecedented migrant surge.
Nations such as Venezuela, Nicaragua and Cuba have frosty diplomatic relations with the U.S. and do not readily cooperate with U.S. efforts to deport their citizens.
At the same time, Mexico has not always been willing to receive some nationalities under Title 42 — a policy that cites the pandemic to allow rapid expulsions to Mexico or some migrants' home countries without the chance for asylum.
The bottom line: 88% of all border crossings in fiscal year 2019 were by people from Mexico or the Northern Triangle countries of Guatemala, El Salvador and Ecuador. Last year, the percentage dropped to 57%, according to DHS data.
Those nationalities continue to drive illegal border crossings, but the U.S. has more options for quickly deporting or expelling them.
Nearly 90% of people attempting to cross the border from Mexico or a Northern Triangle nation last fiscal year were promptly kicked back to Mexico under Title 42.
Just 5% of border crossings from any other nationality resulted in expulsion.
Go deeper