Border crossings drop after new Biden policies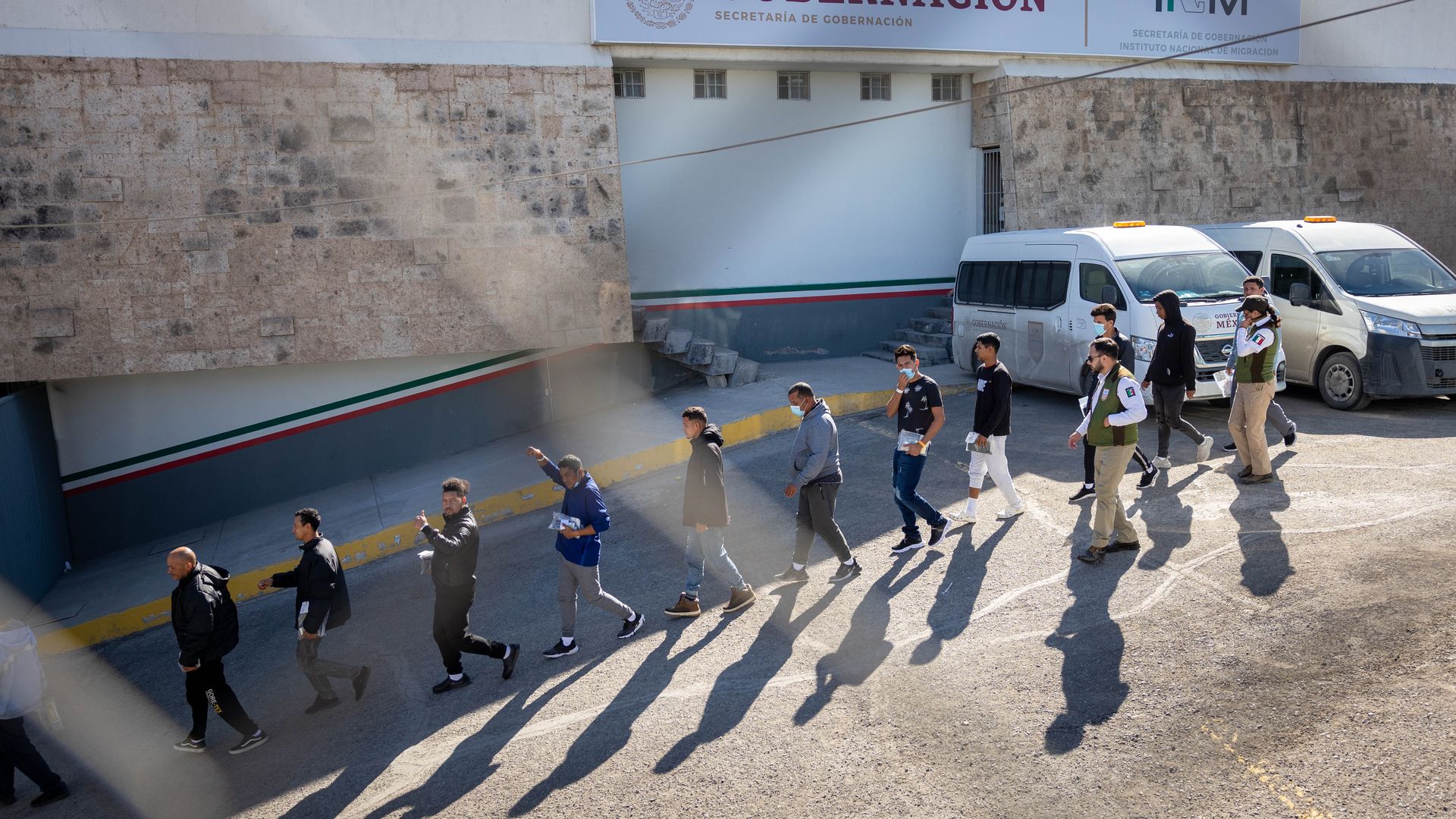 Migrants and asylum seekers attempted to cross the U.S.-Mexico border 156,000 times in January — a 40% drop from December, which administration officials are crediting to new border policies rolled out last month.
Why it matters: It's a good sign for the Biden administration on the border. The government has struggled to get a handle on record numbers of border crossings over the past two years, which have created humanitarian, logistical and political crises for President Biden.
January had the lowest number of U.S.-Mexico border crossings since the first full month of Biden's presidency — February 2021.
It comes after the administration rolled out new legal pathways through humanitarian parole for Venezuelans, Nicaraguans, Cubans and Haitians, along with an expanded use of rapid expulsions to Mexico for those nationalities.
Between the lines: News of border crossings falling comes as House Republicans make border security a target of investigations — singling out Homeland Security Secretary Alejandro Mayorkas for potential impeachment inquiries.
Both the Judiciary and Oversight committees have already held hearings on the border, although there has been a focus on the rising amount of fentanyl being seized at the southern border.
What they're saying: The drop in border officials' encounters with Cubans, Haitians, Nicaraguans and Venezuelans comes even as the numbers for other nationalities ticked up slightly as is usual for this time of year, one administration official told reporters on Friday.
"I think it points to the fact that the model we have put forward here ... can really dramatically change migratory patterns and migratory behavior," the official said.
By the numbers: The 156,274 total encounters includes both people crossing the border illegally as well as those seeking entry through legal ports of entry.
That's down from more than 251,000 in December.
The number of times people from Cuba, Haiti, Nicaragua and Venezuela attempted to cross the southwest border fell by 97% since the peak in mid-December, officials said.
The administration has also begun to roll out a new process to allow asylum seekers to schedule an appointment at a port of entry through an app. Because of this, Customs and Border Protection (CBP) has processed over 17,000 people at legal entry points along the border, according to an administration official.
The big picture: New policies announced by Biden last month rely on a Trump-era policy called Title 42, which cites public health concerns about the pandemic to allow border officials to quickly return people to Mexico without the chance of seeking asylum.
The policy is expected to end in May with the public health emergency.
The administration has said they plan to continue the processes for Venezuelans, Nicaraguans, Cubans and Haitians even without Title 42, but have not detailed how that would work.
Go deeper