Apple debuts Vision Pro, its mixed reality headset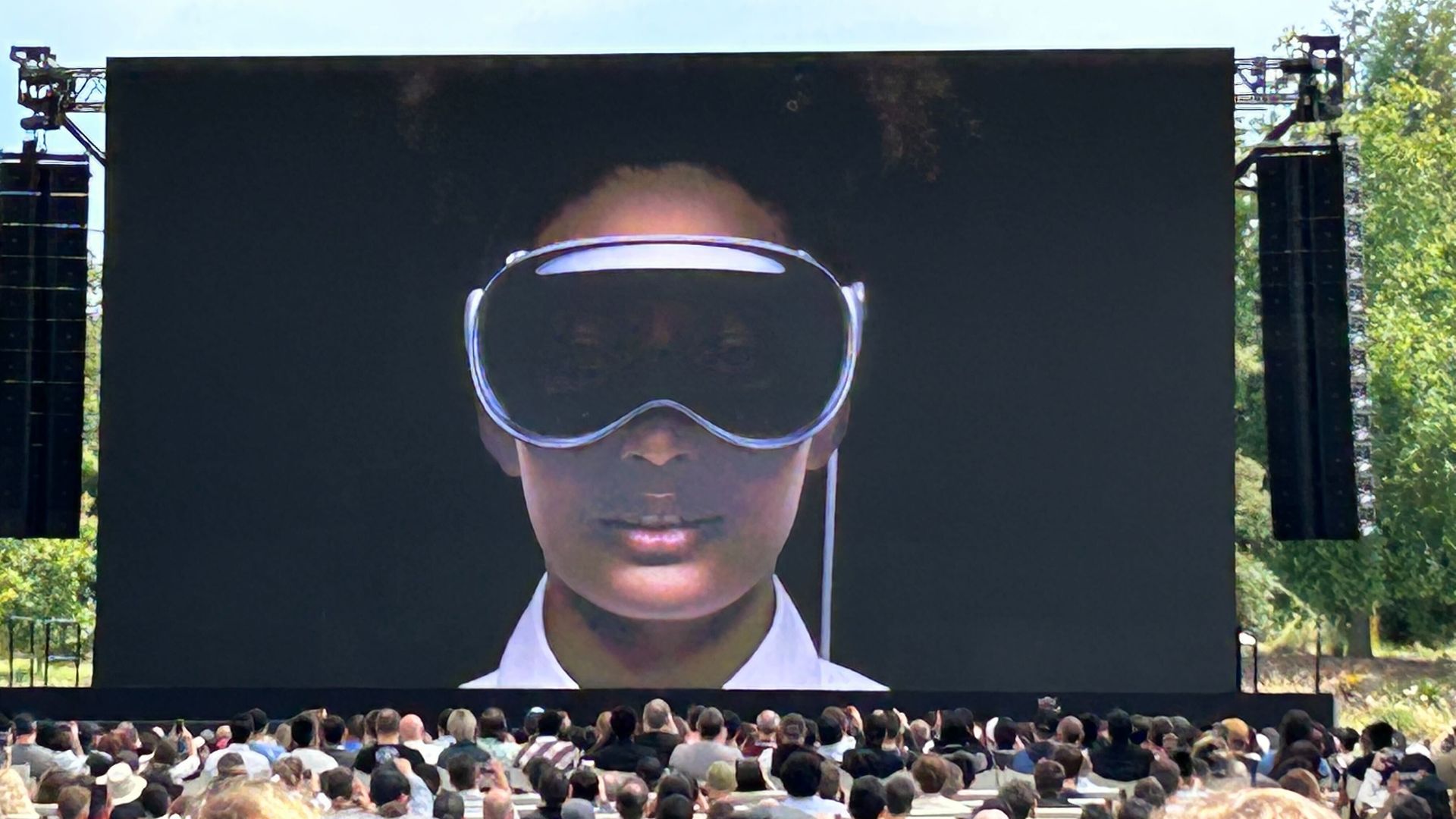 Apple announced Vision Pro, a long-awaited mixed reality headset on Monday, alongside several new Macs and updates to the software that powers the iPhone and other devices.
Why it matters: The headset is Apple's most significant new device in years and a big bet that augmented and virtual reality are more than just a fad.
The big picture: The device, which resembles a futuristic set of ski goggles, allows users to view digital content on top of the real world and is controlled using voice, eye gaze and hand gestures. It's due out early next year for $3,499.
"It's the first device you look through and not at," Apple CEO Tim Cook said "Your surroundings become an infinite canvas."
Details: The headset is powered by the combination of an M2 processor and a new R1 chip designed for mixed reality devices and a new visionOS operating system.
An aluminum and glass frame houses an array of sensors and cameras as well as built-in spatial audio speakers.
In-person bystanders can see the eyes of the person wearing the headset when they are in augmented reality mode, while they remain occluded when someone is in a virtual reality experience.
Magnetically attaching lenses created in partnership with Zeiss can accommodate those who normally require eyeglasses.
Other features include:
The headset can display a variety of virtual windows with 4K resolution, including from a nearby Mac.
Vision Pro can also create photorealistic avatars for use in video conferencing.
It can also capture immersive "spatial photos" and "spatial videos" to relive moments in time.
Apple says the battery pack, which connects to the headset via a cord anin photos looks to be iPhone-sized, lasts up to two hours.
Between the lines: Getting sufficient content is always a challenge with new platforms. Apple promised 100 games would be available at launch and also brought up Disney CEO Bob Iger on stage to tout the creative possibilities for the device.
Iger showed a video of some early ideas from Disney, including enhanced viewing of sports and movies as well as ways of joining in the action, such as having a Main Street Electrical Parade in your living room. It also promised Disney+ will be live on Vision Pro at launch.
Yes, but: Apple faces a series of headwinds, including the nascent state of the components needed for such devices and a tech world whose attention has largely shifted from VR, AR and the metaverse towards AI, thanks to the arrival of ChatGPT.
The big picture: Apple is pitching Vision Pro as made for a wide range of experiences, from gaming to video conferencing to work tasks, including Microsoft Office apps like Teams, Word and Excel.
Meta made a similar pitch for its $1,500 Meta Quest Pro, but reviewers and consumers haven't displayed a similar excitement, with the product largely viewed as a pricey improvement on the gaming-focused Quest 2.
Here's what else Apple announced at the event.
The Mac Pro has finally made the transition away from Intel chips, the last of Apple's computers to make the switch. It runs on Apple's new M2 Ultra chip and starts at a whopping $6,999.
The new 15" MacBook Air weighs 3.3 pounds, has a claimed 18-hour battery life and starts at $1299.
The Mac Studio desktop has been upgraded with a faster M2 Max or optional M2 Ultra processor, startting at $1999.
On the software side, Apple previewed iOS 17 which adds a new journaling feature, improved autocorrect and speech-to-text dictation using a large language model as well as NameDrop, a new feature that lets two iPhone users more share contact information just by bringing their phones near each other.
The next version of MacOS, dubbed Sonoma, adds many of the same features debuting with iOS 17. Sonoma also brings privacy improvements to Safari as well as a mode that optimizes processing power when playing games and improved video conferencing that lets a speaker appear alongside a presentation. It's also more video chat features to Apple TV, including support for Zoom and WebEx.
WatchOS 10, an update to the software that powers Apple Watch, adds support for various widgets without leaving the main watch face.
Developer will get a test version of the software updates later today, with a public beta next month and final versions for consumers due out this fall.
Go deeper