Apple's new headset will land in an AI-crazed world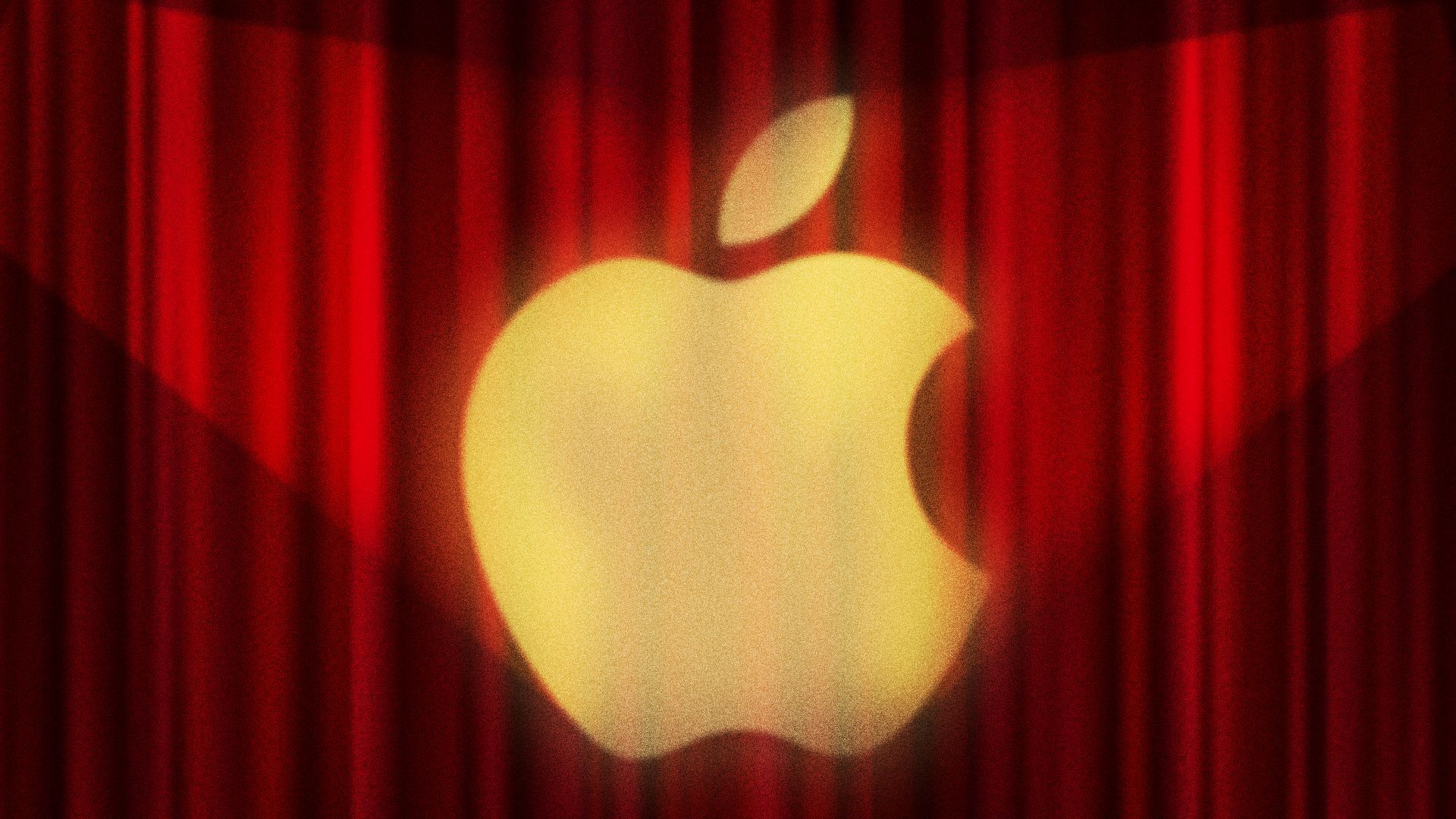 Apple is used to hogging the tech spotlight any time it has a major announcement — and its widely expected unveiling of a mixed reality headset on Monday would normally do just that.
Yes, but: The long-awaited new product is arriving at a moment of industry frenzy over AI that's putting Apple in the awkward position of trying to change the subject.
The big picture: Typically, all Apple has to do at its annual developer conference in June is show some new features coming to the iPhone and Mac and maybe offer some hardware updates. This year, the giant faces a much bigger set of expectations and challenges.
It's been a long time since Apple debuted a truly new category of device. The iPad came out in 2010. Its most recent hits — AirPods and Apple Watch — are as much accessories to the iPhone as platforms in and of themselves.
The company has invested heavily in both mixed reality and autonomous vehicles, but both projects have had significant fits and starts and till now neither has produced something for the market.
Between the lines: Apple has some efforts in artificial intelligence — including its work on Siri, as well as the machine-learning algorithms that power the fall detection and heart rate monitoring features on Apple Watch.
But at some point — and Monday would be a great time to start — Apple has to show that its services and devices can play a significant role in the new world of generative AI tools.
Microsoft has already shown that it sees AI performing key tasks not just in apps like Word and PowerPoint but in Windows itself.
Apple could perhaps play to its privacy-centric image by offering up devices that deliver generative AI so that either all the work is done on the device (probably not possible today) or one's data is protected in some other way.
As for the headset, Apple must get people excited about the category again — and find ways to get them to consider purchasing a device that's expected to cost several thousand dollars.
Market leader Meta failed to do that with its $1,499 Quest Pro device. Meta had hoped to persuade a range of buyers, including those who wanted to use the metaverse for work-related tasks.
Meanwhile, Meta has built a decent business around its Quest 2 and has announced a $499 Quest 3 that offers some of the mixed reality capabilities of the higher-end device.
Details: Apple's device is expected to cost several thousand dollars and may be aimed more at the developers who will create content for consumers rather than the consumers themselves.
Observers suggest it may resemble ski goggles, will support both augmented and virtual reality and is likely to have the equivalent of 4K display per eye. Bloomberg has reported it will offer VR FaceTime calls and be able to serve as an external monitor for a Mac.
What to watch: We still don't know the raison d' etre for Apple's headset. Has Apple come up with new uses beyond those envisioned by Meta? Has it solved any of the key problems with past devices? These are the questions Apple must address Monday.
My thought bubble: I am actually interested in experiencing a metaverse future eventually. But I'm skeptical that anyone — Apple included — has made sufficient progress on issues such as size, cost and battery life to make a device I'd want to buy.
At best, perhaps Apple has created a device exciting enough, and one that shows the category's future is near enough, that developers will start paying attention. That's certainly the minimum it needs to do.
What they're saying: Longtime watchers of both the company and the category have widely diverging views.
Phil Libin, the former Evernote CEO and veteran Apple developer, predicted a year ago that few people would even be talking about the metaverse come this year.
"Both my general hostility towards the metaverse and my respect for Apple have gotten stronger over the past few years," Libin told Axios. "If these things are forced together on Monday because Apple announced a headset… I'm not sure how I'll feel."
As for AI, Libin says it is something of a mixed bag. "I think Apple's push for on-device processing puts them at a short-term disadvantage in the current AI hype cycle but a significant long-term advantage in fielding actually useful products," he said. "Those things are ultimately more important than making hype demos."
By contrast, Michael Hoffman, a former technical lead for Microsoft's HoloLens and now head of platform at VR startup Mesmerise, says Apple's headset could be a big deal even if it isn't everything one might want, assuming it offers some improvements in comfort, processing power and content availability.
"That means a lighter-weight headset with OLED displays and an M2 processor, which should be meaningfully more powerful than current consumer options at similar price points," Hoffman said. "Compatibility with other iOS devices will also help the headset integrate more seamlessly into daily life, while access to an app store ecosystem will provide more killer apps and reasons for people to engage with VR everyday."
Go deeper