McCarthy's magic number on the debt ceiling deal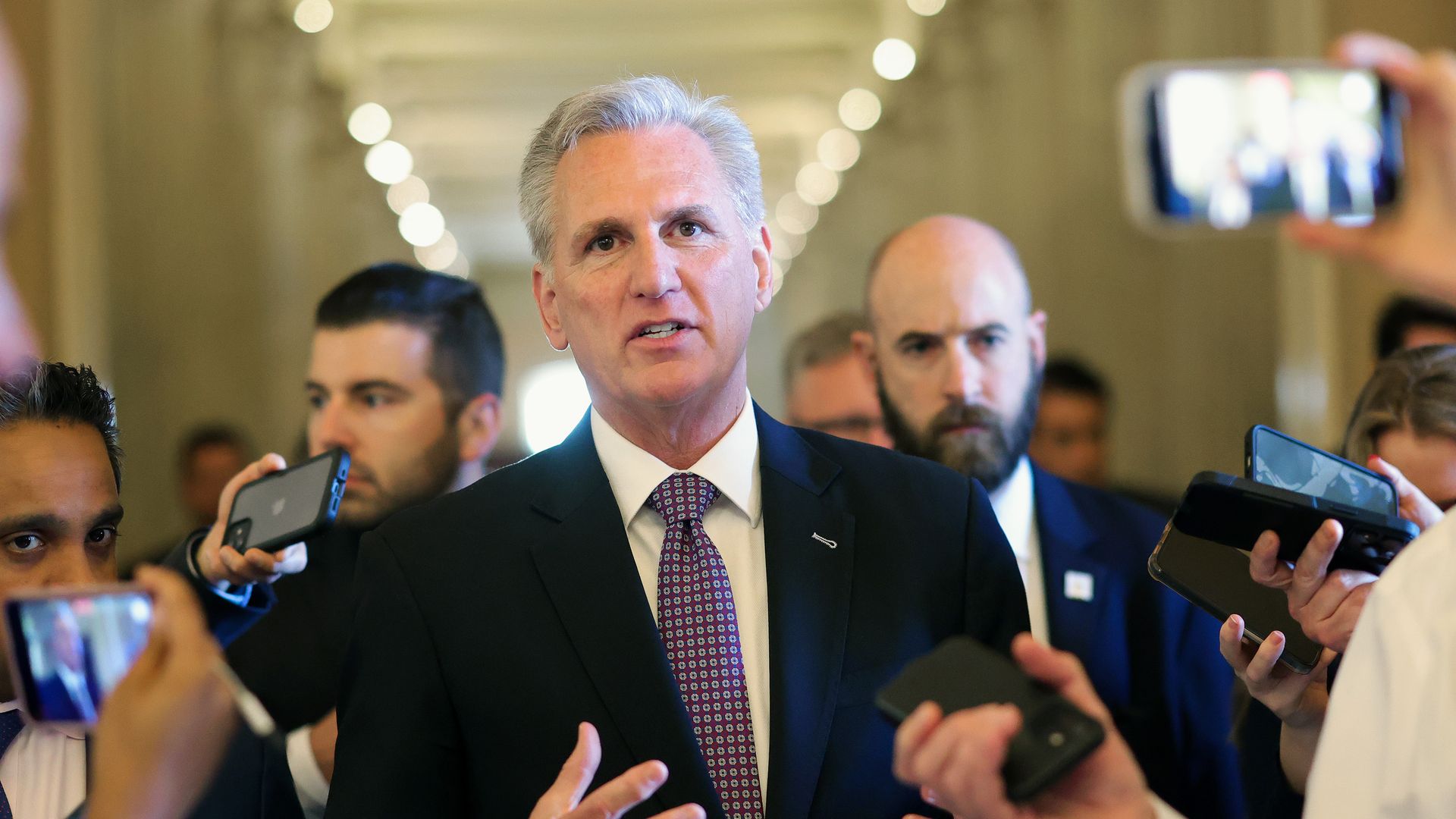 House leaders are confident that the chamber today will approve the debt ceiling deal between President Biden and Speaker Kevin McCarthy (R-Calif.) — and move toward avoiding a disastrous government default.
Why it matters: Not all victory laps are the same. The number of votes the Fiscal Responsibility Act gets from each party could signal who made the better deal.
A solid Republican tally — with clearly more GOP votes than the Democrats — would allow McCarthy to show strength in the face of criticism from the most conservative members of his caucus.
McCarthy's lieutenants hope to get 150 of the 222 GOP Republican House members to vote yes, and virtually assure passage of the bill.
"I want Republican votes," Rep. Patrick McHenry (R-N.C.), a key member of McCarthy's negotiating team, told reporters late Tuesday. "That would be the cleanest way for me to show it was a good bill for Republicans."
But a big Democratic vote for the bill — say, well over a majority of the 213 Democrats in the 435-member House — could bolster the notion held by some lawmakers in each party: that Biden outfoxed GOP negotiators.
And if McCarthy winds up relying on more Democratic votes than Republican ones to get the bill passed, it could be an embarrassment that jeopardizes his hold on the speaker's gavel.
Far-right conservatives, angry that McCarthy didn't hold out for more budget cuts and other GOP priorities, are publicly saying that's a possibility.
Between the lines: That political reality has put pressure on House GOP leaders to not just find the necessary votes for passage, but to try to run up the score.
It's also given some Democratic lawmakers an incentive to hold their noses and vote for a bill they might not love — to help their president avoid an economic quagmire, and tweak the Republican speaker.
Driving the news: Republicans whips were pressing and prodding their members Tuesday evening, trying to ensure that they had the votes.
The bill cleared the House Rules Committee on Tuesday after winning support from Rep. Thomas Massie (R-Ky.), a conservative lawmaker who has raised concerns about the package. The full House will consider it Wednesday, with a vote expected in the evening.
Republicans were claiming momentum late Tuesday.
"There were members this morning who were undecided," House Majority Leader Steve Scalise (R-La.) told reporters. "They're now going to vote for the bill."
The big picture: The stakes for McCarthy couldn't be higher.
He is on the cusp of a political accomplishment few predicted just a few months ago: Passing a substantial bill that cuts spending and raises the debt ceiling with a clear majority of his conference supporting him on strategy and substance.
But he faces a potential revolt — and threat to his speakership — if he falters.
Conservative lawmakers have warned McCarthy that he'll face a "motion to vacate" — a procedural move that could spell the end of his speakership — if he brings forward a bill that isn't backed by a majority of House Republicans.
McCarthy doesn't appear worried about falling short of the "majority of the majority" threshold.
But late Tuesday it was unclear whether the number of Republicans backing the bill will surpass the number of Democrats who'll vote for it — even if McCarthy's team reaches its goal of 150 yes votes from GOP lawmakers.
What we're watching: Conservatives who dislike the bill are preparing to seize on strong Democratic support for it as proof that McCarthy's compromise betrayed their values.
"I think it will get more Democrat votes than Republican votes," said Rep. Bob Good (R-Va.) "And I think that just demonstrates that it is a Democrat wish list."
The other side: Progressive Democrats haven't been shy about broadcasting their complaints over many of the bill's provisions, such as increasing work requirements for welfare recipients.
But very few have issued clear statements saying they'll vote against the bill.
For Democrats, voting no would undercut their president — and contradict months of messaging in which they've stressed the need to raise the debt ceiling.
Eugene Scott contributed to this report.
Go deeper