Guam braces for "direct hit" from "powerful" Typhoon Mawar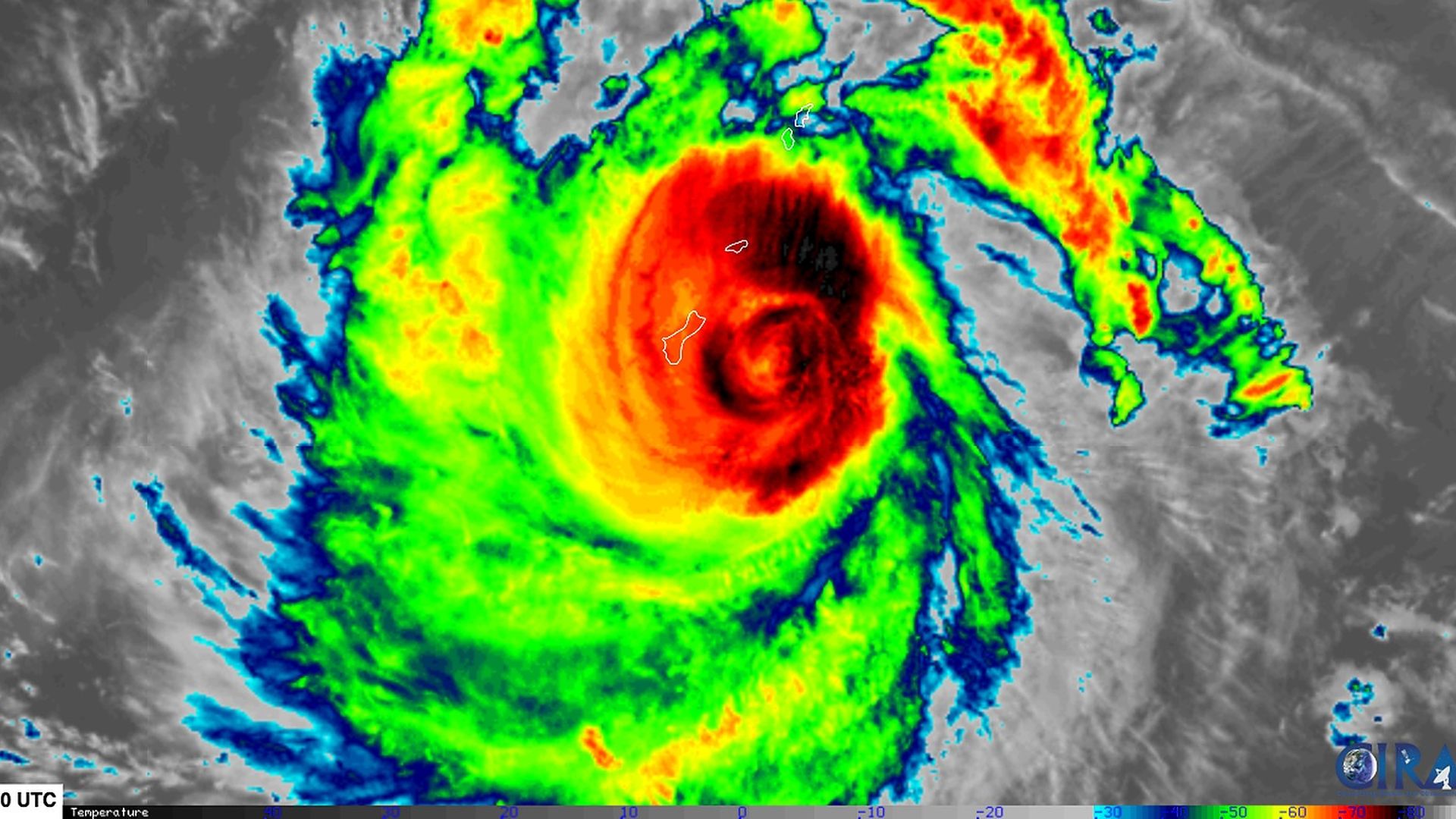 Guam is "expected to take a direct hit" from Typhoon Mawar after strengthening into a dangerous Category 4 storm in the Pacific Tuesday, the National Weather Service office in the U.S. territory warns.
The latest: The eye of the storm was on track to pass Wednesday evening local time over central or northern Guam, which has a 168,000-strong population and is home to three U.S. military bases. NWS Guam issued a flash flood warning for the entire island through at least Thursday morning due to heavy rainfall.
The slow-moving storm was packing maximum sustained winds of 140 mph some 45 miles east-southeast of Guam at about 1pm Wednesday local time, NWS warning coordination meteorologist Landon Aydlett said in a Facebook Live broadcast from the U.S. territory.
"We are experiencing severe tropical storm conditions and we have almost whiteout conditions — the trees are bending sideways," he added. "We have had trees down."
Threat level: In addition to damaging winds, the NWS predicted a 6- to 10-foot storm surge above normal tide levels.
Some of the more vulnerable east-southeast facing shores could see a surge of greater than 20 feet, the NWS warned.
The agency also issued stark language noting the likely cutoff of power and water for days or weeks, the large-scale defoliation of trees on the island and destruction of poorly built structures.
Tropical storm force winds were expected to linger through Thursday morning. "This is going to linger like a bad cold," said Aydlett in his Facebook Live broadcast Wednesday.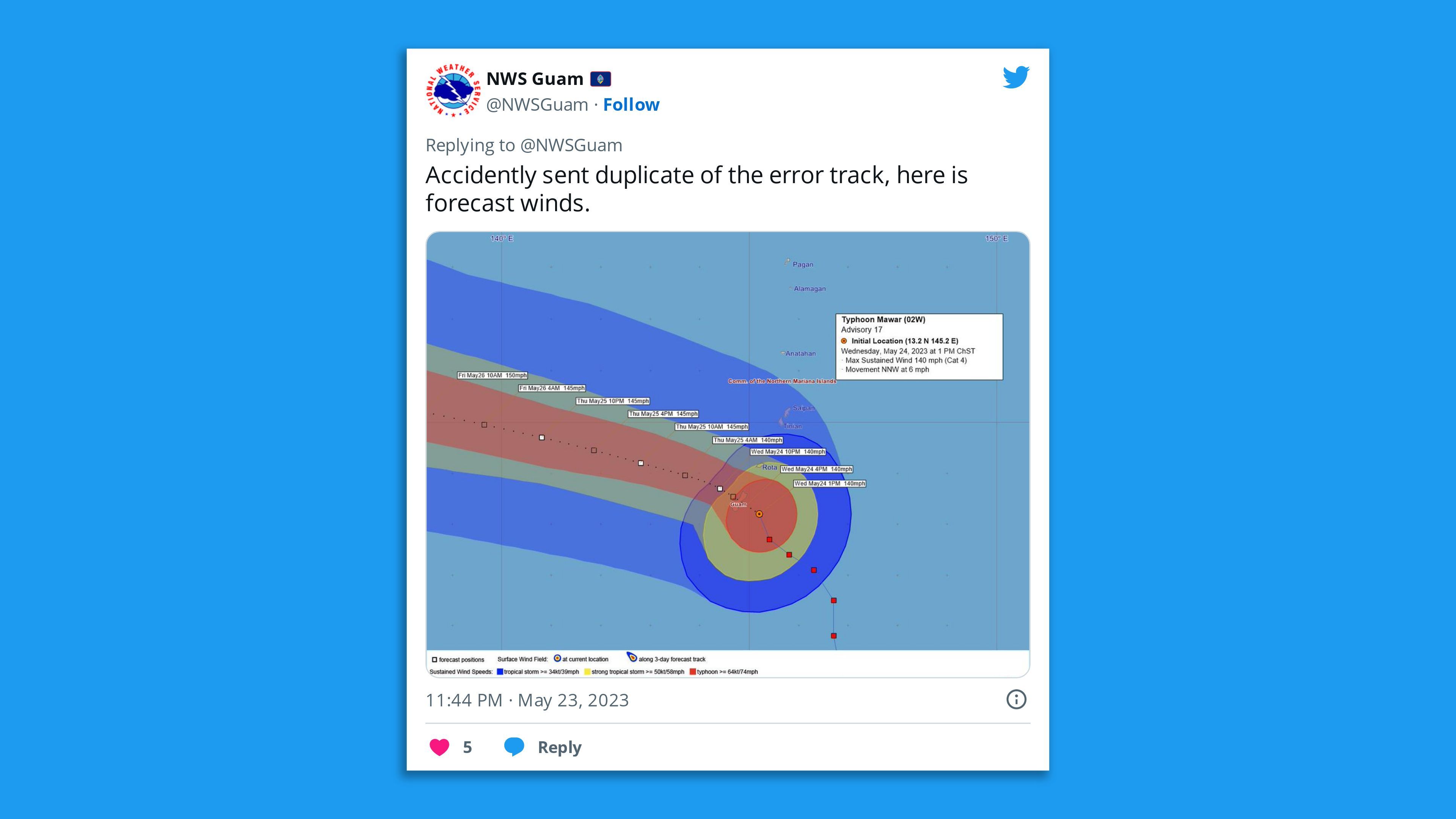 The big picture: President Biden on Tuesday approved an emergency declaration for Guam. The island's governor declared a state of emergency for the U.S. territory earlier this week and U.S. Navy officials said they moved all ships stationed at Guam out to sea as a standard precaution ahead of the storm.
The NWS office in Guam said Tuesday the "powerful" storm intensified as it neared the Commonwealth of the Northern Mariana Islands, where Biden approved an emergency declaration late Monday.
Guam Gov. Lou Leon Guerrero ordered all residents in low-lying areas of the island to evacuate to shelters in higher ground no later than 6pm Tuesday local time.
The NWS warned residents to relocate urgently to "solid, reinforced concrete structures" that can best withstand the storm's high winds.
Zoom out: Aydlett said during a Facebook Live broadcast with the governor in Guam Tuesday that Mawar would likely be the "largest, strongest storm to strike Guam in two decades."
The island was hit head-on by the Category 5 Typhoon Karen in 1962, which devastated it.
Between the lines: Super Typhoon Mawar rapidly intensified Monday into Tuesday, with its winds strengthening by 50 mph in just 18 hours, per meteorologist Jeff Masters.
Tuesday afternoon ET, Mawar showed signs of going through an internal process known as an eyewall replacement cycle. This temporarily weakened the maximum sustained winds to below super typhoon status, at 140 mph, but spread them out over greater distances.
It could prevent the storm from quickly re-intensifying in the near-term.
Of note: Climate change has been linked to an increase in both the occurrence and rate of rapidly intensifying storms in many ocean basins. One recent study identified an uptick in storms that intensify into super typhoons in the area of the Mariana Islands.
Multiple studies in recent years have pointed to climate change as a key suspect behind shifts in the frequency and magnitude of rapidly intensifying storms.
Editor's note: This story has been updated with additional developments.
Go deeper