Florida Pride organizers cancel events, warn of "climate of fear"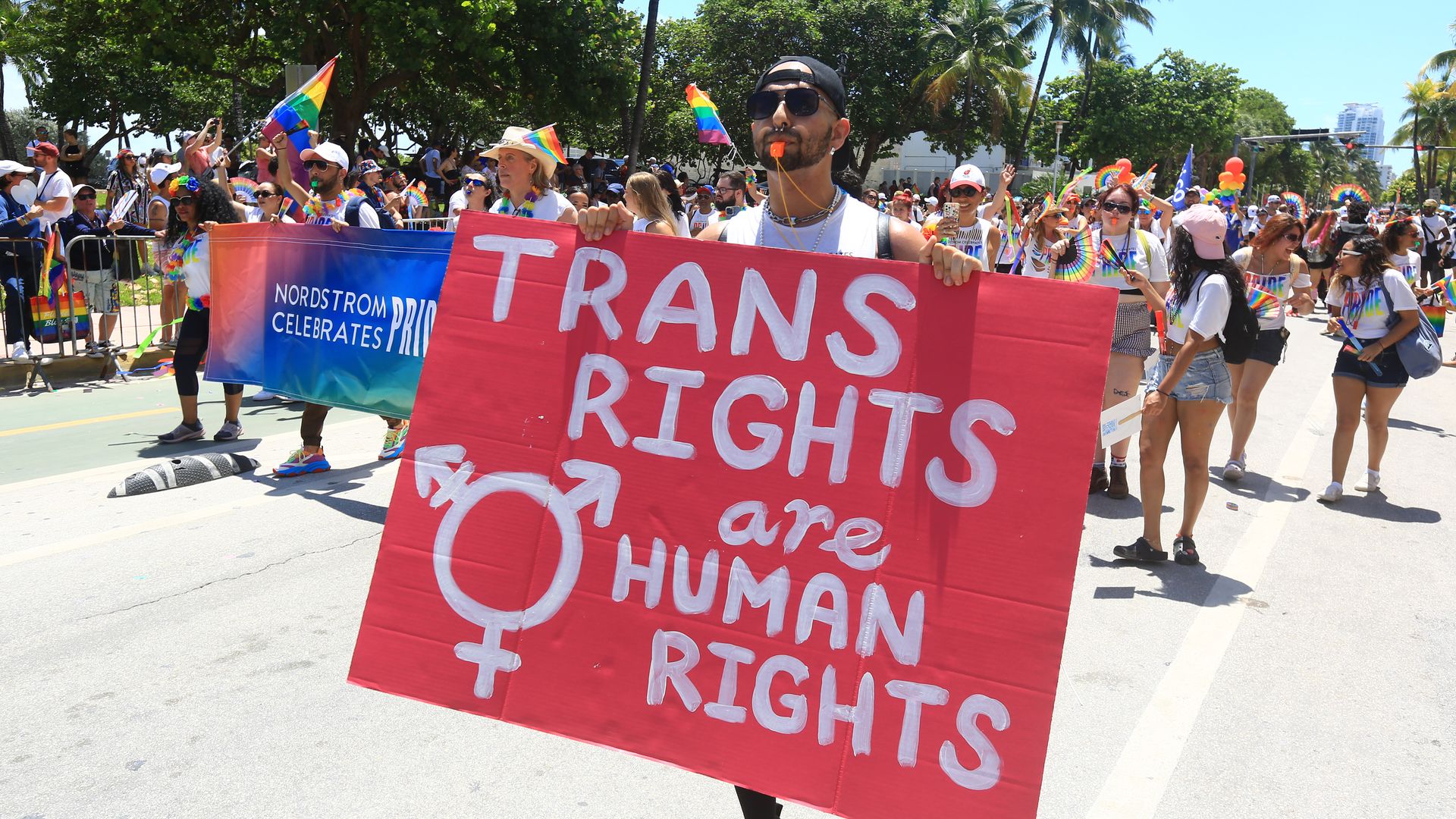 Pride organizers in a number of Florida towns have canceled events slated for next month days after Florida Gov. Ron DeSantis (R) signed several anti-LGBTQ bills into law.
Why it matters: The laws — dubbed a "slate of hate" by activists — target aspects of daily life for LGBTQ+ community members and were signed just ahead of Pride Month.
The laws target drag shows, limit the use of preferred pronouns in public schools, ban certain gender affirming care for minors, and prohibit trans people from using public bathrooms that don't align with their assigned sex at birth.
The laws concerning drag shows and gender affirming care have entered into effect immediately while the laws concerning pronouns and trans bathroom restrictions enter into effect July 1, per AP.
State of play: Pride organizers in the town of St. Cloud, just outside of Orlando, announced Thursday that they had canceled a Pride event slated for June 10, saying it was "unsafe" to hold it as planned.
"Florida has recently passed a number of laws that target the LGBTQIA+ community. These laws have created a climate of fear and hostility for LGBTQIA+ people in Florida. We believe that holding an LGBTQIA+ event in this environment would put our community at risk," they added.
Officials and organizers in the city of Port St. Lucie agreed last month to cancel the city's Pride parade and limit other events to those 21 and older in anticipation of DeSantis signing the bill targeting drag shows, local news WPTV reported.
On the other hand, Florida's Lake County Pride wrote on Facebook Thursday that they stood resolute in the face of the state's "drag ban."
"No unconstitutional law will keep us from celebrating our PRIDE event," they added.
The big picture: The new laws have affected more than just Pride events.
The NAACP issued a formal travel advisory for Florida on Saturday, saying the state has become "openly hostile toward African Americans, people of color and LGBTQ+ individuals."
The LGBTQ advocacy group Equality Florida issued a similar travel advisory last month.
The League of United Latin American Citizens, the nation's oldest Latino civil rights group, also issued a travel advisory for Florida last week, citing the state's immigration reform package.
Go deeper: Listen to the Axios Today podcast, where host Niala Boodhoo delves deeper into what specifically the NAACP advisory warns travelers about Florida and why.
Go deeper