D.C. police lieutenant charged for tipping off former Proud Boys leader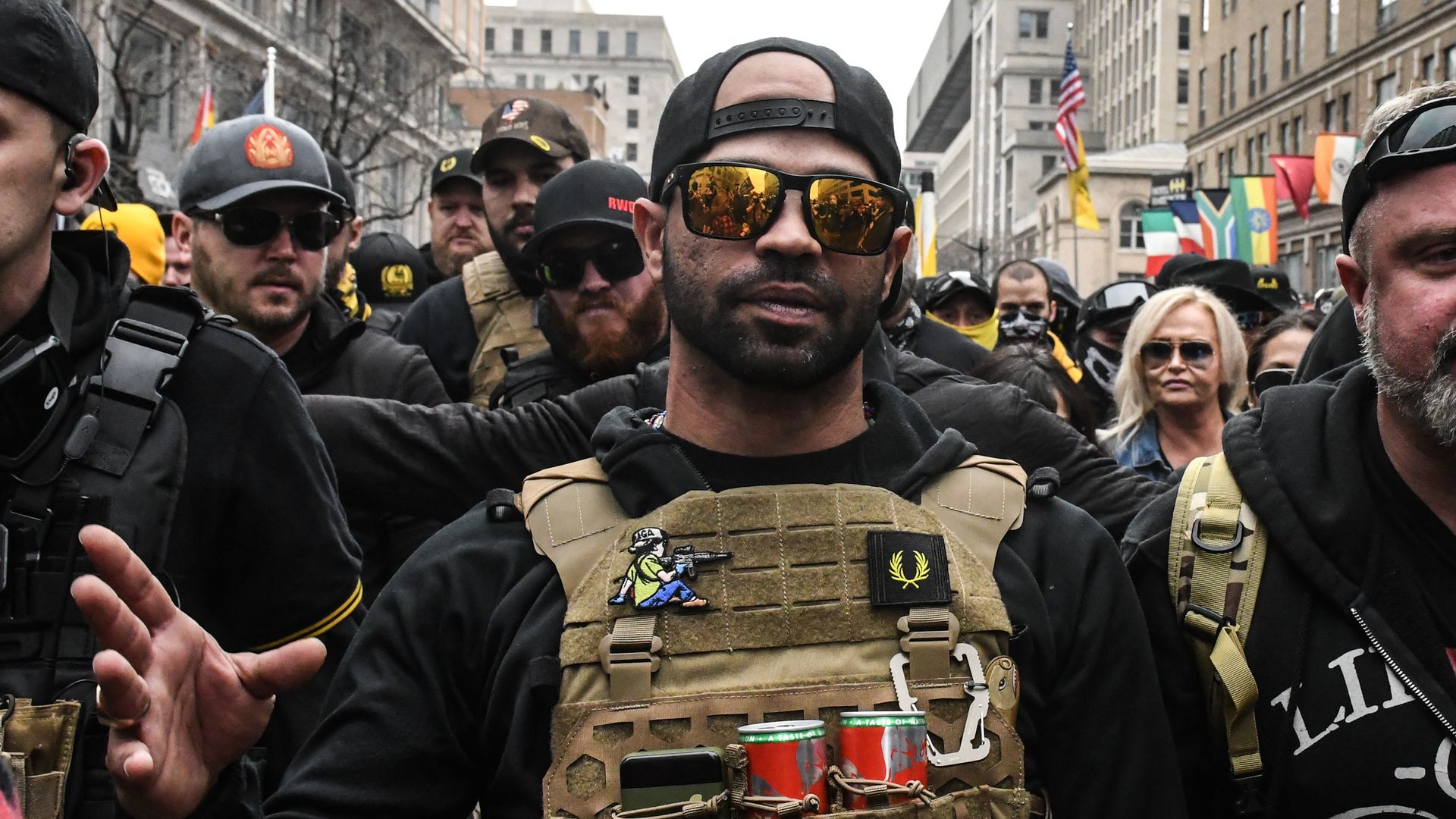 A grand jury indicted a District of Columbia Metropolitan Police Department (MPD) lieutenant for allegedly tipping off former Proud Boys leader Enrique Tarrio about a warrant for his arrest, the Department of Justice said Friday.
Driving the news: The lieutenant, Shane Lamond, 47, of Stafford, Virginia, was charged with one count of obstruction of justice and three counts of making false statements. If convicted, he faces up to 30 years in prison for the obstruction charge and up to five years for each false statement charge.
Lamond worked as the supervisor of the Intelligence Branch of MPD's Homeland Security Bureau.
The indictment alleged Lamond was in contact with Tarrio through Telegram about planned Proud Boys activities in D.C. and that Lamond shared information about law enforcement actions regarding the right-wing extremist group's activities.
Details: The indictment alleged that Lamond gave Tarrio information about law enforcement's investigation into the burning of a Black Lives Matter banner that had been taken from a historic Black church in December 2020, which Tarrio admitted to participating in.
Lamond notified Tarrio, the former chair of the Proud Boys group, that a warrant was signed for his arrest on Jan. 4, 2021 — the same day Tarrio was arrested and charged with destruction of property for his part in the burning of the banner, according to the indictment.
It also claims Lamond made false and misleading statements about his communications with Tarrio during an interview with federal law enforcement.
The two men also appear to have discussed the deadly Jan. 6 Capitol insurrection, as well as Tarrio and the Proud Boys involvement in the days leading up to and after the riot.
"Of course I can't say it officially, but personally I support you all and don't want to see your group's name or reputation dragged through the mud," Lamond said in one message to Tarrio on Jan. 8, 2021.
The big picture: Earlier this month, Tarrio was found guilty of seditious conspiracy for his role in the insurrection. He faces up 20 years in prison.
At least four other Proud Boys members who participated in the insurrection were also found guilty of seditious conspiracy.
Go deeper: American extremists linked to Russian sites
Go deeper