Google debuts latest AI model, updated chatbot, Pixel devices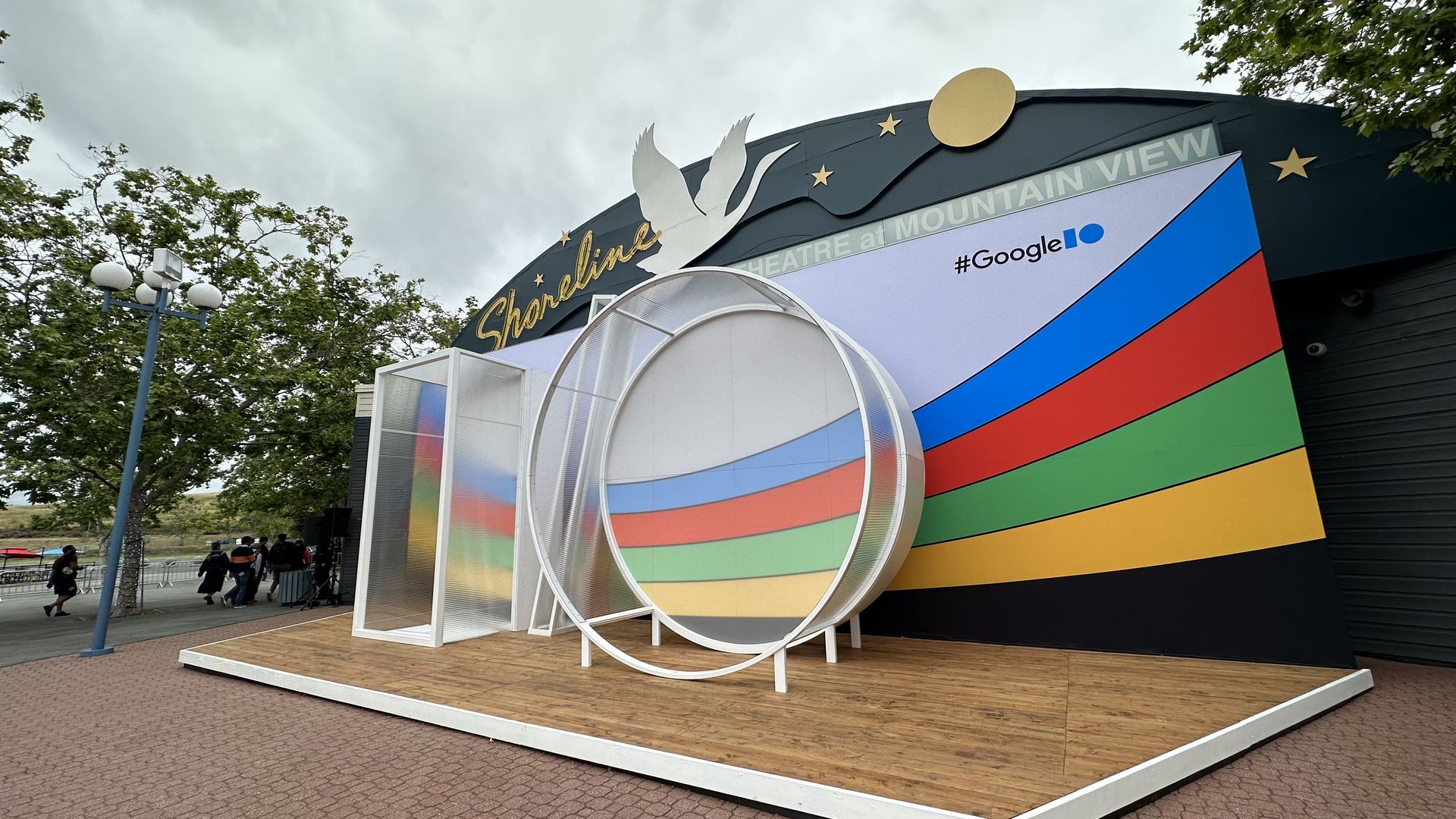 Google CEO Sundar Pichai used the company's I/O developer conference on Wednesday to announce PaLM 2, a more sophisticated version of the large language model it is using in more than 25 AI-powered products. Google also debuted new Pixel devices, including an updated entry-level phone, its first foldable smartphone and a long-promised Pixel Tablet.
Why it matters: The company aims to demonstrate it is both keeping pace with OpenAI, Microsoft and others, while also not blindly steamrolling past important AI safety issues.
"As you may have heard, AI is having a big year," Pichai said. "We have an opportunity to make AI even more helpful."
Details: Google says PaLM 2, now available in preview, will come in a variety of models, the smallest of which can run natively on a mobile device. Google is using the new model across search, Google Cloud and its Bard chatbot.
Devices
Google had already tipped its hand, leaking videos and images and other details for both Google Pixel Fold and the Pixel 7a, a lower-cost version of its primary smartphone line. The company has also teased its first Pixel Tablet. But all three got their official stage debut at I/O Wednesday.
The $1,799 Pixel Fold is Google's entry into a market thus far dominated by Samsung. It has a full front display when folded and unfolds into a 7.6-inch mini-tablet that Google says is the thinnest foldable on the market. It will ship next month, Google said, adding those who pre-order will also get a Pixel Watch.
Pixel Tablet is optimized for use on the go and around the home with a charging speaker dock that allows it to double as a smart display, a la Nest Hub. It will ship next month and starts at $499, including the speaker dock.
The Pixel 7a features a larger camera sensor than its predecessor, is available today and starts at $499.
All three devices are powered by Google's latest homegrown Tensor G2 processor.
Bard
With the new model, Google says Bard will gain improved math and reasoning capabilities and be more useful when writing computer code. In the next few weeks, Bard will also include images and videos in its results and, in the coming months, images will be able to be used as part of a Bard prompt.
Also in the coming months, Bard will incorporate Adobe Firefly to create images using generative AI.
Google is opening up Bard, sans waitlist, in English in 180 countries and territories. Bard will also become available in 40 languages soon, starting today with Japanese and Korean.
Search
Google, which had already announced some plans to add generative AI into search results, showed further details at I/O including demos that integrates videos, pictures and web links into chat-style results.
Importantly for Google's business, it plans to incorporate ads into generative AI results as well. Here though, the company faces a significant challenge, having created an extremely lucrative model with traditional search, merging sponsored links with those generated by its algorithms. Google says it is still experimenting with how best to surface ads along with generative AI results.
Google is making the generative AI search results available as part of its experimental "labs" program, with a waitlist opening today for those in the U.S.
Gmail and Google Workspace
Pichai demonstrated how Google's AI-powered "Help me write" feature in Gmail can be used to compose an email seeking a refund from an airline, automatically pulling in flight details from pervious emails. Google is also adding generative AI capabilities to sheets.
These and other generative AI features will be made available first to a group of trusted testers and will roll out to all Workspace customers as part of a new service, dubbed Duet, later this year.
Google Photos
A new "magic editor" for Google Photos uses generative AI to expand on the "Magic Eraser" feature that debuted on Google Pixel to allow more sophisticated changes, including changing the sky or filling in objects that are partially cropped out.
Google Cloud
Google is also looking to make AI capabilities available to others via Vertex and sign up AI startups to use Google Cloud rather than Microsoft Azure and other rivals.
As Axios first reported earlier today, Google Cloud has landed Character.ai as a customer.
On the Vertex front, Google is adding models that other companies can use for coding, image generation and speech recognition.
The big picture: Google is in a feature race with Microsoft, which has announced many similar capabilities, largely powered by OpenAI and also recently removed the waitlist for its AI powered Bing Chat.
Go deeper: Google's AI quandary
Go deeper