Putin slams "Russophobia" at scaled-back Victory Day parade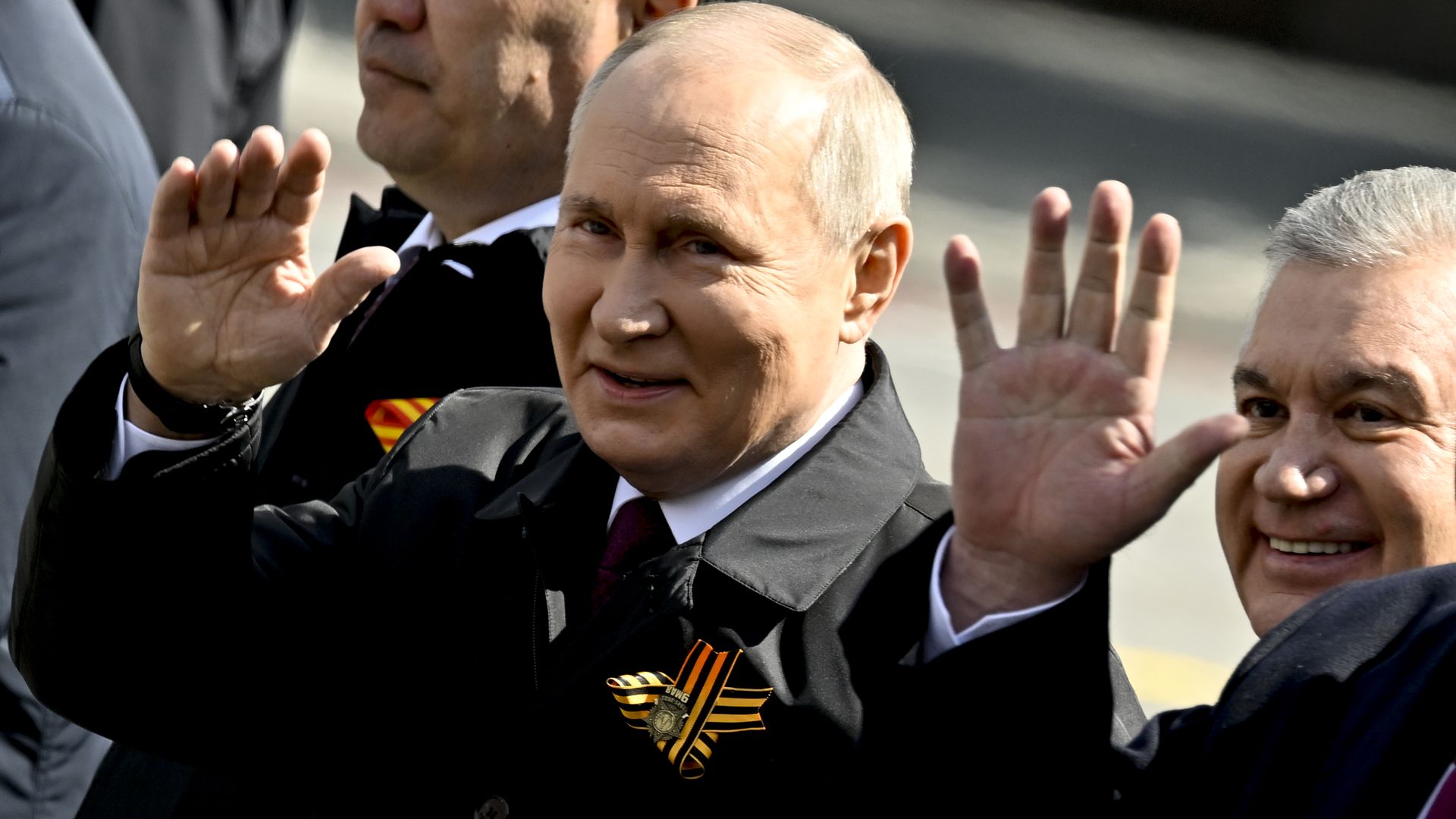 Russian President Vladimir Putin declared on Tuesday that a "real war has again been unleashed against our homeland" as he marked Russia's Victory Day, which commemorates the defeat of Nazi Germany.
The big picture: More than a year on from Russia's invasion of Ukraine, and with his forces bracing for a Ukrainian counter-attack, Putin again tried to paint the West as the true aggressors and equate Russia's current fight with its war against the Nazis.
The speech lasted less than 10 minutes and the entire ceremony was smaller-scale than normal, with no military flyovers, just one tank and around 50 military vehicles in total.
Security appeared tight six days after two drones exploded over the Kremlin. Russia claims that was a Ukrainian attack, while officials in Kyiv claim it was a Russian false flag.
Victory Day parades in some border regions were canceled, apparently out of concern they could be targeted by Ukrainian strikes.
What he's saying: Putin accused Western leaders of spreading "Russophobia" and using Ukraine as a puppet in their conflict with Russia.
"We believe that any ideology of superiority is inherently disgusting, criminal and deadly," he said, despite having justified his own invasion on the grounds that Ukraine is subordinate to Russia.
The ceremony was attended by the leaders of seven of the other 14 former Soviet republics: Armenia, Belarus, Kazakhstan, Kyrgyzstan, Tajikistan, Turkmenistan and Uzbekistan.
Ukrainian President Volodymyr Zelensky has also compared his country's current struggle to the war against Nazi Germany.
"All the old evil that modern Russia is bringing back will be defeated, just as Nazism was defeated," he declared on Monday, speaking after Russia launched 60 drones at Kyiv and other cities. Ukrainian officials say they were all shot down.
Zelensky said that Ukraine would henceforth commemorate victory in World War II on May 8, the day it's marked in most of Europe, and celebrate "Europe Day" on May 9.
Driving the news: Immediately after the parade ended on Red Square, Yevgeny Prigozhin, the attention-seeking oligarch who leads Russia's Wagner Group mercenaries, released a lengthy video.
He accused Russia's Defense Ministry of failing his forces and denounced today's generation as unworthy to celebrate Victory Day.
Go deeper