Russia and Ukraine fight to control narrative, territory as war enters new phase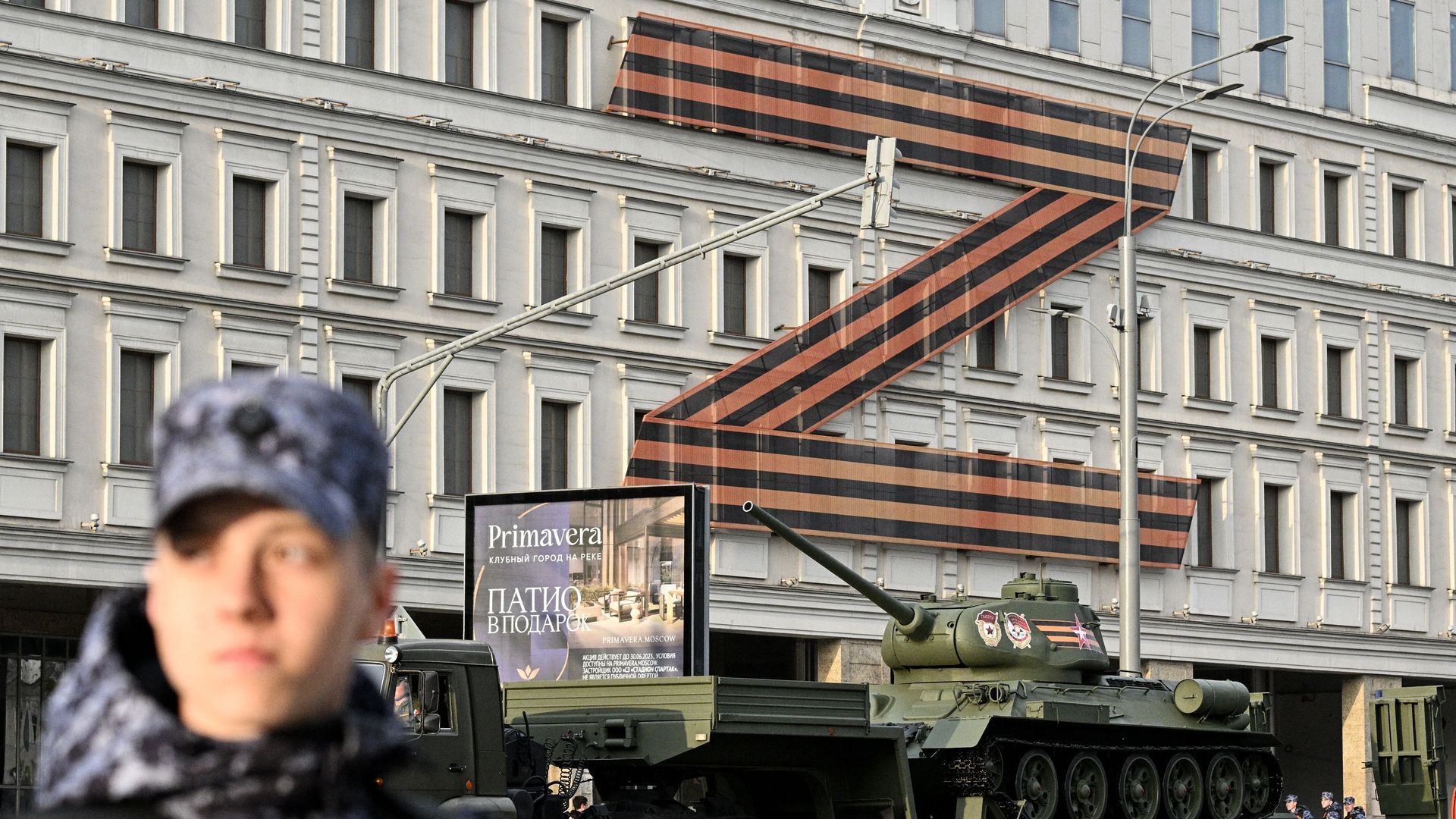 Moscow and Kyiv are on high alert as a series of explosions on both sides of the border, including over the Kremlin, herald a new phase of the war.
The big picture: Tens of thousands of Ukrainian troops — equipped with new Western tanks, artillery and training — are preparing for a critical offensive.
Russia, meanwhile, is preparing for its annual showcase of military might in Moscow. Leaders in several Russian border regions have canceled their own Victory Day parades on Tuesday, though, apparently fearing cross-border strikes.
A series of attacks on the Russian side of the border and in occupied Crimea in recent days — including on a freight train and multiple fuel depots — appear to be part of an effort to damage Russian supply lines ahead of the counteroffensive.
Russia has also stepped up its attacks on cities across Ukraine after a month-long lull. At least 23 civilians were killed on Wednesday in attacks on the southern city of Kherson. A Ukrainian oil depot was also struck.
Those latest attacks came after there were two mysterious explosions very close to the Kremlin.
Russian President Vladimir Putin's spokesperson Dmitri Peskov claims Ukraine attempted to assassinate Putin with drones, on orders from Washington.
Ukrainian President Volodymyr Zelensky denied any role. One of his top aides accused Russia of planting a false flag to justify "terrorist provocation" in the coming days.
National Security Council spokesperson John Kirby said Peskov was "lying" about U.S. involvement, but that the White House didn't know who was really responsible.
Analysts are divided as to whether a Ukrainian attack or a Russian ruse is more likely. Either way, the motive may have been to seize the narrative.
State of play: The battle lines have hardly shifted since last fall with the exception of a Russian offensive in southeastern Ukraine around the city of Bakhmut, which is now mostly but not entirely under Russian control.
The heavy casualties on both sides have been disproportionate to the city's limited strategic significance, and Russia has been unable to make further gains.
Some analysts speculate that the renewed intensity of Russian attacks around Bakhmut has been propelled by Putin's desire to take the city in time for Victory Day.
Zoom out: Elsewhere, Russian troops have been fortifying their defensive lines in preparation for a major Ukrainian push.
Many of the troops fielded by both sides in the coming months will likely be seeing action for the first time in the war, Michael Kofman, a leading analyst of Russia's military at CNA, tells Axios.
Thousands of Ukrainian troops have received training outside of the country as Ukraine prepares to utilize "combined arms" tactics to break through the Russian lines using tanks, infantry and artillery.
"We've done everything we can to make sure that they're ready," Kirby said Thursday, adding that Kyiv had received 98% of what it requested in terms of "armor, artillery, air defense, ammunition" and training.
What to watch: The offensive is unlikely to end the war, Kofman says. But it will test the thesis that with Western training, arms and intelligence, Ukraine can still reclaim significant amounts of territory.
Thus, it may dictate how willing Ukraine's Western backers are to provide such support in the longer term.
Go deeper