Putin's war: A year of miscalculations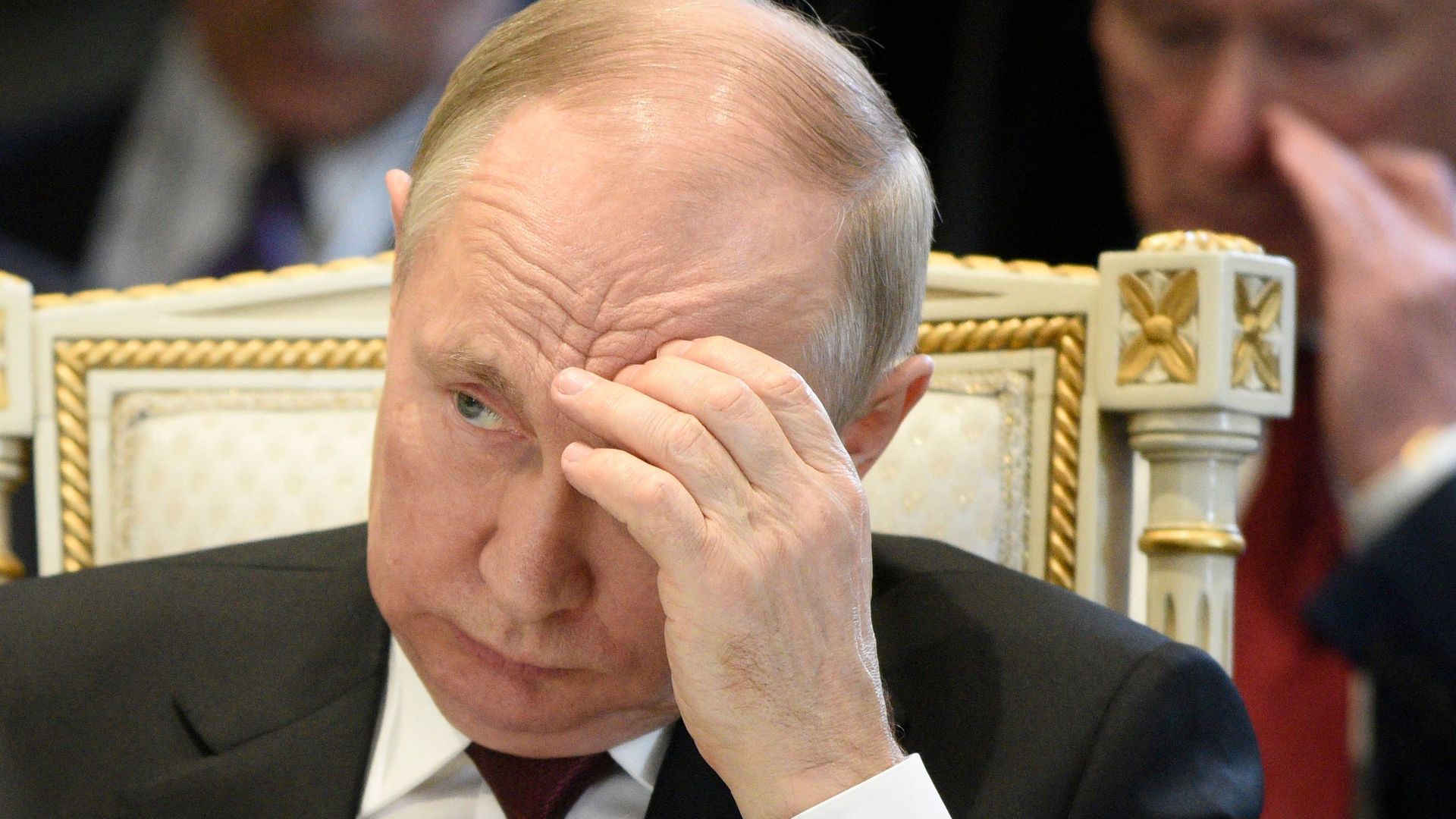 The war in Ukraine has been defined in part by Russian President Vladimir Putin and his military's miscalculations on and off the battlefield.
The big picture: A year on, Russia's military appears to have learned some lessons and made tactical adjustments, but those changes don't address bigger problems, indicating the Kremlin doesn't appear to fully understand where and how it went wrong, experts say.
The list of assumptions Moscow got wrong ahead of and during the war is long — and still growing.
Putin thought Kyiv would fall. But Volodymyr Zelensky remains Ukraine's president and continues to welcome world leaders, including President Biden this week.
He thought Russia would overpower a weak Ukrainian force. But Russian troops were simply not ready to fight what turned out to be a strong and resilient Ukrainian force. Russia ended up needing reinforcements on the battlefield — which Putin had also failed to anticipate.
Putin bet that the West wouldn't stick with Ukraine. But the U.S. and Europe's resolve has so far remained unwavering.
Russia has learned from some of those mistakes, and made some "tactical adaptations" as a result, Dara Massicot, senior researcher at the RAND Corporation, tells Axios.
"This includes experimenting with drones to try to fix some of their electronic warfare to be pretty lethal against Ukrainian drones and Ukrainian reconnaissance," Massicot says.
This is partly because they've had no choice other than to adapt. After getting hit by High Mobility Artillery Rocket Systems (HIMARS) Ukraine received from the West, for example, Russia was forced to pull back its logistics depots and leadership locations out of the range of HIMARS.
After a series of major setbacks and stalled advances, the Kremlin in March also appeared to scale back at least its immediate objectives to largely focus on gaining full control of the eastern Donbas region, though it still continues to strike civilian areas and critical infrastructure across Ukraine, including in Kyiv.
Perhaps even more telling is how Putin has changed how he talked about what he refers to as a "special operation." In December, the Russian president conceded during a televised meeting the battle in Ukraine may be "a long process."
Later that month, he even acknowledged some of the issues facing the Russian military and ways it could improve.
Yes, but: The adjustments Moscow has made are largely in line with what would be expected from any somewhat sophisticated military in times of war, Massicot cautions.
They don't "resolve the larger problems" — including leadership and structural issues, when and how decisions are made, rapidly depleting supplies, and the fact that Russia continues to take on major casualties, which is in part a reflection of how unprepared many of the estimated 300,000 men mobilized in September continue to be.
There's also an "organizational inability to change," Massicot says. This includes how Russia treats its troops and "how they communicate truth up the chain."
As for Putin, until he faces serious pressure at home that threatens his security as Russia's leader, he's unlikely to make any major changes in his approach to the war, Massicot explains.
The bottom line: "We know the Russians are ... not moving from comprehensive incompetence to competence. It's moving from debacle to slightly less of a debacle," Massicot concludes.
But some of the tactical and strategic changes Russia has made "do wear down the Ukrainians, they do stress them ... it's costly, but ... does have some impact."
Go deeper