Biden provokes key Republicans with New York trip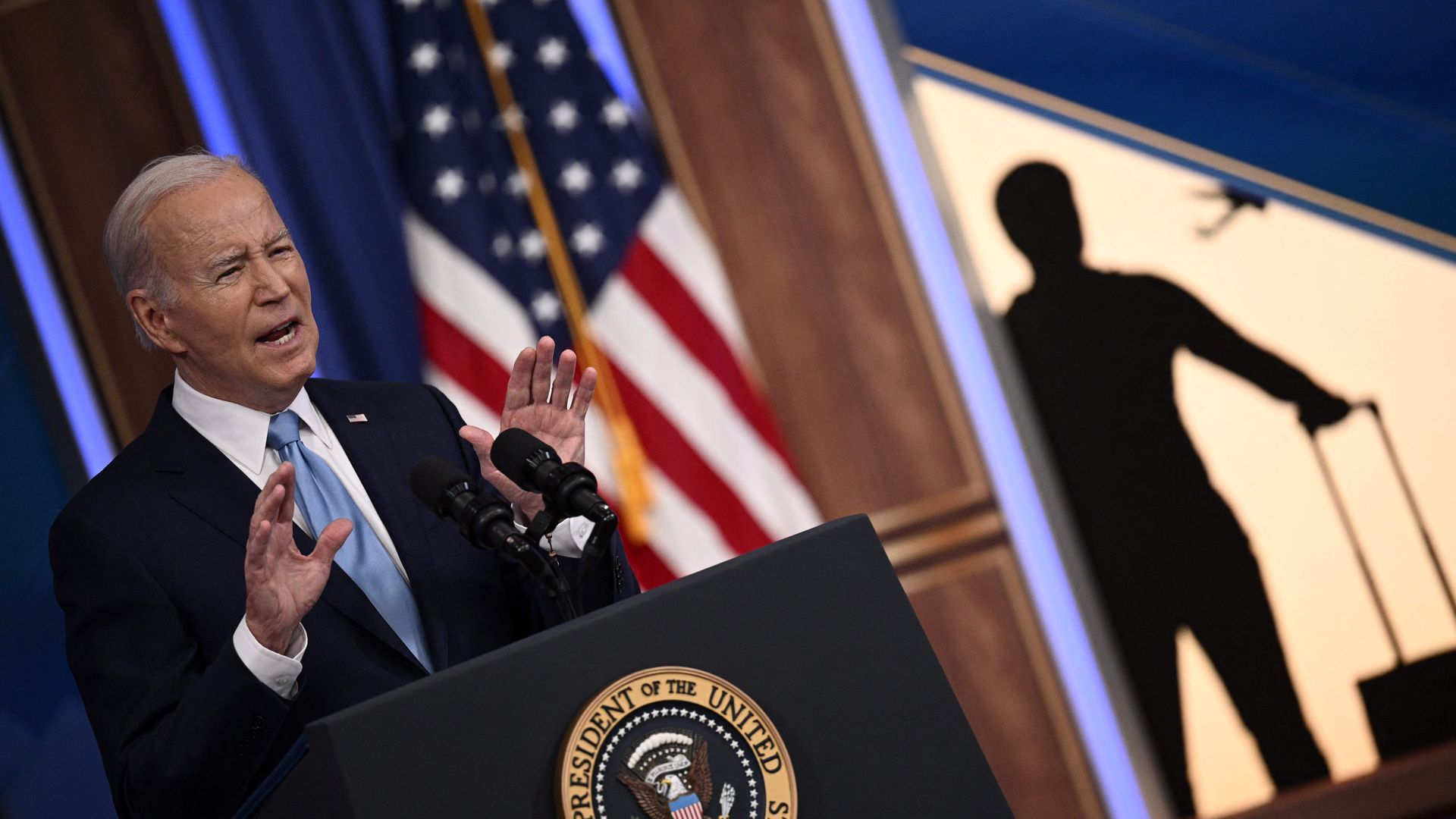 Vulnerable House Republicans from New York are warning that President Biden's planned trip to their home turf on Wednesday could only serve to further strain tensions between them and the White House.
Why it matters: These GOP lawmakers — who would be critical to a Democratic effort to pass a clean debt ceiling increase – see Biden's speech as a provocative ploy to pressure them into supporting that push.
Driving the news: Biden will "discuss why Congress must avoid default immediately and without conditions" and rail against the House GOP's debt ceiling bill in Rep. Mike Lawler's (R-N.Y.) district, according to a White House advisory.
Lawler told Axios in a statement he plans to attend the event and "convey to [Biden] the importance of negotiating with Speaker McCarthy, reigning in spending, and avoiding default."
"We all have a responsibility to work together," he added.
The visit will come after Biden sits down with House Speaker Kevin McCarthy (R-Calif.) and other congressional leaders on Tuesday, but the president is expected to push a clean debt ceiling increase as the speaker pursues concessions on spending cuts.
Biden will also attend campaign fundraisers in New York City after his Hudson Valley event.
What they're saying: "I don't think coming to New York City to siphon political cash and deliver a partisan speech in marginal districts is the way you build collaboration," said Rep. Marc Molinaro (R-N.Y.). "And we're only four months into this year. It's unfortunate."
Molinaro said there has been "limited outreach" from the White House on the debt ceiling – compared to "several conversations" with Biden on mental health and substance abuse.
Rep. Nick LaLota (R-N.Y.) similarly told Axios, "I really don't see how his presence in New York districts … adds any value," and that he has had no communications with the White House on the issue.
"Instead of negotiating in good faith for the best interest of our nation, President Biden continues to recklessly push false narratives," Rep. Brandon Williams (R-N.Y.) said in a statement.
The other side: "We are going to stay focused on what Congress needs to be doing here, their congressional duty, which is to prevent a default," White House press secretary Karine Jean Pierre said at a briefing on Tuesday.
"It's not rational, it's not reasonable and it's not practical for Congress to be doing what they're doing, for House Republicans to be holding this up."
Between the lines: All of these members represent districts Biden won in 2020 and are thus some of the most vulnerable incumbents in the 2024 election.
They are seen as prime targets in efforts to splinter the GOP's coalition.
But they have also repeatedly proven loyal soldiers to McCarthy, especially when it comes to the debt ceiling.
What caught our eye: Molinaro and LaLota both signaled they are open to collaboration with Biden but declined to entertain supporting a clean debt ceiling increase.
"I don't think there is much of an appetite for a clean debt ceiling [increase]," said LaLota, "Even if it's supposed to some sort of short-term negotiating mechanism."
He suggested that a short term extension to give negotiators breathing room could be exchanged for passing less controversial spending cuts in the GOP's bill: "Put the $60 billion in COVID [relief] money on the table."
Go deeper