McCarthy's loyal soldiers emerge in Biden country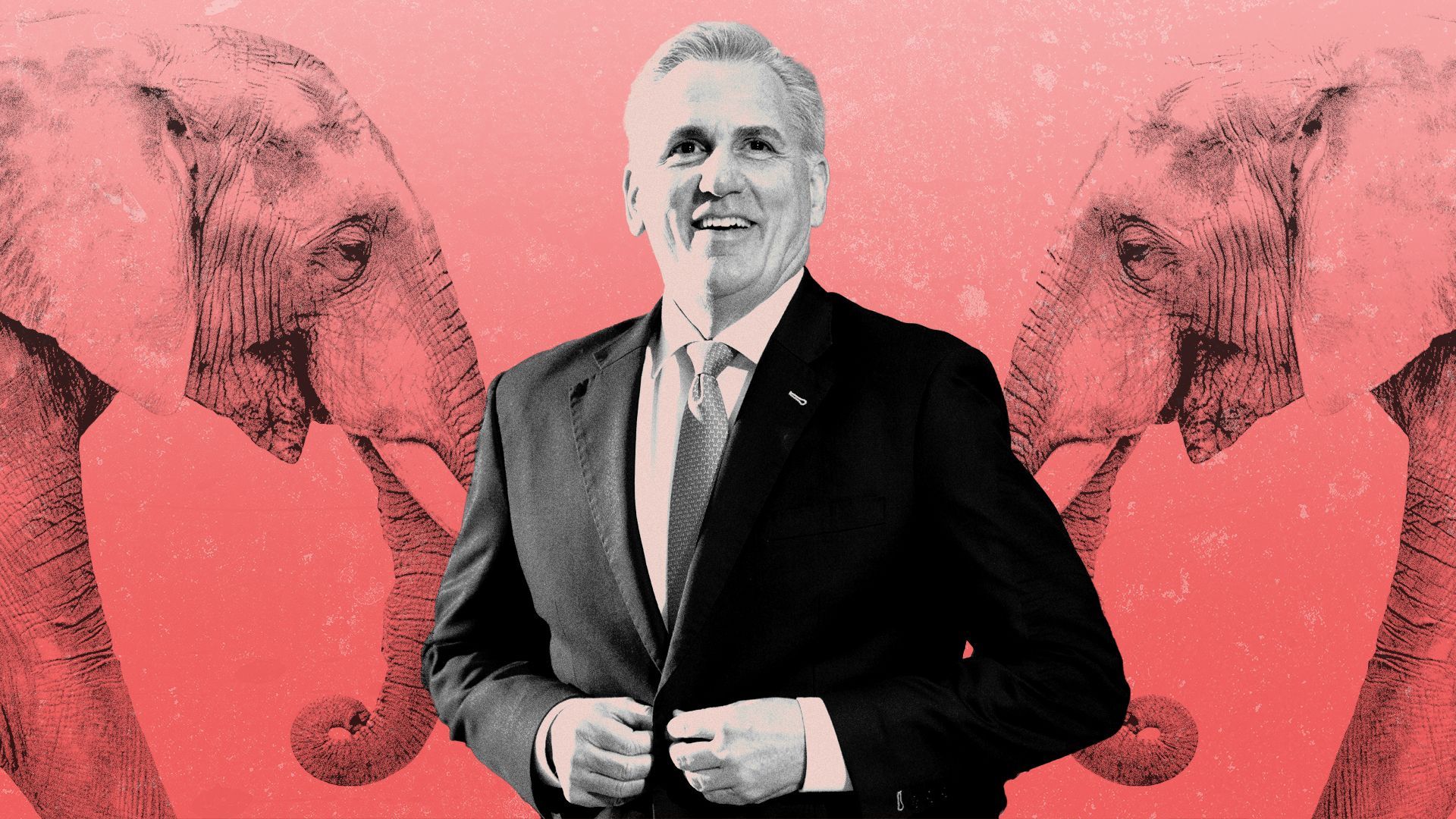 Biden-district Republicans are surfacing as reliable votes for the GOP's debt ceiling bill even as Democrats prepare to use it against them on the campaign trail.
Why it matters: With a five-seat majority and Democrats closing ranks against the measure, House Speaker Kevin McCarthy (R-Calif.) needs just about everyone in his conference to support the bill.
The bill introduced last week would raise the debt ceiling by $1.5 trillion, while cutting spending in some areas and requiring stricter work requirements for food stamps and Medicaid.
Vulnerable Republicans see little downside given that the most controversial provisions will likely end up on the cutting room floor – and they believe the bill's spending cuts are broadly popular.
One GOP source said Democrats going after Republicans who voted for Trump's impeachment, the infrastructure bill and the Jan. 6 commission last cycle is also driving a belief among vulnerable Republicans that they'll be targeted regardless of how they vote.
Driving the news: More than a half dozen of the 18 Republicans in districts President Biden won in 2020 told Axios they plan to vote for the bill.
Rep. Mike Lawler (R-N.Y.): "I'm going to vote for it ... There's three parameters for me: The president must negotiate with the speaker, we must cut spending and we must not default."
Rep. John Duarte (R-Calif.) said he is going to "support the speaker," adding, "People back home are ... very tired of paying for inflated prices while some people aren't going to work. So I'm very in favor of the work requirements."
Rep. Don Bacon (R-Neb.): "We have to take action. The president is refusing to negotiate, so we're putting this over the net ... and see[ing] what the Senate can do over there."
Rep. Mike Garcia (R-Calif.): "We'll be supporting it ... We've done a good job of getting together as a conference and finding the trades, finding that sweet spot as far as compromise positions, the far-right to the middle."
Rep. David Valadao (R-Calif.): "We understand this is a negotiating position and we don't love everything about the bill, but we have to get to the table."
Rep. Brandon Williams (R-N.Y.) said in a statement: "I will be supporting the debt ceiling plan ... to reduce our deficit, temporarily raise the debt ceiling, and cut out the reckless spending that has fueled inflation."
Rep. David Schweikert (R-Ariz.), a deficit hawk and former member of the right-wing Freedom Caucus, is a yes as well, his spokesperson said.
Yes, but: Rep. Juan Ciscomani (R-Ariz.) is "carefully reviewing" it, his spokesperson said. Several other offices cited policies of not announcing votes ahead of time.
Rep. George Santos (R-N.Y.) signaled he is a "no" on the bill.
McCarthy's more immediate concern appears to be on the right flank of the caucus and rural and Midwestern members, according to Politico.
What they're saying: Democratic Congressional Campaign Committee spokesperson Courtney Rice said "any Republican that votes for this plan can be certain they'll be hearing about it from now until Election Day when they're kicked out of office."
House Democrats' issue advocacy 501(c)(4) House Majority Forward is running ads slamming the bill's spending cuts in the New York City media market, where many of the vulnerable Republicans are based.
The other side: National Republican Congressional Committee spokesperson Jack Pandol pointed to GOP polling that suggests voters favor their efforts to cut spending.
Bacon argued the repeal of IRA tax credits and work requirements are "very popular."
Between the lines: "I'm comfortable that we're going to come to a much better agreement going through the compromise and negotiation process than if we just pass the debt ceiling and don't require some changes," said Duarte.
Garcia suggested it would be low down on his list of talking points: "We've got a million issues that I've got to go communicate on, so this is another one of those."
Go deeper