FDA's new abortion catch-22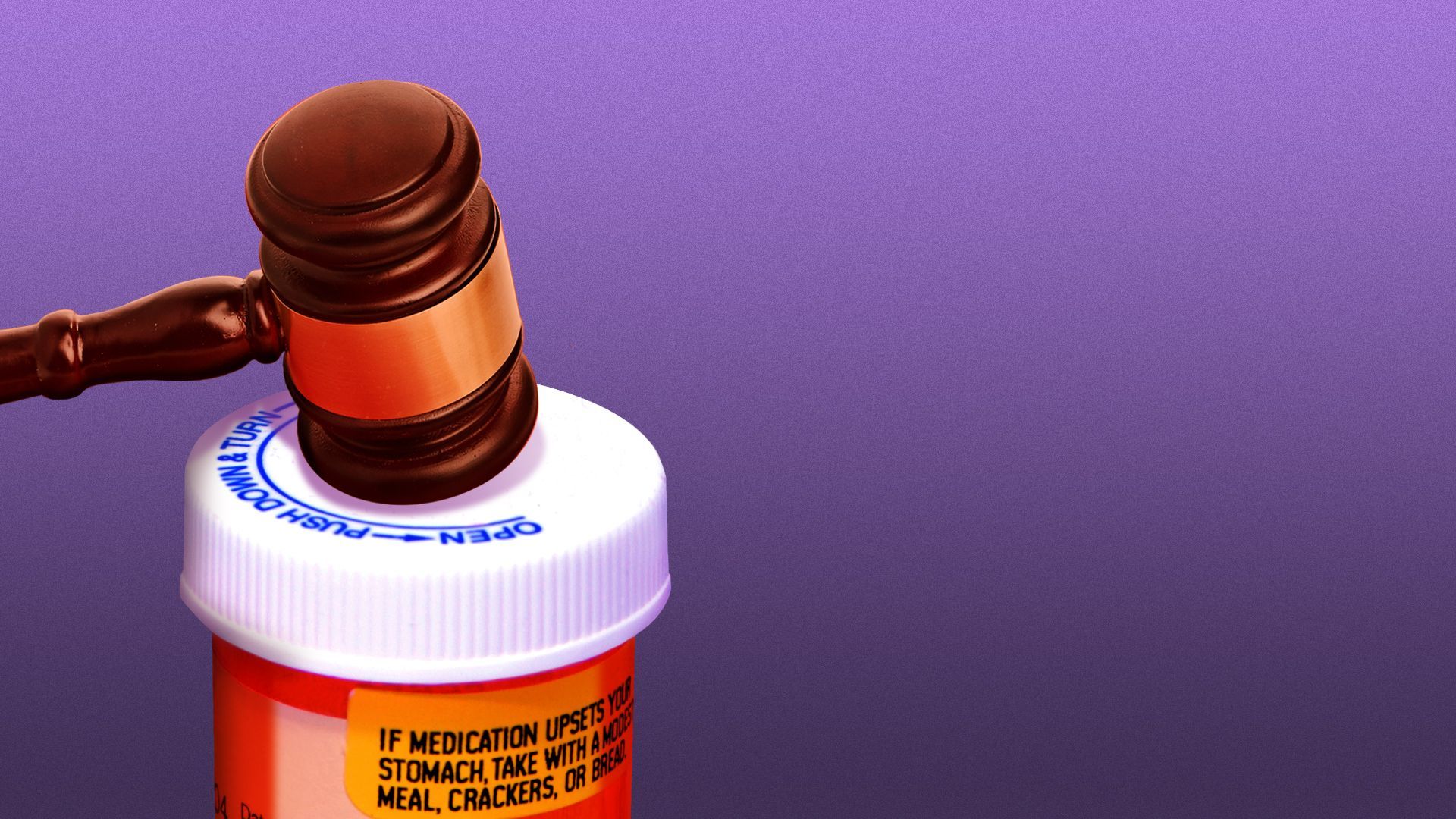 Abortion rights advocates are trying to force the Food and Drug Administration to expand access to medication abortion — even if that winds up undercutting the agency's rulemaking discretion.
The big picture: The FDA's regulatory powers over drugs that terminate pregnancies are being challenged by both abortion rights and anti-abortion groups in a way that creates a "dangerous path" for the agency to make independent scientific decisions, legal experts say.
Catch up fast: A federal court ruling in Texas ordering the FDA to suspend its approval of the widely-used abortion pill mifepristone was temporarily blocked by the Supreme Court.
Meanwhile, a different federal judge in Washington state barred the FDA from curtailing access to the drug in 17 states and the District of Columbia.
Now, abortion clinics are asking a third federal court in Virginia to do away with FDA regulations that limit who can dispense mifepristone in Kansas, Montana and Virginia.

The clinics say that their states have become destinations for abortions due to bans in surrounding states and should therefore be protected from potential court rulings that could cut access to the most common abortion method in the U.S.
What we're hearing: "I think we're on a dangerous path as a nation when partisans on both sides are using the courts to challenge FDA scientific determination," said Lawrence Gostin, a law professor at Georgetown University.
"One group is saying that ... 'the science tells us that there needs to be more restrictions.' You have another group suing to say, 'the science tells us that there needs to be less restrictions.' But shouldn't the final call [come from] career scientists at the FDA?," Gostin told Axios.
He added that "once we embark on endless lawsuits against the agency questioning its scientific validity, we're on a slippery slope, not just with abortion medications, but with other decisions the FDA makes."
Details: The Center for Reproductive Rights on Monday sued the FDA on behalf of abortion clinics in Kansas, Montana and Virginia to maintain and expand access to medication abortion in those states.
The lawsuit argues that the FDA must "follow the science" and get rid of mifepristone's "burdensome" dispensing restrictions limiting prescribing to those certified by the FDA to to expand access to a drug that has been deemed "safe and effective."
This challenge resembles an action Democratic attorneys general took in Washington state that resulted in a federal judge ruling the agency cannot roll back access to mifepristone in some jurisdictions.
The Center wants a federal district court in Virginia to make a similar ruling and issue a preliminary injunction barring the FDA from "deviating from the status quo" and keeping access to mifepristone intact while the legal challenge plays out.
What they're saying: The Center for Reproductive Rights asserts that undermining the FDA is "far from what we ... have sought," said Rabia Muqaddam, a senior staff attorney for the Center.
The issue "is not that the FDA has made a mistake in its scientific judgment, it has clearly made the correct judgments that [mifepristone] is safe and effective, it's that the regulation that is applicable for mifepristone has had an unintended perhaps, but unfortunate effect of stigmatizing mifepristone," Muqaddam told Axios.
Don't forget: Since 2016, the FDA has loosened mifepristone's dispensing restrictions, including making the pill accessible by mail and allowing pharmacies to become certified to provide them.
Between the lines: Judges are not scientists and "typically, what the [courts have] done over the last almost 50 years" is "defer decisions that have been made and keep them intact by those agencies unless there is a clear abuse of discretion," said Andrew Twinamatsiko, associate director of the O'Neill Institute at Georgetown Law School.
The question right now is "which of these parties is presenting a clear abuse of discretion" that would warrant a court to intervene with the FDA's regulatory authority, even as the judicial branch does not have the agency's scientific expertise, Twinamatsiko added.
What we're watching: The Center for Reproductive Rights' lawsuit comes ahead of an upcoming hearing in the U.S. 5th Circuit Court of Appeals next week that will focus on whether to uphold the Texas federal court ruling.
Go deeper