Federal court rules 17 states, D.C. are not impacted by Texas abortion pill ruling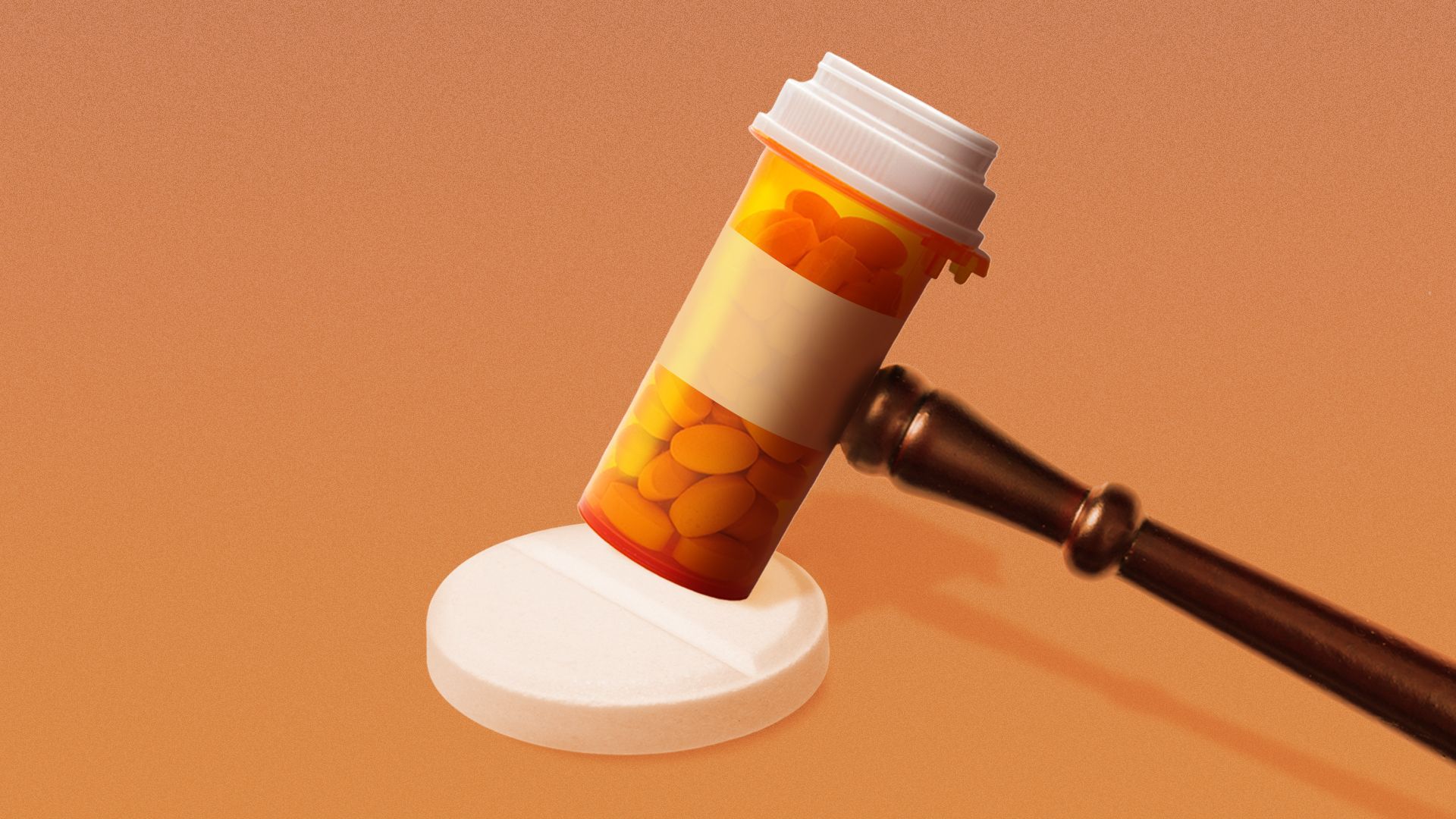 A federal judge in Washington state on Thursday ruled that the Food and Drug Administration cannot roll back access to abortion pills in 17 states and the District of Columbia, regardless of the conflicting orders issued in other federal courts.
Why it matters: The availability of mifepristone, used for medication abortion, hinged on dueling court decisions — one that adds restrictions to the medication and the Washington state one, which says that suspending access to the drug alters the "status quo."
Catch up fast: Last week, U.S. District Court Judge Thomas Rice issued a ruling saying the FDA could not suspend its approval of mifepristone in 17 states and Washington, D.C. nearly at the same time that District Court Judge Matthew Kacsmaryk in Texas stayed the agency's authorization nationwide.
The Biden administration then asked Rice to clarify how the federal government could obey his ruling if the Texas one took effect.
A federal appellate court on Wednesday left the FDA's 2000 approval intact, but restored restrictions that the agency had removed over the years.
What they're saying: "The restrictions imposed by the Fifth Circuit's radical decision do not impair access to mifepristone in the 18 states that are a part of our coalition," Washington state Attorney General Bob Ferguson, who led the multiple states that brought the Washington case, told Axios.
"The Washington injunction is unmistakably clear: No changes to the status quo in our states — period. The Fifth Circuit's ruling does nothing to change Judge Rice's order, and that became even clearer today," he added.
Details: In his most recent order, Rice said that the Biden administration "must" follow his order.
The judge also warned about the dangers of nationwide injunctions, saying that the Supreme Court "has repeatedly emphasized that nationwide injunctions have detrimental consequences to the development of law."
Rice added that "[n]ationwide injunctions are also associated with forum shopping, which hinders the equitable administration of laws."
The Washington ruling applies in Arizona, Colorado, Connecticut, Delaware, the District of Columbia, Hawaii, Illinois, Maine, Maryland, Michigan, Minnesota, Nevada, New Mexico, Oregon, Pennsylvania, Rhode Island, Vermont, and Washington state.
Between the lines: The Alliance of Hippocratic Medicine, the coalition of anti-abortion groups that brought the lawsuit challenging the FDA's mifepristone approval, has been accused of "court shopping" by filing its case in Amarillo, Texas, where Kacsmaryk — a Trump-appointee who has openly opposed Roe v. Wade — is the only presiding judge.
The attorney representing the plaintiffs told Axios that the lawsuit was filed in Amarillo because the Alliance is based there, but the group was incorporated there last August even though it has a Tennessee mailing address and none of its member organizations are based there.
Read the ruling:
Go deeper