Democrats scramble to act on guns after Texas mall shooting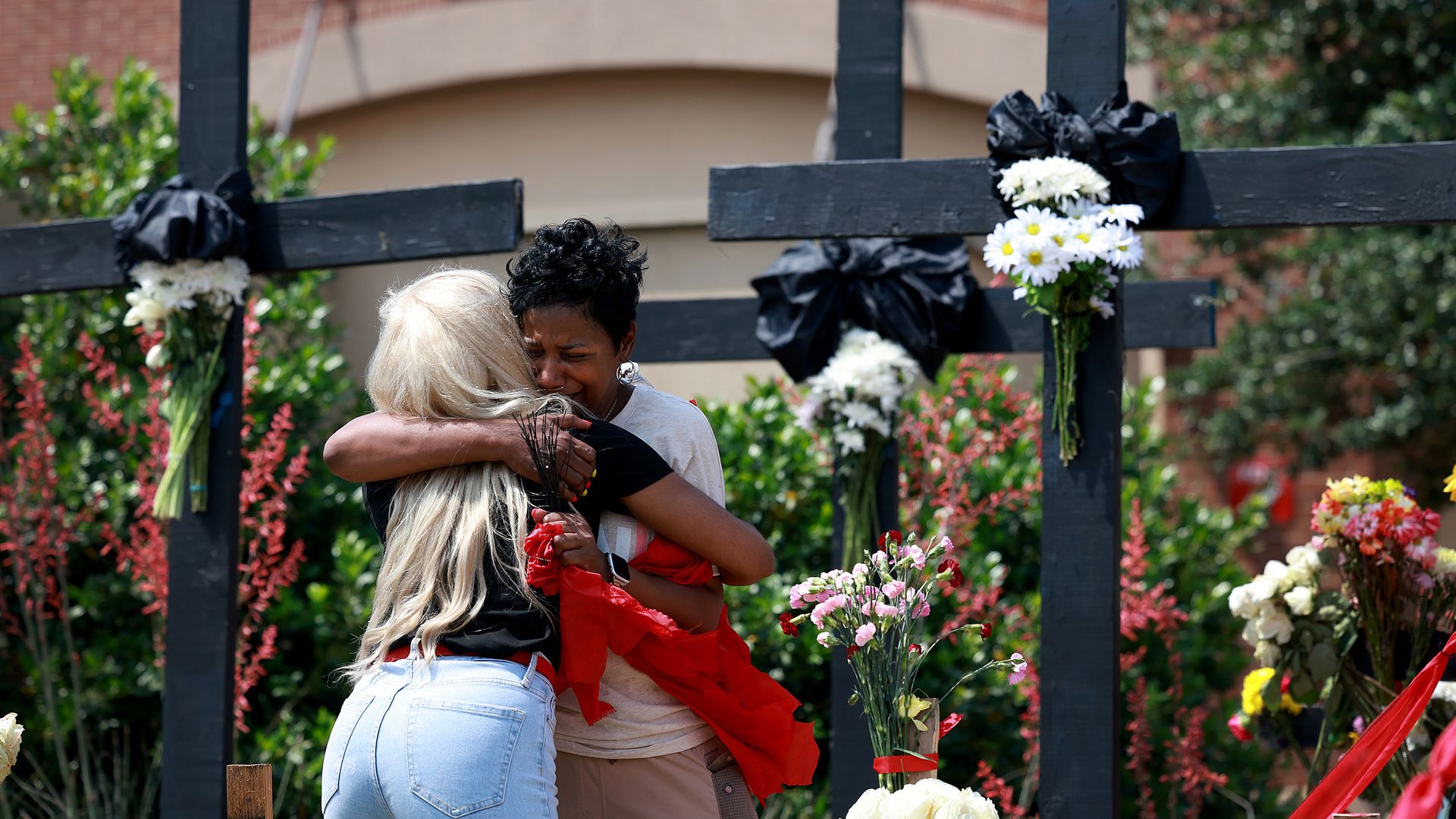 Democrats in Washington find themselves in a familiar position this week: trying to do something, anything, to address gun violence in the wake of another mass shooting.
Why it matters: The now-habitual dynamic illustrates how GOP obstinance on the issue, combined with procedural hurdles, have frustrated gun control advocates' efforts and made even piecemeal reform seemingly out of reach.
The context: Eight people were killed on Saturday after a gunman opened fired at a mall in Allen, Texas, just outside Dallas, according to Axios' Naheed Rajwani-Dharsi.
More than 200 mass shootings have occurred so far in 2023.
Driving the news: Senate Majority Leader Chuck Schumer (D-N.Y.) is convening a special caucus meeting on Thursday afternoon to "discuss gun violence and the path forward on gun safety legislation," his spokesperson said.
Rep. Jared Moskowitz (D-Fla.) sent a letter to two GOP committee chairs seeking a field hearing in Parkland, Florida – the site of the 2018 Marjory Stoneman Douglas shooting – to "learn about the success of 'red flag laws.'"
And Rep. Ruben Gallego (D-Ariz.), through his Senate campaign, issued a statement calling for Sen. Kyrsten Sinema (I-Ariz.) to drop her opposition to a gun control carveout of the Senate's 60-vote legislative filibuster.
What they're saying: "Congress must address this crisis," White House press secretary Karine Jean-Pierre said at a press briefing on Monday.
"Yesterday the president, once again ... asked Congress to send him a bill banning assault weapons and high-capacity magazines, ending immunity for manufacturers, requiring safe storage, enacting universal background checks."
Yes, but: Most of these moves run up against a significant problem – a brick wall of opposition in the GOP, and a lack of enthusiasm even by some of the party's most eager bipartisan deal-makers to agree to more gun control.
"I want to see the bill we just passed get implemented," Sen. John Cornyn (R-Texas), the lead GOP negotiator on the Uvalde bill, told the New York Times of the idea of passing yet more gun control after Nashville.
Biden told reporters at the time: "I can't do anything except plead with the Congress to act reasonably."
Another complicating factor is that, unlike last year, House Republicans now control the House – making action on guns even more untenable.
House Majority Leader Steve Scalise (R-La.) told CNN: "Congress passed more gun control. I opposed it because I knew it wouldn't solve the problem. It just makes it harder for law-abiding citizens to get guns to defend themselves."
Go deeper