What we know about the Texas mall shooting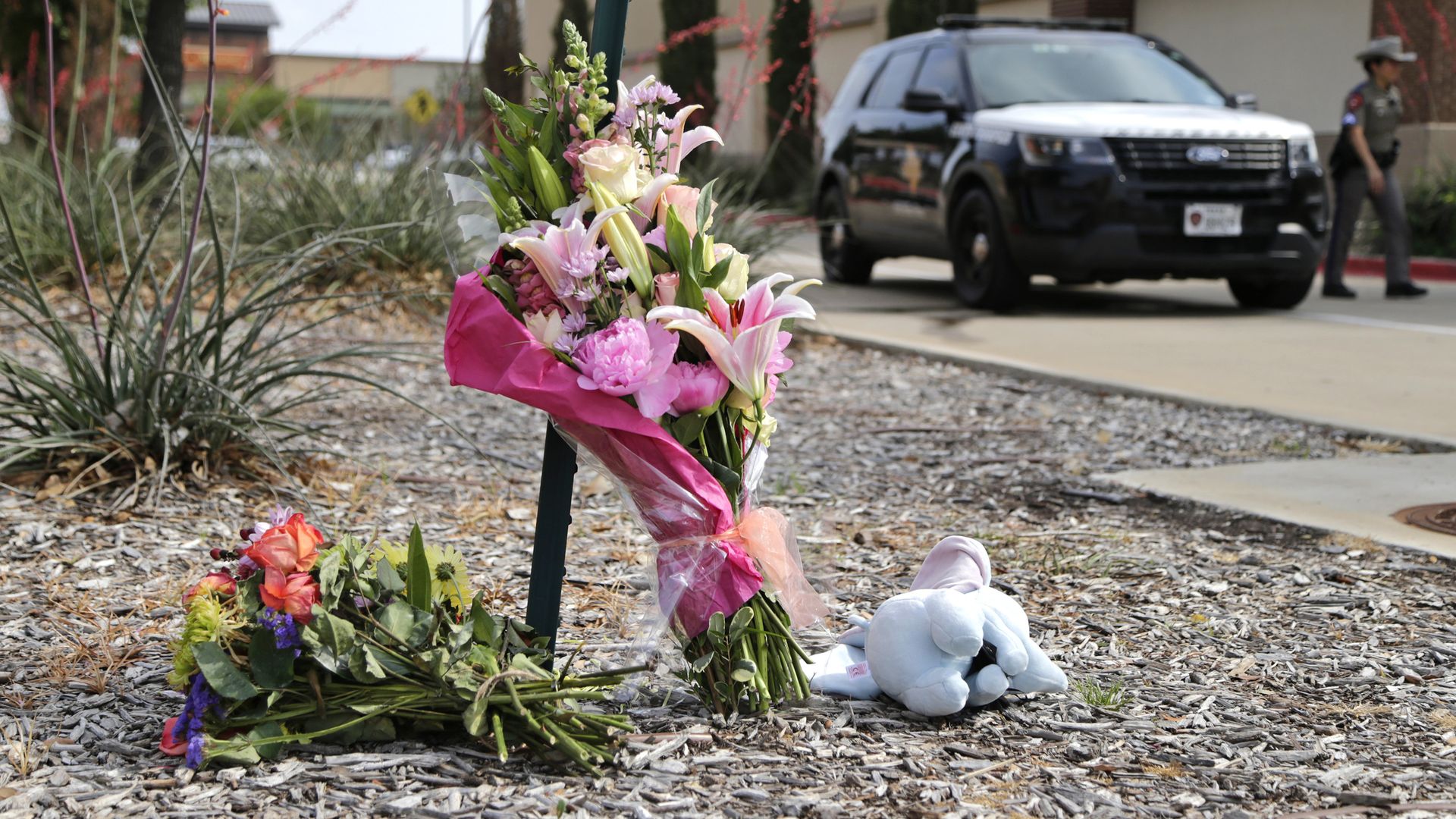 The man accused of killing eight people and injuring seven others in a shooting at Allen Premium Outlets on Saturday was identified as a 33-year-old who had been living in a motel, per AP.
Driving the news: Authorities identified the suspect as Mauricio Garcia, from Dallas. He was one of seven people who died at the scene. Two others died at the hospital.
Police found multiple weapons at the outlet mall in Allen, a city in Collin County and a northern suburb of Dallas. These included an AR-15-style rifle and a handgun, per AP.
The latest: Vigils were held outside the mall and at the Cottonwood Creek Baptist Church on Sunday evening to honor the victims.
As Texas Gov. Greg Abbott (R) joined thousands of people gathered inside the church a group of protesters gathered outside to demand reforms to gun laws.
Three people remained in critical condition and four others were in fair condition, including one at Medical City Children's Hospital, hospital officials said Sunday.
Officials hadn't identified any of the victims nor given ages, but Medical City Healthcare treated eight of the victims, ranging in age from 5 to 61.
Meanwhile, relatives identified Aishwarya Thatikonda and Christian LaCour, who was a security guard at the mall, as victims, per WFAA.
What happened: An Allen police officer responding to an unrelated call at the outlet mall reported hearing gunfire around 3:35pm Saturday. The officer followed the sound and fatally shot the gunman.
Videos posted online that appear to have been taken during the shooting show people fleeing in the parking lot as gunshots ring out. One video showed a man get out of a car and start shooting.
What they're saying: Witnesses described chaos and carnage after the shooting. Steven Spainhouer described finding a child under his mother's body.
"No one can see what we saw today and not be affected by it," Spainhouer said, per CBS.
Details: Until recently, the alleged gunman had been living with his parents in northeast Dallas. Neighbors told WFAA they often saw Garcia wearing a security uniform.
A heavily armed man wearing a security uniform appeared to be among the dead at the outlet mall Saturday.
The gunman had a patch on his chest that said "RWDS," an acronym for Right Wing Death Squad — a phrase popular among extremists, including white supremacy groups, per the Washington Post.
Sources told WFAA that Garcia had been in the U.S. Army in 2008 but was removed due to mental health concerns.
Of note: The FBI is assisting in the investigation and searched the alleged gunman's parents' home and a motel Saturday.
They're asking anyone with video from the scene to upload footage here.
Meanwhile, President Biden ordered U.S. flags to be flown at half-staff until sunset Thursday.
Editor's note: This article has been updated with additional details throughout.
Go deeper