Exclusive: Dems eye young voters for an edge in 2024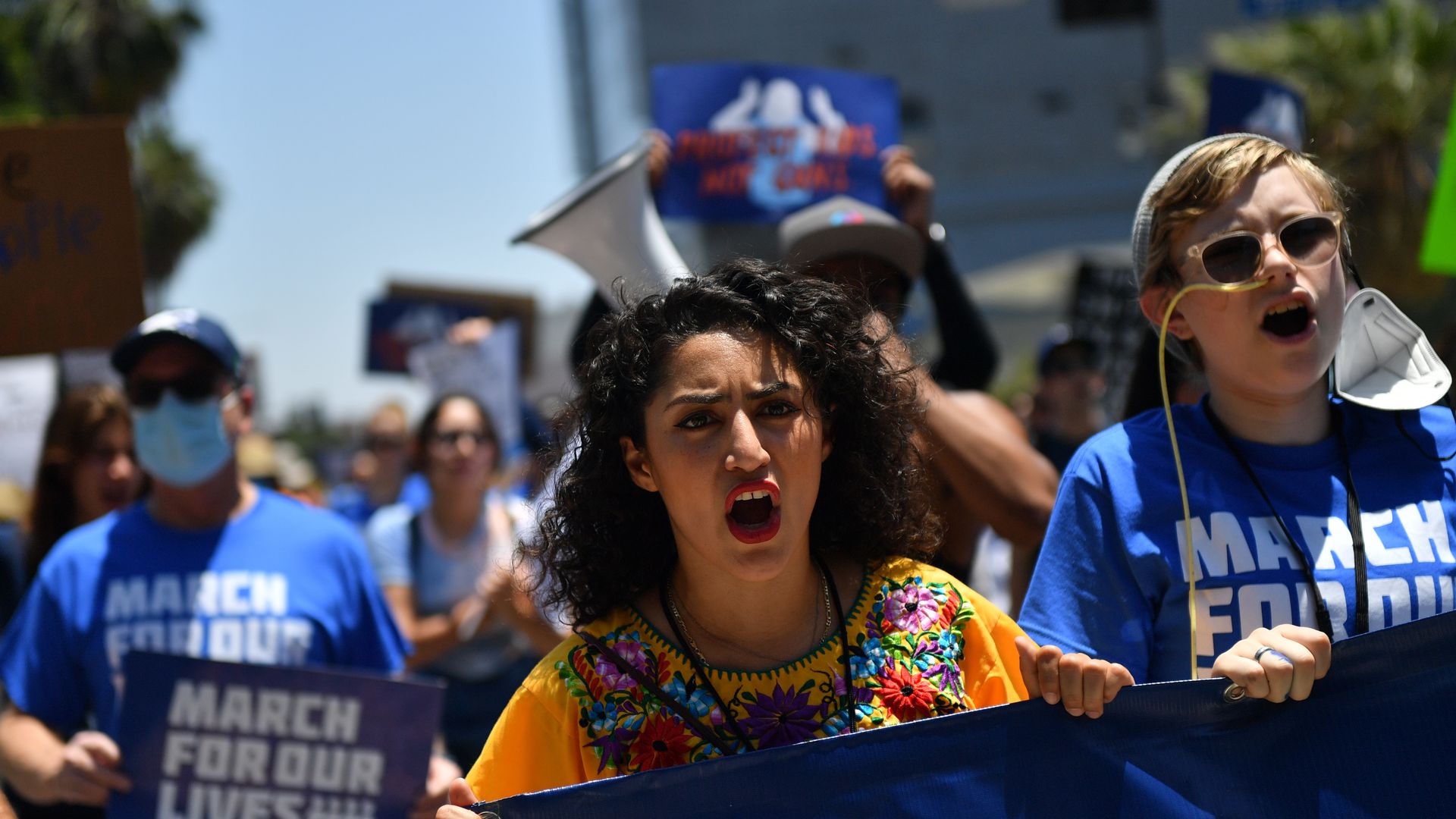 Dozens of Democratic lawmakers have vowed to engage with young voters ahead of the 2024 election, according to a Voters of Tomorrow pledge shared first with Axios.
Why it matters: Some of the Democrats who signed the pledge are in competitive districts, and like their party's most prominent leaders, including President Biden, they have a vested interest in energizing youth voters.
Driving the news: "We have to engage young voters not only in the two weeks before the election, but in the two years before the election," Jack Lobel, 18, the national press secretary of Voters of Tomorrow, a Generation Z-centered civics advocacy group, told Axios.
"That's why we believe that youth voter engagement is a sustained process and that's why we're rolling out our 'Youth Vote Champions' pledge over a year before the 2024 election," he added.
As of Tuesday afternoon, 36 House members — all Democrats — have signed the Voters of Tomorrow pledge, including some in districts that the National Republican Congressional Committee is targeting in 2024.
At least six of the lawmakers who have signed the Voters of Tomorrow pledge are in districts on the NRCC target list, including Reps. Matt Cartwright (D-Pa.) and Mary Peltola (D-Alaska).
What they're saying: "Young people have just as much of a stake in our democracy as anyone else," Rep. Katie Porter (D-Calif.), who is running for Senate in 2024, told Voters of Tomorrow. Her open seat is on the NRCC target list.
"Candidates at every level of government can and must engage young people by listening closely to what's on their minds, learning about the issues they're passionate about, and empowering them to make their voices heard in every election," Porter said.
Zoom out: Young voters can present an opportunity and potential vulnerability for candidates.
Millennials and Gen Z-ers are predicted to comprise a majority of potential voters by 2028. By 2036, both generations are expected to make up over 60% of potential voters, Brookings writes from U.S. Census data.
Although youth voter turnout has been trending upwards, many young voters don't actually vote. About half of young people ages 18-29 voted in the 2020 presidential election, per the Center for Information & Research on Civic Learning and Engagement at Tufts University.
Youth voter turnout was about 23% in 2022, which is lower than the historic 28% turnout in 2018, but higher than in 2014, when 13% of young people voted, according to CIRCLE.
During the 2022 midterm elections, most young Americans supported Democrats, roughly mirroring the 2020 margins.
Zoom in: Lawmakers who sign the pledge say they will engage with Gen Z voters on the issues important to this bloc, educate them about the value of voting and empower them to get involved in campaigns.
"Gen Z knows how to turn out Gen Z best because we are the voters who we are trying to reach," Lobel said.
"That's why it's so important to have Gen Z-ers be the organizers on your college campuses and be the staffers running your social media platforms," he added.
Voters of Tomorrow sent the pledge to every member for who they had contact for, including the re-election campaigns of more than 100 House Republicans. As of Tuesday afternoon, no Republican signed the pledge.
The bottom line: "Engaging Gen Z is good for everyone. It's good for the young people who will have a voice in the process and it's also good for candidates who need our votes," Lobel said.
"Gen Z could be the deciding factor again in a host of competitive elections in the 2024 cycle and it's up to candidates to start engaging young people now," he said.
Go deeper... America's youth fears for the future
Go deeper