House GOP sketches ambitious 2024 map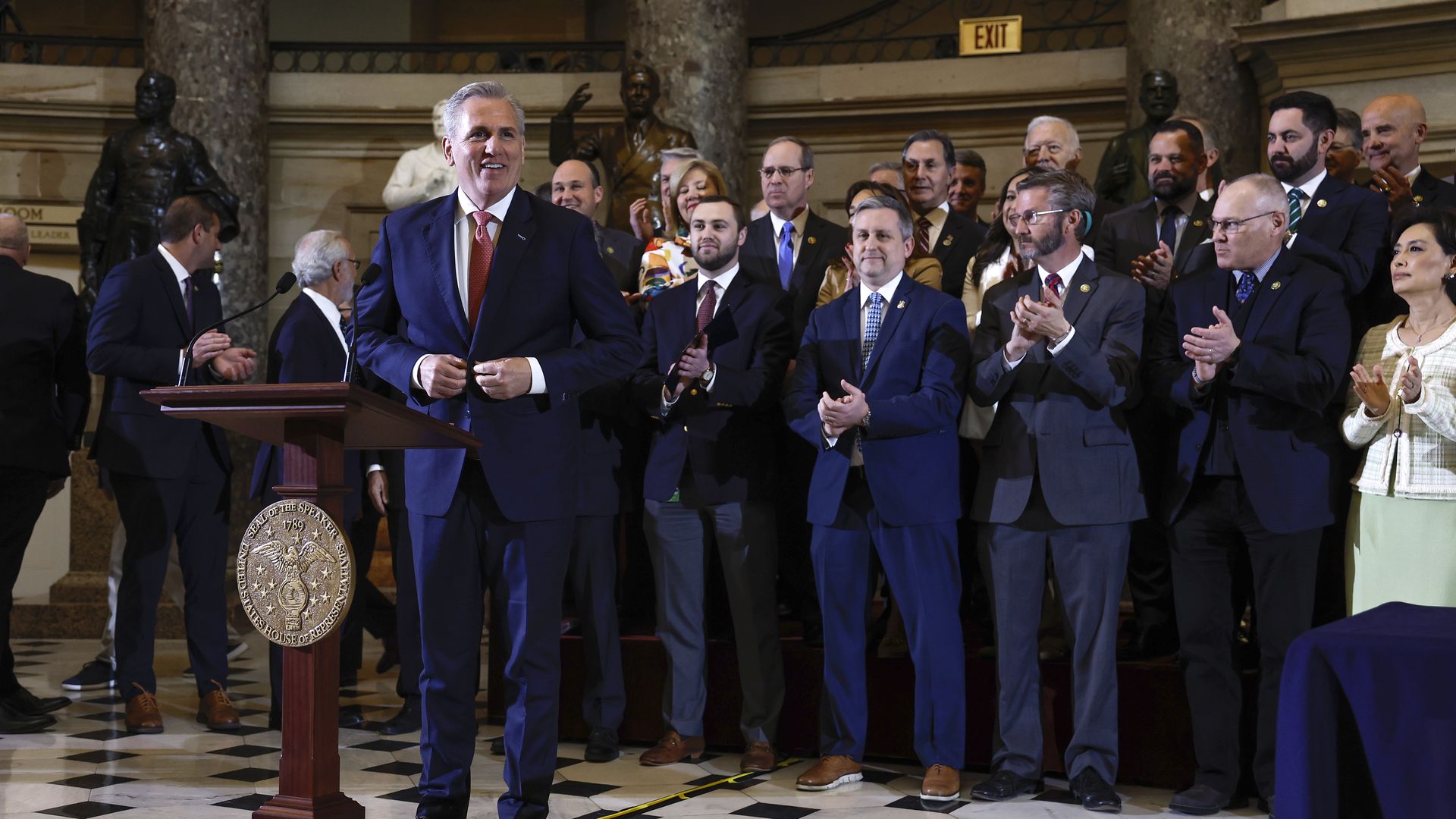 The National Republican Congressional Committee is plotting a sprawling battlefield in 2024, naming 37 Democrat-held House districts to its initial list of targets.
Why it matters: It's an ambitious strategy in a presidential year, when House results are often closely correlated with top-of-the-ticket margins. The last three presidential elections — all close by historical standards — saw flips of six to 14 seats in the House.
"Whatever mind-altering drugs the folks over at the NRCC are on, I definitely want some," one Democratic strategist quipped.
By the numbers: The target list, first reported by Politico, lists 37 districts held by Democrats "that represent prime pick-up opportunities for Republicans," according to an NRCC press release.
"Republicans are in the majority and on offense," said NRCC Chair Richard Hudson (R-N.C.) in a statement. "These House Democrats should be shaking in their boots."
The list features several members who won by double digits in 2022, including Reps. Josh Harder (D-Calif.), Sharice Davids (D-Kan.) and Dan Kildee (D-Mich.).
All but five of the districts voted for President Biden in 2020 — though several in Ohio and North Carolina could become more GOP-friendly in redistricting.
The other side: By contrast, House Democrats' primary super PAC, House Majority PAC, listed 19 districts in a memo last year laying out its path back to the majority. All but three of them were won by Biden in 2020.
And the Democratic Congressional Campaign Committee has 29 House Democrats on its list of vulnerable members most in need of party resources.
"Déjà vu. Having learned nothing from 2022 ... the NRCC is once again targeting seats that are simply out of reach," DCCC spokesperson Tommy Garcia said in a statement.
The big picture: The NRCC's play represents a continuation of its 2022 strategy, when it was targeting 75 seats by March of that year. Republicans ended up netting just nine seats.
Some big bets paid off, including in Democratic-leaning districts in New York and Oregon — blue states where surprisingly close gubernatorial races had clear trickle-down effects.
But a slew of Biden districts in Indiana, Rhode Island, Connecticut and elsewhere across the country proved to be money sinks.
Go deeper