JPMorgan, PNC plan First Republic bids in FDIC-led process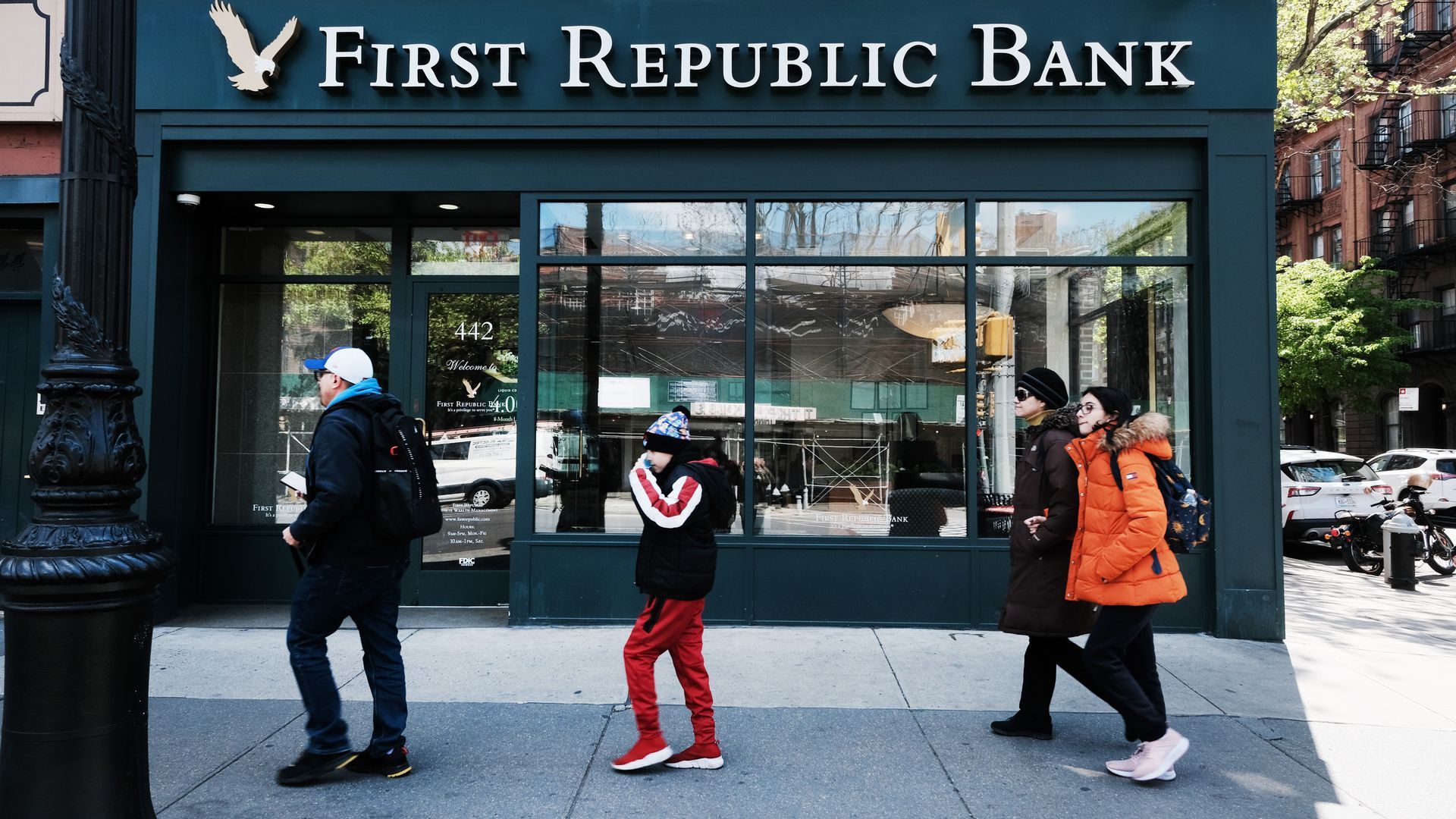 JPMorgan, and PNC Financial Services are among the large U.S. banks preparing a bid for embattled First Republic Bank, in a process the FDIC hopes to finalize over the weekend, according to sources familiar with the matter.
Why it matters: The scramble to both stabilize and find an owner for First Republic highlights the deep concern around the collapse of yet another U.S. bank, and the need to calm investors around the globe before Monday's market open.
Details: The FDIC had a data room open during the week for potential bidders, and asked for indications of interest by Friday, the sources said. JPMorgan, and PNC are among the banks that remain interested, the sources added, with the FDIC hoping to accept final bids by Sunday.
The Wall Street Journal and other news reports have reported the FDIC is also planning to take First Republic into receivership over the weekend.
According to one source familiar with the matter, such a move is expected to occur in conjunction with the sale process. The source added that the entire process is fluid, and could change throughout the weekend.
JPMorgan, PNC, and First Republic declined to comment. The FDIC did not immediately respond to a request seeking comment.
Of note: First Republic has lost 97% of its market value in a matter of weeks following the collapse of fellow regional bank, SVB.
Backstory: First Republic on Monday reported that over $100 billion of deposits walked out the door in the first quarter, or a net of around $71 billion once accounting for emergency inflows from JPMorgan and other large banks.
JPMorgan and PNC were among the banks that contributed a $30 billion deposit into First Republic last month to stabilize the bank, a move that ultimately failed to stem the flow of deposits.
Look ahead: In addition, another immediate question is if the FDIC will insure deposits at First Republic above the $250,000 threshold, as it did for those with cash in SVB.
Go deeper: The rise and stunning fall of Silicon Valley Bank
Go deeper