Your dog can join you for outdoor dining, FDA says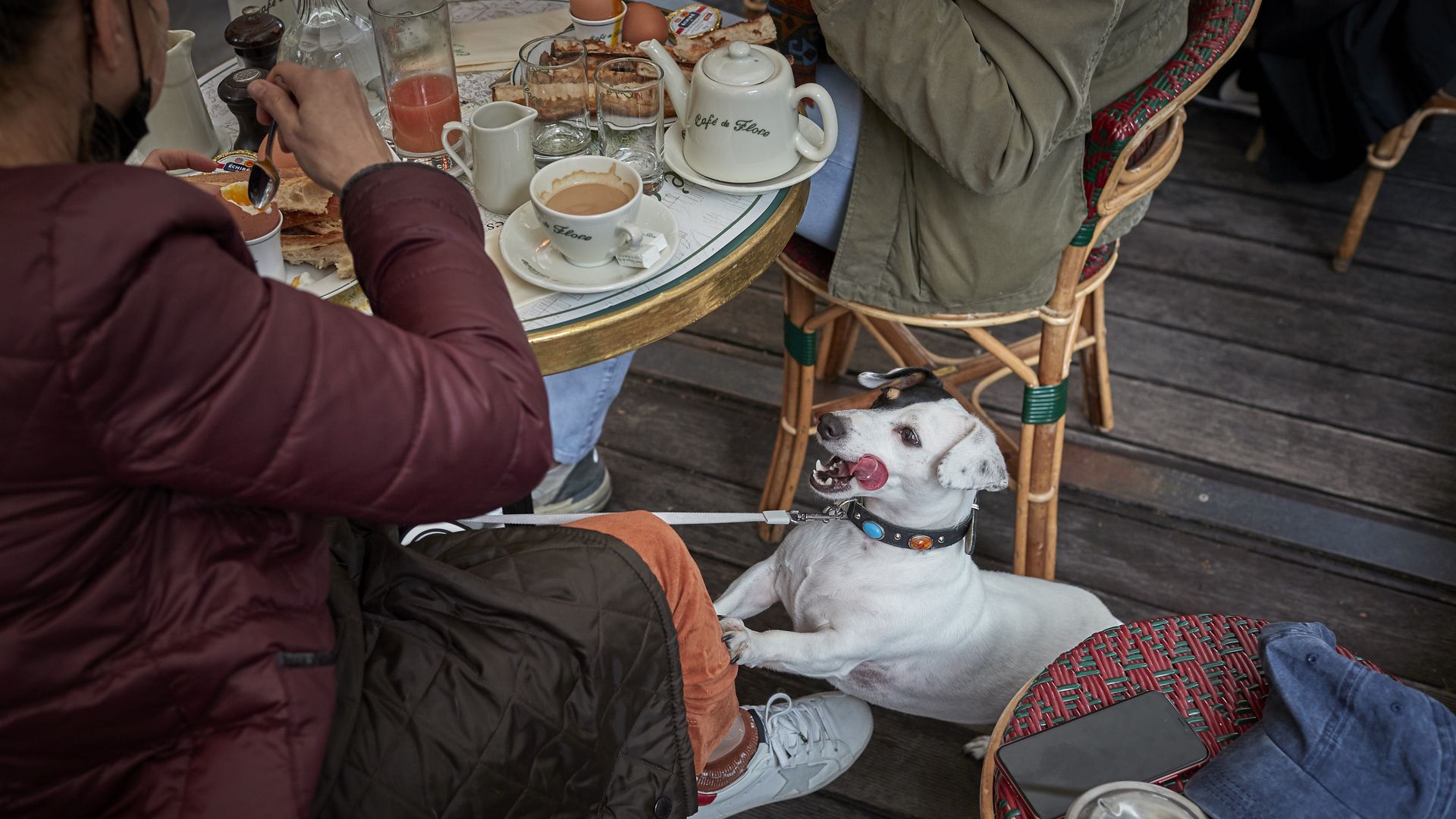 It's OK for diners to bring dogs to restaurants' outdoor seating areas if state and local laws — and the restaurant — allow it, the Food and Drug Administration says in new guidance.
Why it matters: The agency weighed in on this hot-button issue just in time for spring, the high season for disputes over Fido's right to dine alfresco — and as cities grapple with whether to extend COVID-era outdoor dining rules.
🐶 Driving the news: In an update to the 2022 FDA Food Code, the agency explicitly stated that its health rules "allow for pet dogs in outdoor dining areas, where approved."
Dogs still aren't allowed indoors or anywhere food is prepared — even to walk through to an outdoor patio.
The exception is service dogs, which generally are allowed in restaurants.
But emotional support dogs are not, and that's a big source of confusion and conflict.
Details: If restaurants allow dogs, they can't discriminate based on breed — it's not fair to wave in a Frenchie but shoo off a Rottweiler (assuming the Rottie is well-behaved).
Cats and other pets are still a no-no, unless they're service animals.
Where it stands: About 23 states officially allow dogs in outdoor patio areas of restaurants. (Here's a list.)
What they're saying: "As people do more socializing with their pets, states have begun to recognize this through changes to certain laws," writes Rebecca Wisch of the Animal Legal & Historical Center.
"The country is certainly changing with how companion animals are viewed, even at mealtime."
🐩 State of play: People who don't want to dine near dogs — because of allergies or other aversions — seldom see eye-to-eye with those who want to tote their pups everywhere.
Restaurateurs — who don't want to offend pet lovers or the local health department — often wind up playing referee.
"There's really no way of policing this," Henry Roberts, founder of the Two Hands café in New York City, told the New York Post in 2019, after new rules about people with disabilities made it harder to challenge an animal's role as a service dog.
"Now, people walk in with dogs of every shape and size," he said. "There's nothing we can do — it's a free-for-all."
🐾 Between the lines: "This was FDA's effort to suggest that there's not a concern about overall food sanitation and safety if you have a pet dog in an outdoor area," says Whitt Steineker, a food-and-beverage lawyer at the firm of Bradley Arant Boult Cummings LLP in Birmingham, Alabama, of the new guidance.
"This isn't FDA saying that restaurants 'must' do something or that they 'cannot' do something, because it still is the restaurant's decision," Steineker tells Axios.
Zoom out: The FDA "typically updates the code every four years and did so most recently in January," per the National Conference of State Legislatures.
The code lacks the force of law or regulation, but its recommendations are influential with state and local health authorities.
The updates are meant to "reflect best safety practices while taking account of societal changes and practical realities at food establishments," as Steineker put it in an article for Modern Restaurant Management.
Separately, the FDA's revised guidelines added sesame as a food allergen, bringing the number of major food allergens it recognizes to nine.
The agency also weighed in on food donations for the first time, saying that restaurants can donate surplus food as long as it's prepared and stored according to FDA safety rules.
What's next: Dogs are just now starting to get their own restaurants, like Dogue in San Francisco and Salty Paws canine ice cream shop in Philly.
Some new venues explicitly cater to both two- and four-legged patrons, like Paws & Pints in Des Moines.
Go deeper