What's next legally for Trump after indictment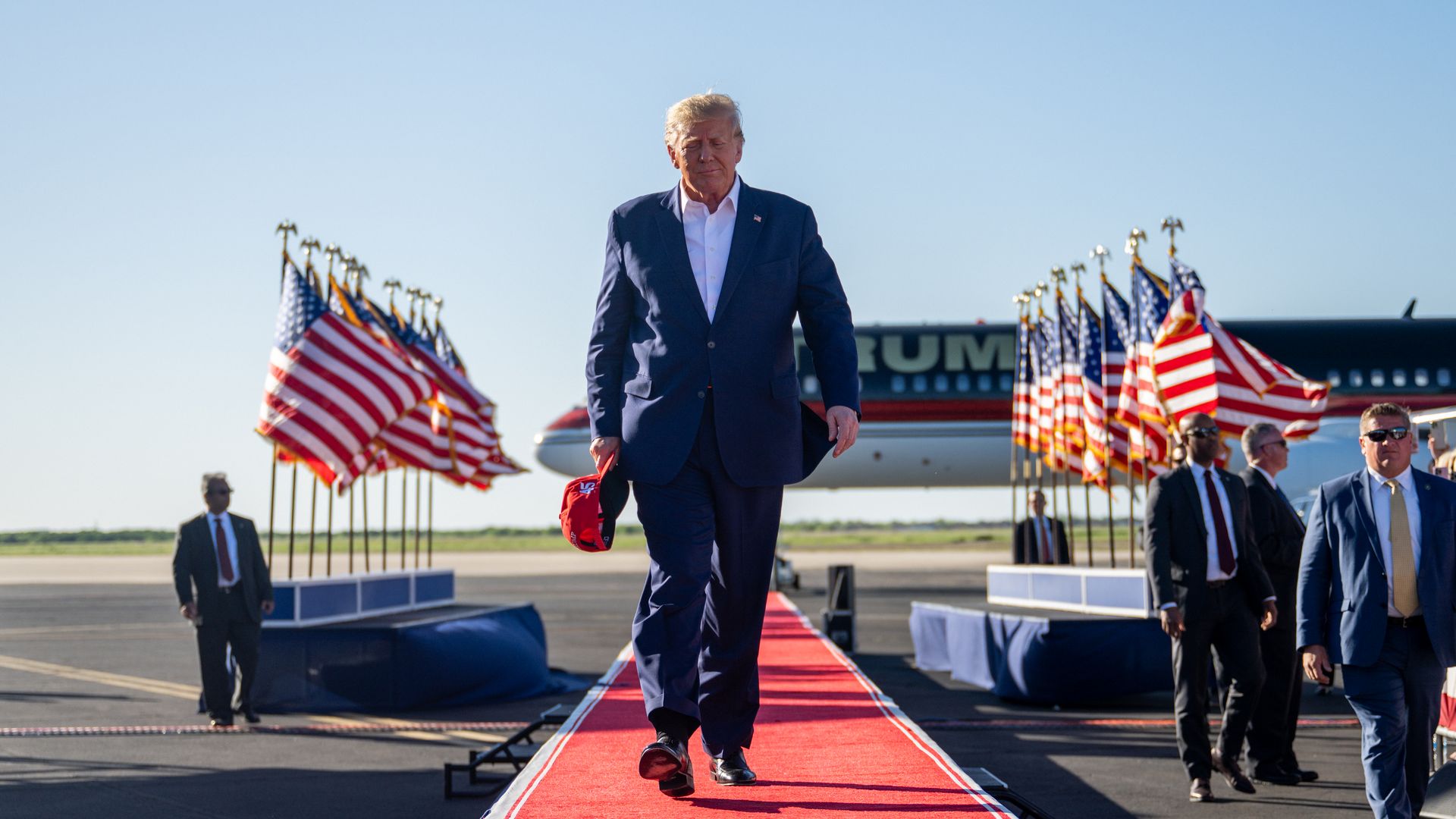 Former President Trump's historic indictment sets up a legal proceeding that may look similar to parts of routine felony arrest processing in New York.
Yes, but: It's anything but standard as no sitting or former president has ever faced criminal charges.
A spokesperson for Manhattan District Attorney Alvin Bragg said in a statement on March 30 that the office "contacted Mr. Trump's attorney to coordinate his surrender to the Manhattan D.A.'s Office for arraignment on a Supreme Court indictment, which remains under seal."
Trump was arraigned Tuesday afternoon at the Manhattan courthouse. The former president pleaded not guilty to 34 counts of falsifying business records.
He traveled to New York on Monday from Florida and spent the night at Trump Tower in Manhattan. He surrendered Tuesday and was set to give a speech from Mar-a-Lago at 8:15 p.m. ET.
What happens after an indictment
After a suspect surrenders, they are processed privately, including fingerprints and, in most circumstances, a mugshot being taken.
While Trump was fingerprinted on Tuesday, he was not expected to have a mug shot taken as photos of the former president are readily available.
Following processing, an arraignment hearing is the next court proceeding.
During the hearing, the judge presents the charges and the accused may enter a plea, per the Department of Justice. Trump pleaded not guilty at his arraignment.
For Trump's arraignment, video cameras were not allowed inside the courtroom, but pool photographers took still photos before proceedings began.
Trump's attorney, Joe Tacopina, told ABC's "Good Morning America" on March 31 that the former president "will not be put in handcuffs," adding that Trump will plead not guilty during the upcoming arraignment hearing.
"I understand they are going to be closing off blocks around the courthouse, shutting down the courthouse," Tacopina said of the arraignment hearing, though he did not give a timeframe.
What happens after an arraignment hearing
With Trump pleading not guilty, a trial will be required, during which the state will have to prove "beyond a reasonable doubt" that Trump is guilty of the charges.
But it could take several months for a trial to start, as both sides must exchange information about witnesses and evidence they plan to present in the trial as part of the discovery phase and pre-trial hearings must also be held.
The next hearing in Trump's case is scheduled for Dec. 4th, per reporters in the courtroom.
Trump will be acquitted of the charges if he's found not guilty at the end of the trial. If he's found guilty, he'll likely appeal the verdict.
If the verdict is upheld, he'll be sentenced, though he'll likely also be able to appeal his sentence.
Zoom out: Trump was indicted on March 30 by a New York grand jury on 34 charges, including some related to an illegal hush money payment in 2016 to adult film star Stormy Daniels.
Go deeper... The legal woes surrounding Trump and his Manhattan indictment
Editor's note: This story has been updated with additional developments.
Go deeper