Deadly Mexico fire highlights growing frustrations among migrants trying to enter U.S.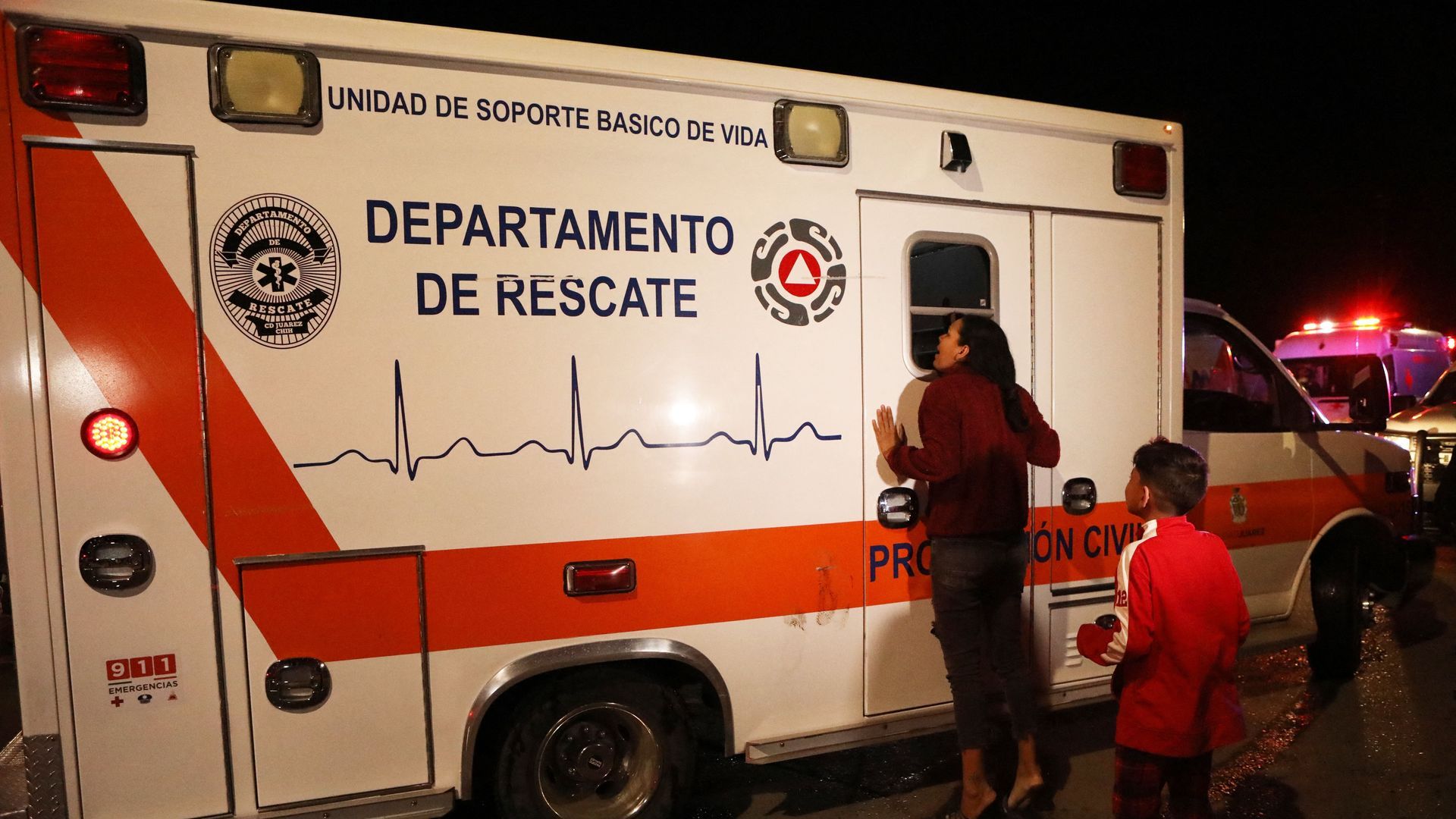 A fire at a migrant holding facility in Ciudad Juárez, Mexico, underscores the dangers asylum seekers and others trying to enter the U.S. face.
Driving the news: At least 40 people were killed and 29 others were injured in the fire, which broke out late Monday near the U.S. border, according to Mexican authorities.
Mexican President Andrés Manuel López Obrador said at his press conference this morning that the fire started as a protest when the migrants learned they would be deported.
Mattresses were set on fire in a bathroom, López Obrador said.
Investigators have not confirmed any other details related to the blaze.
The big picture: Hundreds of thousands of asylum seekers and migrants from Venezuela, Cuba, Guatemala, El Salvador, Honduras and other Latin American nations have attempted to travel to the U.S. via Mexico, fleeing violence, food insecurity, poverty and political instability and persecution.
Millions of Venezuelans have left their country because of inflation and shortages of food and medicine, along with political instability under President Nicolás Maduro.
A record number of Cubans have fled similar conditions and face U.S. policies that are less welcoming to Cubans than in the past.
Nicaraguans are fleeing an autocratic President Daniel Ortega, who has stymied free speech and imprisoned his political rivals.
Between the lines: U.S. policies such as Title 42 have resulted in many of those migrants getting stuck on the Mexican side of the border, with no timeline on when their asylum applications might move forward.
They end up in tent cities or in government detention centers, and human rights organizations have warned they are prey to extortion, kidnapping and forced recruitment by criminal organizations.
The Biden administration last month announced more stringent asylum policies in anticipation of the end of Title 42 in May.
What they're saying: A Venezuelan woman identified only as Vinagly told Agence France Presse that authorities have not given her any information about her husband, who had been at the center and was taken away in an ambulance.
"They don't tell you anything. Maybe your loved one is dead," she said.
Ariel G. Ruiz Soto, an analyst for the nonpartisan Migration Policy Institute, recently spent some time in Juárez and says the city is well-equipped to handle large numbers of migrants but that it's become overwhelmed by the increasingly high volume.
Mexican authorities had yesterday detained several migrants who were illegally selling merchandise on the street or asking for money, placing them in the holding center, according to the Mexican newspaper La Jornada.
Ruiz Soto says frustrations are especially high among migrants. "This didn't happen out of nowhere," he says, pointing to other incidents that have happened in recent months.
Subscribe to Axios Latino to get vital news about Latinos and Latin America, delivered to your inbox on Tuesdays and Thursdays.
Editors note: This story has been updated with additional details on the death toll.
Go deeper