Fire kills dozens at migrant center in Mexico's Ciudad Juárez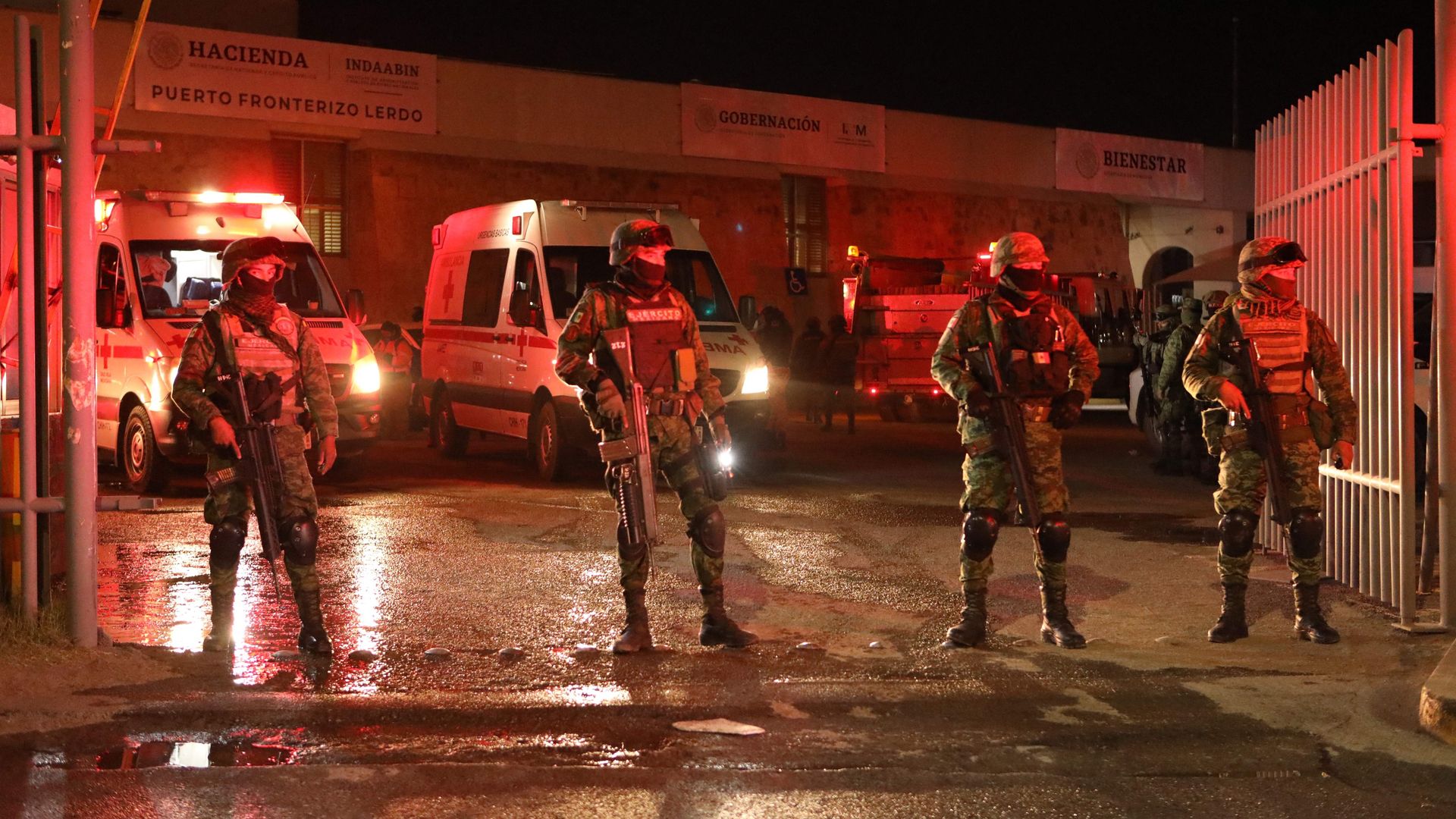 More than three dozen people were killed in a fire that started when migrants, who were told they would be soon deported, set mattresses on fire at an immigration detention center in the northern Mexican city of Ciudad Juárez, Mexico's president said on Tuesday.
Driving the news: At least 40 people were killed and 29 others were injured in the blaze, the National Immigration Institute (INM) said. The fire broke out shortly before 10:00 pm local time Monday in Ciudad Juárez, which is just across the border with El Paso, Texas, INM added.
At least 68 men from Central and South America were staying at the facility.
At least 28 of the victims were from Guatemala, the Guatemalan Migration Institute confirmed in a statement shared on Twitter. At least 13 Hondurans, 12 Salvadorans and 12 Venezuelans were also killed or injured, per Mexico's attorney general. Colombians and Ecuadoreans were also at the center at the time of the fire.
INM said a complaint has been filed so the cause of the fire can be investigated.
What they're saying: López Obrador said at his Tuesday morning press conference that the fire started as a protest. He initially said the migrants were told they were being transferred, but later clarified they had been told they would be deported.
Mattresses were set on fire in a bathroom, López Obrador said. "They had no idea it would become a misfortune," he added. Law enforcement or investigators have not confirmed any other details related to the blaze.
"The National Institute of Migration strongly rejects the acts that led to this tragedy," the agency added without elaborating.
The big picture: Monday's blaze is one of the deadliest fires at a migrant facility in Mexico in recent years, per Reuters.
Ciudad Juárez is a key crossing point for migrants and asylum seekers hoping to get to the U.S.
There has been growing frustration among many asylum seekers forced to wait in Mexico while the U.S. processes their asylum claims.
Many South and Central American migrants and asylum seekers who make the trek north are fleeing economic and political instability, violence or, in some cases, political persecution.
Editor's note: This story has been updated with additional details throughout.
Go deeper