St. Patrick's Day: What to do this weekend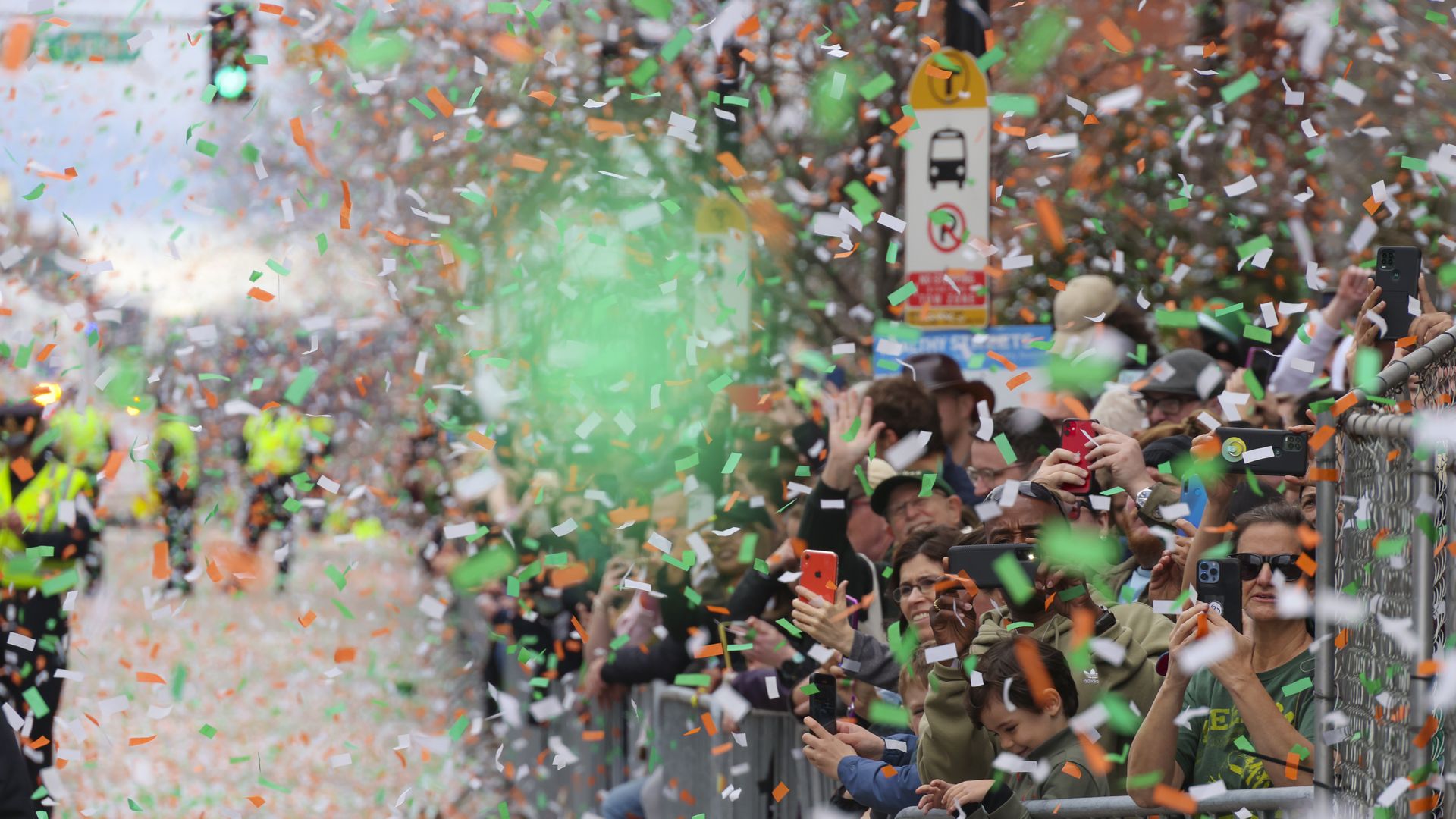 St. Patrick's Day is right around the corner. But the festivities — and partying! — begin this weekend.
The big picture: St. Patrick's Day has become a cultural holiday in the United States where people celebrate their Irish heritage and Irish culture. And, you know, drink green beer.
St. Patrick's Day: What you need to know
Context: The holiday, which takes place on March 17 every year, has been considered a religious holiday for over 1,000 years in Ireland, honoring the death of St. Patrick, a patron saint of Ireland credited with bringing Christianity to the country.
People in Ireland started observing the holiday in the ninth or 10th century, according to History.com.
The first St. Patrick's Day parade took place on March 17, 1601, in what is now St. Augustine, Florida.
Fast forward to now and you'll see that St. Patrick's Day has become a massive holiday in the United States. Green drinks and food are everywhere.
Here's what's happening across the country to celebrate St. Patrick's Day.
Worth noting: Make sure you drink responsibly. Plenty of locations have discounts for Uber and Lyft if you need a ride home.
The Atlanta St. Patrick's Day Parade is happening on March 11 for the 139th-straight year, per Fox 5 Atlanta.
For the kiddos, the Children's Museum of Atlanta is hosting a special story time with Irish folklore.
Adults can head over to Fadó in Buckhead, where there will be plenty of March Madness for celebrating all day.
Preparations for the South Boston St. Patrick's Day Parade are already underway, Axios Boston reports. The annual parade honors the patron saint of Ireland and the evacuation of British troops.
Federal law enforcement officials are looking for ways to stop white nationalists from causing disruptions at the parade.
Charlotte will have a St. Patrick's Day Parade for the first time since 2019 on Saturday, March 11, Axios' Ashley Mahoney writes. You can review the parade and festival route here.
Chicago has a pretty unique tradition worth seeing — dyeing the Chicago River green. That begins at 10am local time on Saturday.
Pro tip: Enjoy Chicago like Axios' Emma Way did last year.
Spoiler: "It was a very fun, very cold, very long day," Emma says.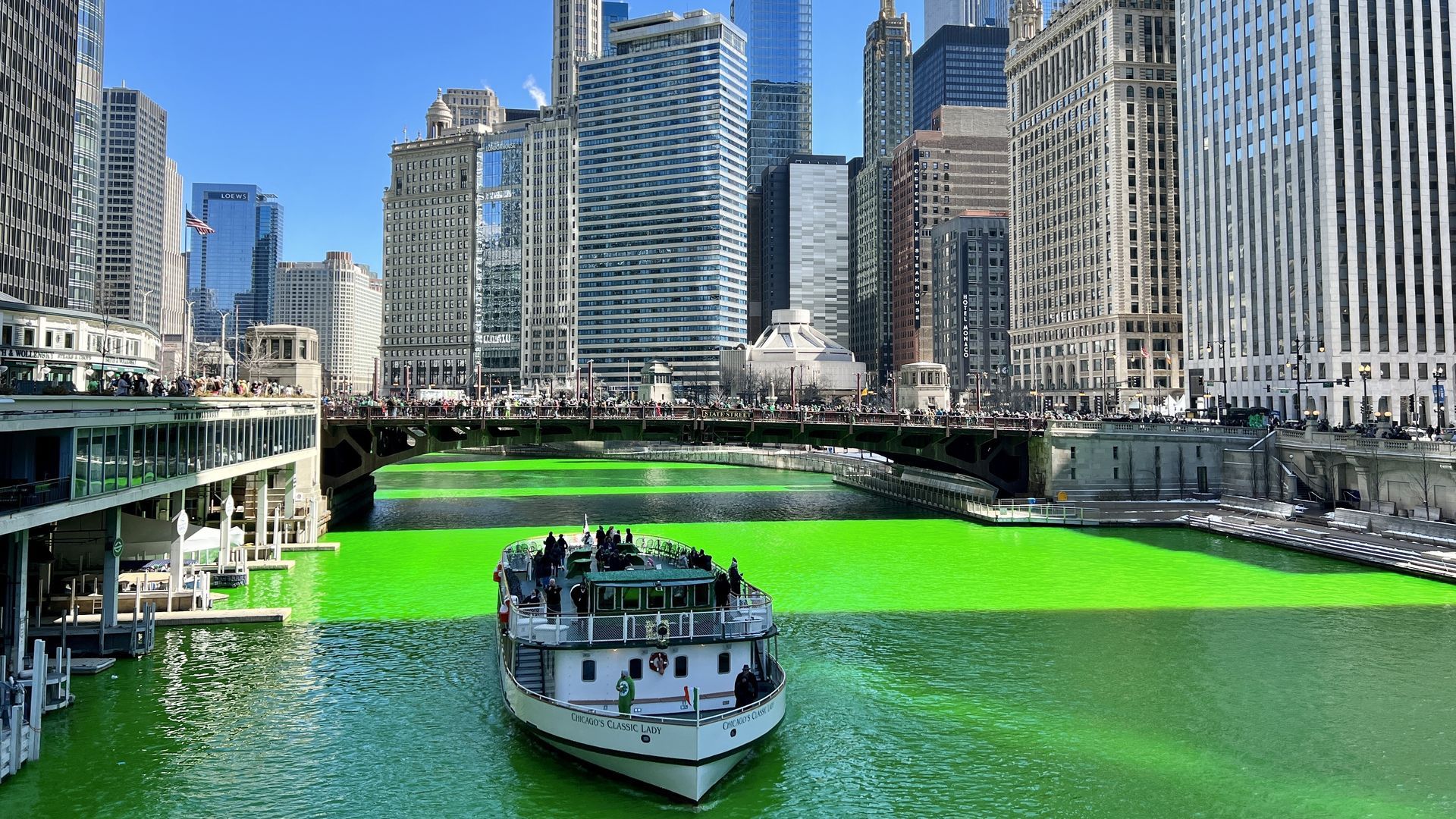 The 42nd Dallas St. Patrick's Parade and Festival, one of the largest St. Paddy's events in the Southwest, is on Saturday.
Our Axios Dallas team has a good guide to attending the parade, including this tip: "Bring water. There will be plenty of booze, but stay hydrated."
Nashville has plenty to do, from grabbing green bushwhackers and pastrami at Edley's Bar-B-Que, to having green frozé at The Hampton Social.
New Orleans already started celebrating St. Patrick's Day a week in advance with a couple events, including a "practice parade" that doubles as a bar crawl. A much bigger parade is scheduled for March 11.
Let's start on March 14, when the Honeycomb Kitchen Shop is offering a St. Patrick's Day cooking class if you feel like authentic Irish dishes.
What's next: The World's Shortest St. Patrick's Parade will occur in Hot Springs, Arkansas, next week.
Philly's St. Patrick's Day Parade is happening on March 12, per the Philadelphia Inquirer. There's also the "Kiss Me, I'm Irish!" bar crawl to enjoy if you want a drink or 10.
Richmond goes big with a bunch of festivals every weekend leading up to the holiday. The annual Shamrock The Block street festival is returning on Saturday.
What we're watching: The Axios Richmond team tells us that the "carnage reports that come out after the events" are worth reading.
In Tampa, make sure to check out the River O'Green Fest, where the Hillsborough River goes green.
You can head over to Strandhill Public — located on Causeway Boulevard in Brandon and Palm Avenue in Tampa — to try out the Shergar, a proper cocktail for the holiday. Axios' Ben Montgomery has more details.
Strandhill is offering some whiskey-related promotions and holiday swag on March 17.
The Twin Cities has a bunch of things set for this year, which Axios' Audrey Kennedy highlights.
Go deeper