EPA orders Norfolk Southern to test for dioxins in Ohio train derailment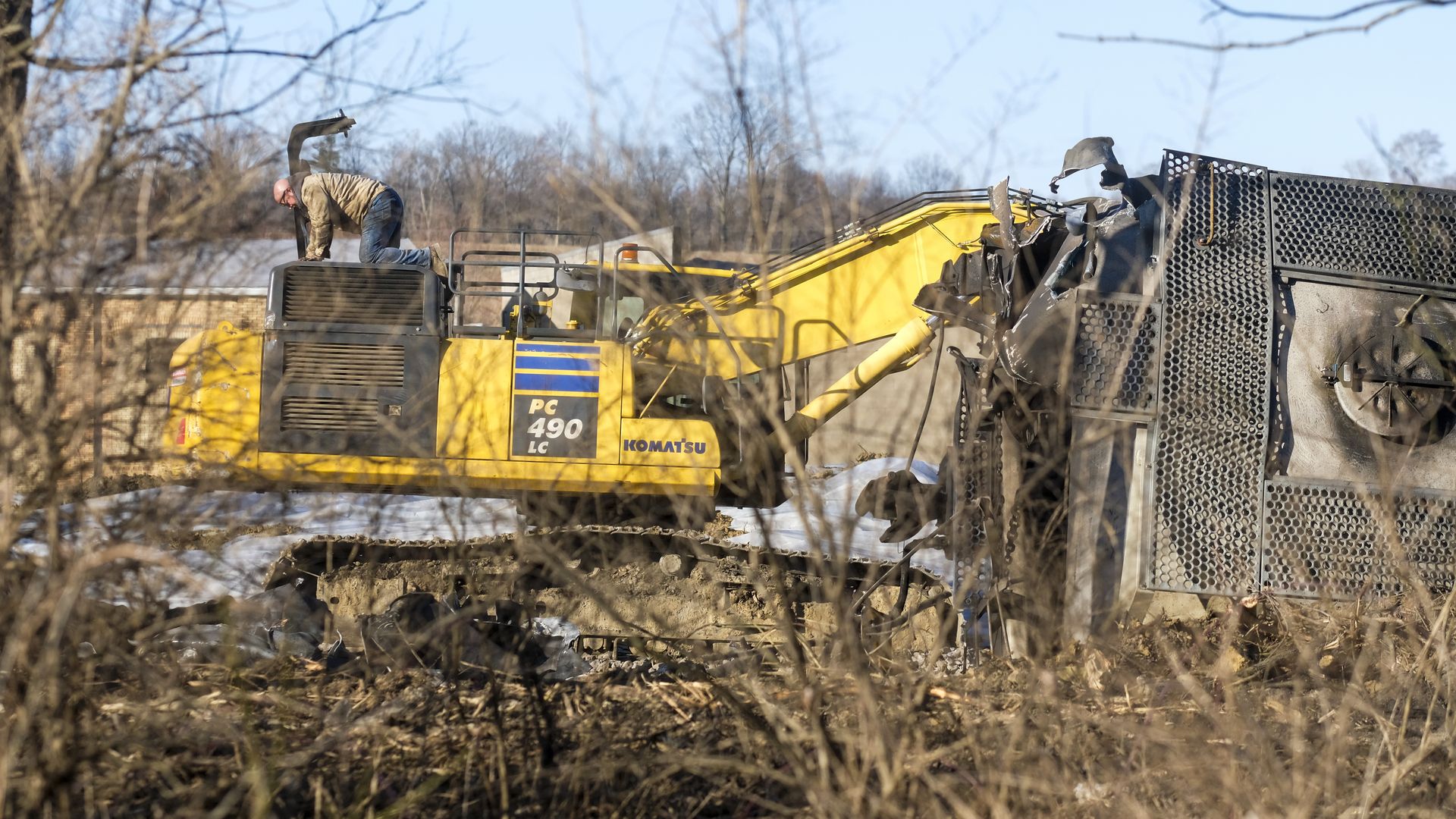 The Environmental Protection Agency (EPA) on Thursday ordered freight train operator Norfolk Southern to test for toxic pollutants that could have been released as a result of the company's decision to burn vinyl chloride from cargo on its derailed train in East Palestine, Ohio.
Why it matters: Norfolk Southern had at the time said that burning the cargo was necessary to prevent the threat of explosions from the hazardous materials in the train, but has since faced heightened scrutiny over the move and its possible impacts on the surrounding community and environment.
The EPA said that monitoring for indicator chemicals at the site suggests the probability of dioxin contamination is "low," but made the decision to mandate testing out of an "abundance of caution."
Details: The EPA's order — made almost a month after the train derailed — mandates testing for dioxins, which the agency considers "persistent organic pollutants" because they take a long time to break down once released into the environment.
Dioxins are highly toxic and cancerous. They can damage the immune system and interfere with hormones, developmental processes and reproductive health.
Dioxins typically form during the burning of fuel and waste and can remain in soil for decades, contaminating plants and crops used in the food chain.
The possible accumulation of dioxins in East Palestine due to the train derailment could as a result pose long-term risks, a concern community members have raised.
Worth noting: The order comes ahead of a meeting in East Palestine on Thursday night, where Norfolk Southern representatives are expected to be grilled by community members and local officials.
The company backed out of a similar town hall last month, citing unspecified concerns for their employees' safety.
The big picture: The EPA has mandated that Norfolk Southern clean up the contamination from the site of the derailment.
Go deeper: East Palestine's record of devastating derailments
Go deeper