East Palestine's record of devastating derailments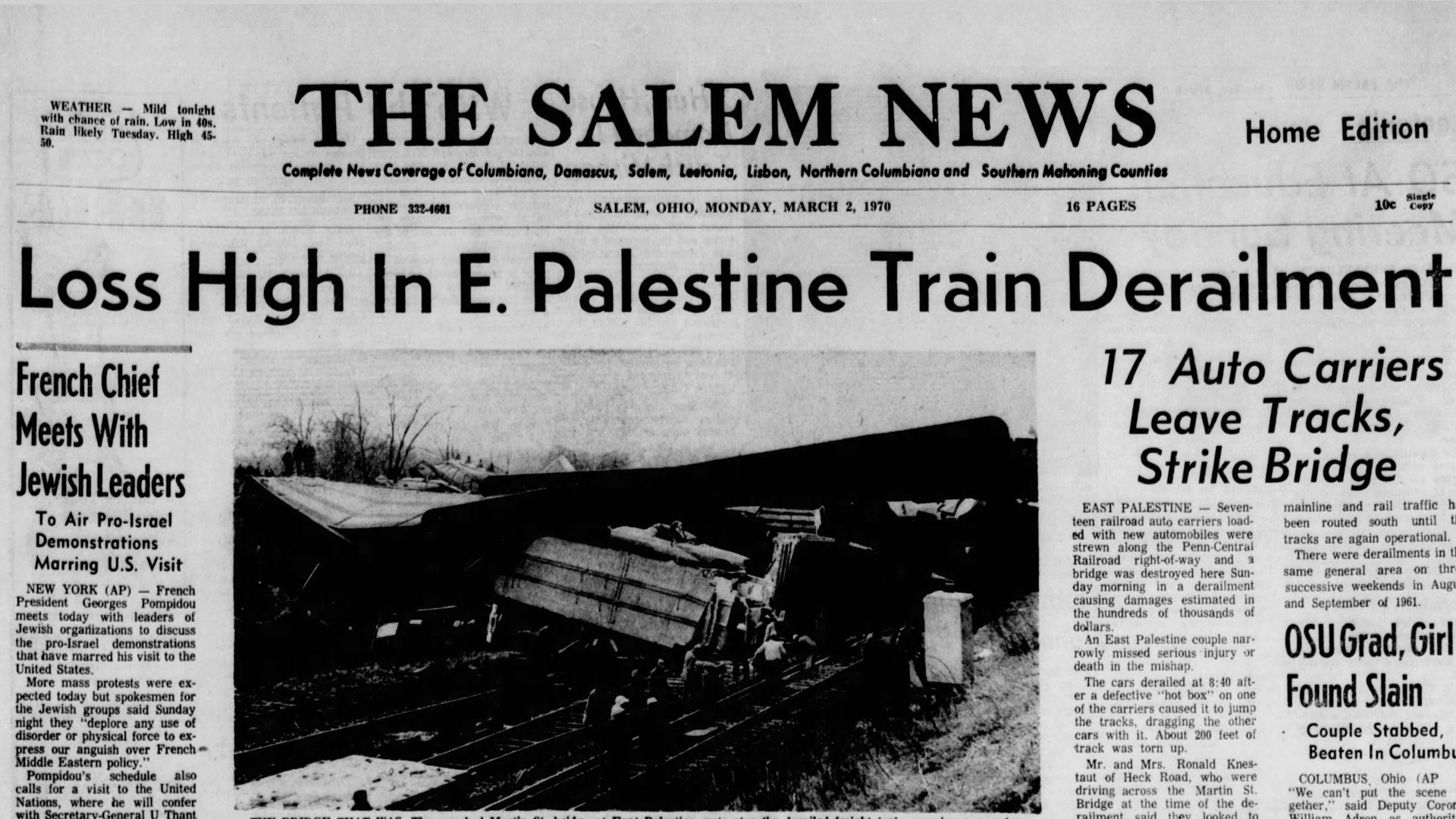 Long before the Feb. 3 Norfolk Southern derailment exposed East Palestine to hazardous chemicals, residents suffered from a series of devastating rail car derailments that destroyed businesses, ruined local infrastructure and often left the city stuck paying for the damage.
Why it matters: Earlier generations urged stricter railroad oversight to prevent a major disaster like the one with which their community now reckons.
Their pleas, which went largely ignored at the time, are followed a half-century later by nearly identical calls for better safety regulations.
What they're saying: No single regulation enacted back then could have prevented the 2023 crash with 100% certainty, says Anne Junod, a senior research associate at the Urban Institute who studied train derailments as a Ph.D. student at Ohio State University.
But the longstanding inaction helps showcase railroads' record of valuing profit over proactive safety measures, she tells Axios — a cost-benefit analysis that continues putting rural communities like East Palestine in harm's way.
"There's a constellation of problems that have deep historical roots."
By the numbers: An Axios review of hundreds of old newspaper clippings across the state and into Pennsylvania identified at least nine freight derailments in East Palestine between 1946 and 1976.
Three occurred in a span of just two weeks in 1961, the final of these causing extensive damage to a nearby pottery factory.
Several derailments were caused by poor track condition, which railroads are responsible for maintaining.
The intrigue: All nine happened on the same line now owned by Norfolk Southern.
Flashback: A 1970 derailment sent a Penn Central Railroad train careening into an East Palestine bridge. A married couple driving atop the bridge narrowly escaped harm.
Penn Central initially agreed to finance a new bridge, but declared bankruptcy soon after and never paid.
The bridge sat unfixed for years, making it difficult for emergency crews to reach certain parts of town when rail crossings were frequently blocked.
The city and county wound up footing the bill for a replacement.
The most catastrophic crash to date happened in March 1973, when a late-night Penn Central emergency stop caused its back cars to collide with those in front, "kinking" the track.
Crew members rushed to get the train going again and left town 40 minutes later, apparently not noticing damage to the rail line.
Shortly thereafter, an Amtrak passenger train derailed at that spot and crashed into a nearby fabricating plant.
A Penn Central employee on board was killed and 19 others were injured, including two small children.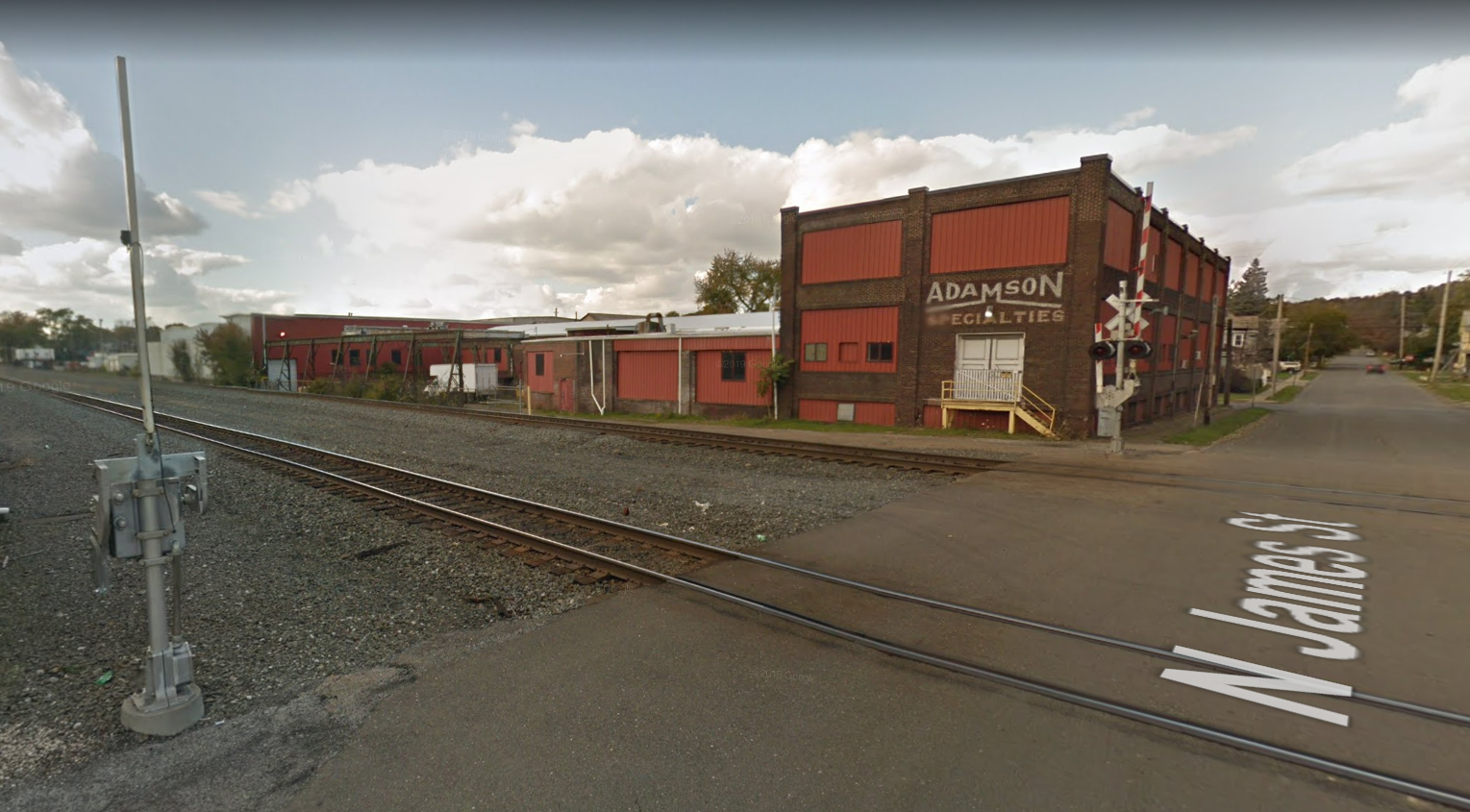 By that point, city officials had had enough and pleaded with then-Gov. John Gilligan for help.
Widespread anger was directed toward the Public Utilities Commission of Ohio's "rather casual response to complaints lodged against the railroad by the municipality," one newspaper reported.
"We need the railroad, but we also need the lives of the people in the community," nearby Leetonia Mayor Albert Wardingley said.
Context: Penn Central was a literal and figurative "wreck" at that point, H. Roger Grant, a prominent railroad historian at Clemson University, tells Axios.
The company was hurt by deteriorating rail infrastructure, poor corporate leadership and increased competition from trucking and air freight.
Over time, the federal government shouldered a greater responsibility overseeing the industry, eventually consolidating Penn Central and other struggling companies into a public railroad known as ConRail in 1976.
ConRail promised Ohioans a "better way to run a railroad" — with modernized equipment, safer rail lines and fewer damage claims.
Meeting with representatives from seven area communities, ConRail pledged to repair and regularly inspect the tracks, plus enforce reasonable train speed limits.
Local officials reportedly left the meeting pleased and ConRail began maintenance on the line.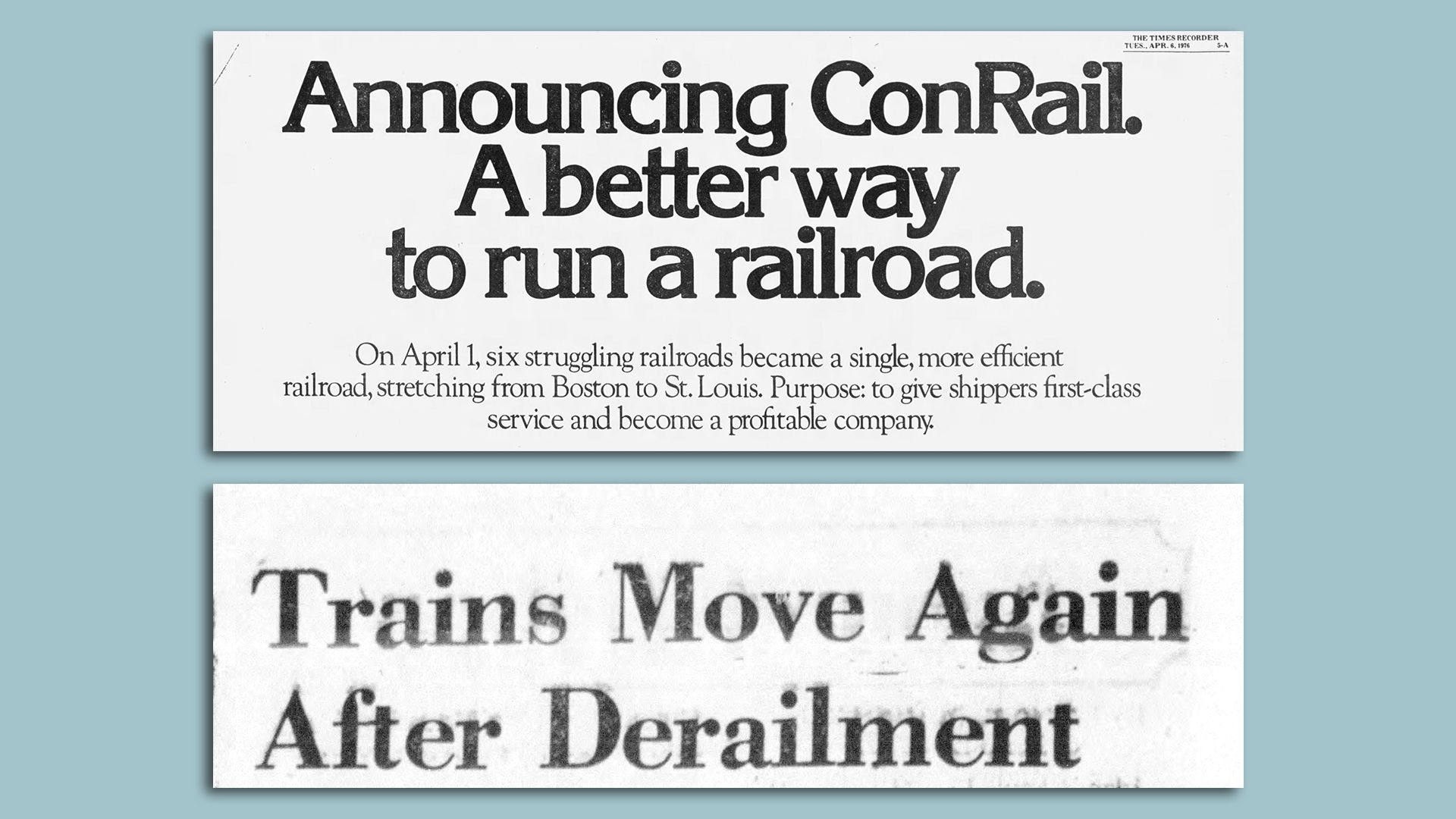 Just four weeks later, Mary Mansell was baking pies in a local restaurant when she heard the familiar sound of a train barreling through downtown.
William Kissinger's station had been damaged repeatedly by earlier train incidents. Now it was ruined.
When a newspaper reporter asked if he planned to rebuild it, Kissinger said he wasn't sure.
The bottom line: The troubled line through East Palestine was eventually acquired by Norfolk Southern in 1998.
Twenty-five years later, an NS train carrying hazardous chemicals came through town on a Friday night.
Then, once again, calamity.
Go deeper