Scoop: Top Israeli officials to visit D.C. amid concerns over Iran's nuclear program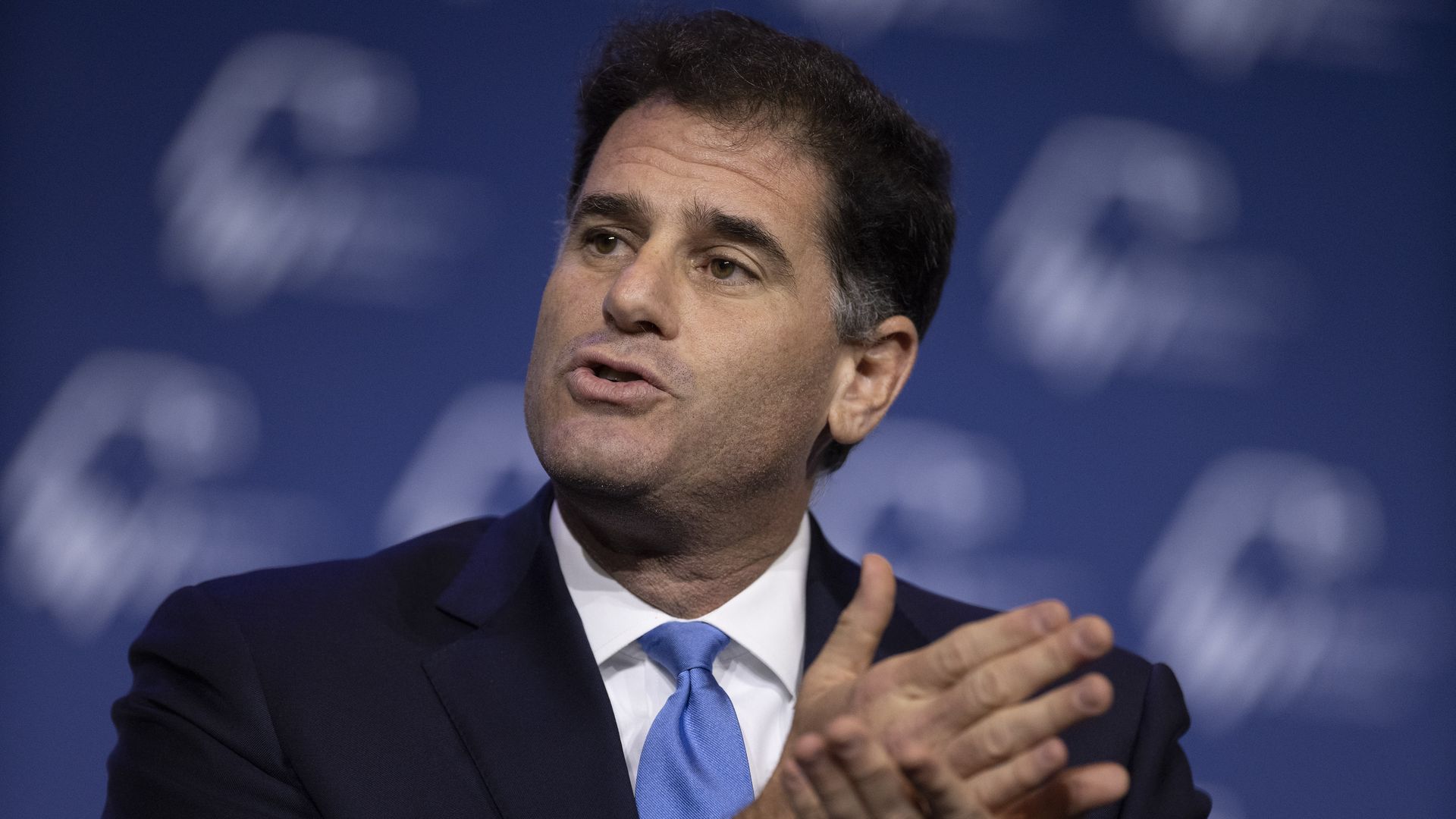 Israeli Minister for Strategic Affairs Ron Dermer and national security adviser Tzachi Hanegbi are expected to visit Washington early next week for meetings with senior Biden administration officials that will focus on Iran, two Israeli and U.S. officials said.
Why it matters: The U.S. and Israel are highly concerned about the unprecedented advancement of Iran's nuclear program.
A top U.S. defense official said on Tuesday that Iran will need only 12 days to enrich enough weapons-grade uranium to build one nuclear bomb, though the U.S. has also said it doesn't believe Iran has made the decision to resume its weaponization program.
Israeli Prime Minister Benjamin Netanyahu and other Israeli officials have stressed in recent weeks the need for a credible military threat against Iran.
State of play: Colin Kahl, the undersecretary of defense for policy, testified at a House Armed Services Committee hearing on Tuesday that since the Trump administration withdrew the U.S. from the Iran nuclear deal in 2018, Tehran's "nuclear progress" has been "remarkable."
Kahl said that before the Trump administration left the nuclear agreement, Iran needed a year to break out and get enough 90% enriched uranium for one nuclear bomb.
The international Atomic Energy Agency is continuing to investigate Iranian activity in its underground nuclear facility in Fordow, which included enriching at least small amounts of uranium to 84% purity.
This is the highest known enrichment level Iran has engaged in and is only slightly short of the 90% purity needed for building a nuclear bomb.
Yes, but: Israeli and U.S. intelligence services say that even if Iran gets enough 90% enriched uranium for a bomb, it will still need another one to two years to build a nuclear warhead for a ballistic missile.
CIA director Bill Burns told CBS' Margaret Brennan in an interview broadcast over the weekend that even though Iran had made significant advances in its nuclear program, the U.S. doesn't "believe that the supreme leader in Iran has yet made a decision to resume the weaponization program that we judge that they suspended or stopped at the end of 2003."
Mohammad Eslami, the head of the Atomic Energy Organization of Iran, said on Wednesday, that the 84% enriched uranium that was found by IAEA inspectors "was a sample from the side of a tap in the process, the particle cannot be even seen with a microscope," per Iran's semi-official Mehr News Agency.
Eslami added that the IAEA inspectors "observed the material that had come out of the process and found that its purity was not more than 60%."
The big picture: Dermer and Hanegbi, who are both known as Iran hawks and are leading Israel's Iran policy, are expected to meet White House national security adviser Jake Sullivan, Secretary of State Tony Blinken and other senior U.S. officials, an Israeli official said.
Dermer and Hanegbi's visit will also take place amid growing concerns in the White House about Israeli Prime Minister Benjamin Netanyahu's judicial overhaul plan and escalating tensions in the West Bank.
Two U.S. officials told Axios the administration wants to work with Netanyahu on countering Iran but it will be harder to do if "his backyard is on fire."
The White House and the Prime Minister's Office declined to comment.
Between the lines: Netanyahu hasn't been invited for a meeting with President Biden at the White House since assuming office late last year.
Three U.S. officials told Axios Netanyahu will get an invitation to the White House "at the appropriate time."
They stressed that in addition to the president's busy schedule, the administration wants to see first how the judicial plan plays out and wants to make sure that the holy month of Ramadan ends without an escalation on the ground.
Go deeper