Blinken urges Netanyahu to build broad consensus around judicial overhaul plan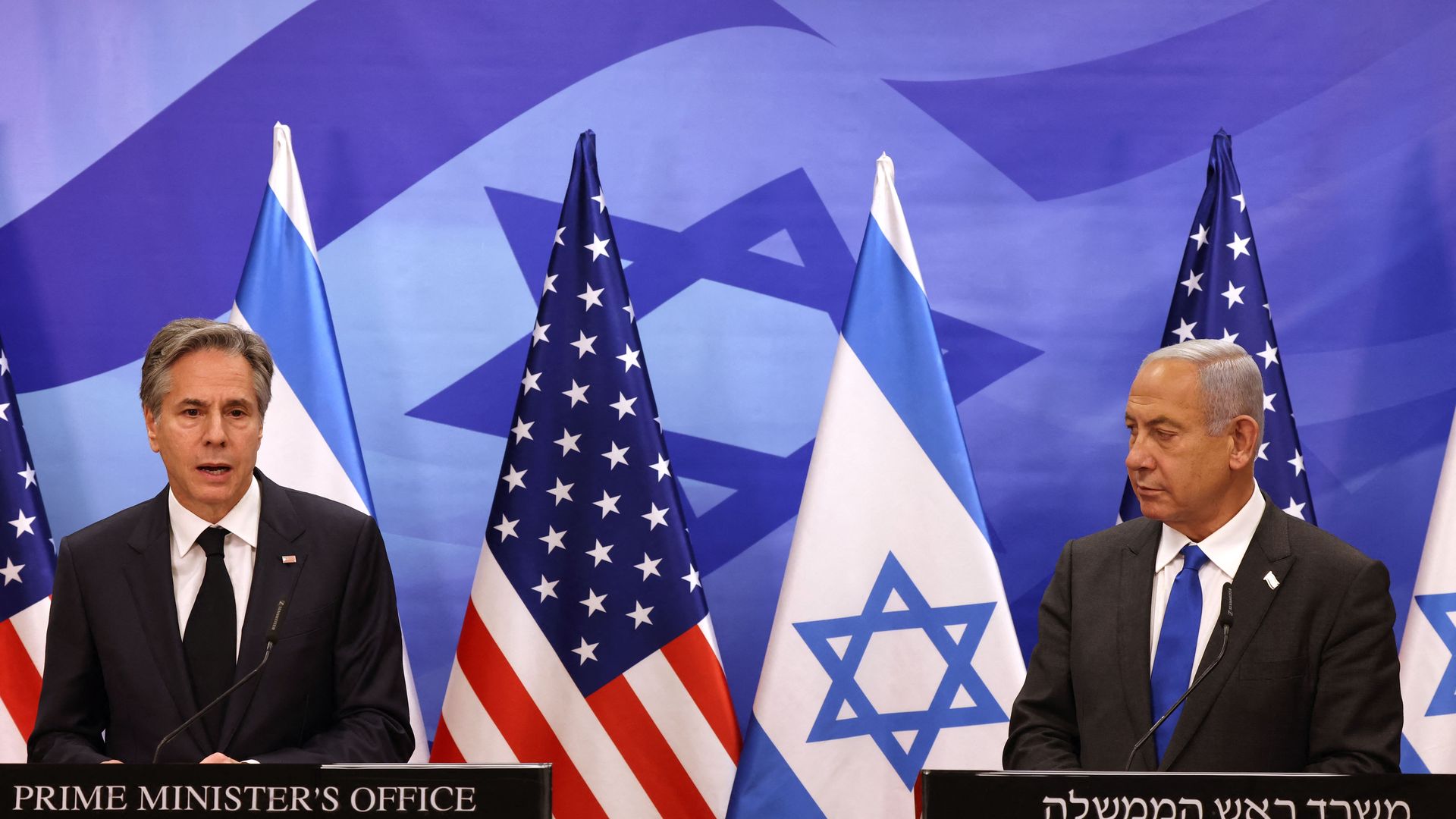 Secretary of State Tony Blinken urged Israeli Prime Minister Benjamin Netanyahu during their meeting in Jerusalem on Monday to build a broad consensus around his judicial overhaul plan.
Why it matters: Blinken's comments are the most significant and strongest remarks the Biden administration has made about the Netanyahu government's plan to weaken Supreme Court and other democratic institutions.
The plan has deepened political divisions in Israel and prompted mass demonstrations against Netanyahu's government.
What they're saying: "Building a consensus around new proposals is the best way to make sure they are embraced and endure," Blinken told Netanyahu after their meeting.
Blinken stressed in televised remarks with Netanyahu that the U.S.-Israel relationship is strong because it is based on both shared interests and shared values — a point that was discussed during their meeting, according to U.S. ambassador to Israel Tom Nides.
Blinken also stressed the importance of supporting democratic institutions and values, protecting human rights and rights of minorities, adhering to the rule of law, protecting freedom of the press and a strong civil society.
"We have seen lately how vibrant Israeli civil society is," Blinken said, apparently referring to the mass protests against the Netanyahu government's judicial plan.
Netanyahu, who spoke before Blinken, also stressed the shared democratic values of both the U.S. and Israel.
"We are two strong democracies and I promise you that we will stay two strong democracies," Netanyahu said.
Blinken and Israeli President Issac Herzog also discussed the judicial overhaul plan on Monday.
"I saw your comments regarding the Israeli internal situation [and], of course, the constitutional argument that has ensued in the Israeli public, something that I am heavily devoted to trying to resolve or lead to a path of internal dialogue," Herzog told Blinken.
"As you said correctly, this is an issue that requires wide consensus, and it is an issue many democracies debate. We are a vibrant democracy," he added. "But at the end of the day, we have to resolve our issues amicably, internally, as societies and nations should do, and this is my main focus these very days."
Blinken replied by saying he appreciated Herzog's leadership and his "voice when it comes to finding a good way forward that builds consensus on the question of judicial reform."
Behind the scenes: Initially, the new Israeli government's judicial plan wasn't at the top of the Biden administration's priorities related to its policy toward Israel, according to U.S. officials. Many inside the administration didn't think the U.S. should weigh in on it, as Axios previously reported.
But as the internal debate in Israel escalated, the White House realized that there was a need to make clear where it stood on the plan, U.S. officials said.
A U.S. official told Axios that after White House national security adviser Jake Sullivan raised the issue with Netanyahu in private during his visit to Jerusalem 10 days ago, the administration decided that Blinken would speak about it publicly during the visit.
Catch up quick: Netanyahu's government, made up of the most right-wing and religious coalition in Israel's history, has been in power for about a month.
Its judicial overhaul plan, if implemented, would significantly limit the Supreme Court's ability to review laws and strike them down.
The plan includes passing a law that would allow the governing coalition to override Supreme Court rulings by a simple majority of 61 votes in the 120-member Knesset.
It also seeks to end the Supreme Court's ability to revoke administrative decisions by the government on the grounds of "reasonability," significantly decreasing judicial oversight.
The plan envisions giving the government and the coalition in parliament absolute control over appointing judges.
Additionally, the plan includes changing the law so that ministers would be able to install political appointees as legal advisers in their ministries, something that is not under their authority today.
Legal experts have said the plan will eliminate the ability of the judicial branch to do the checks and balances against the executive and legislative branches, which are both controlled by the governing coalition, and it would negatively impact the Palestinians.
The big picture: Blinken arrived in Israel on Monday afternoon after meeting with Egyptian President Fatah al-Sisi in Cairo.
The two leaders "reaffirmed their strong commitment to the U.S.-Egypt strategic partnership and cooperation on a range of regional and international challenges," State Department spokesperson Ned Price said on Monday.
Blinken on Monday also met with Israeli Foreign Minister Eli Cohen.
What to watch: Blinken is scheduled to meet with Israeli opposition leader Yair Lapid on Tuesday before traveling to Ramallah for a meeting with Palestinian President Mahmoud Abbas.
Blinken on Monday stressed that both Israel and the Palestinians need to restore calm and de-escalate the situation after heightened violence over the last few days.
Editor's note: This story has been updated with President Isaac Herzog's comments.
Go deeper