GOP group of 16 complicates McCarthy's debt ceiling leverage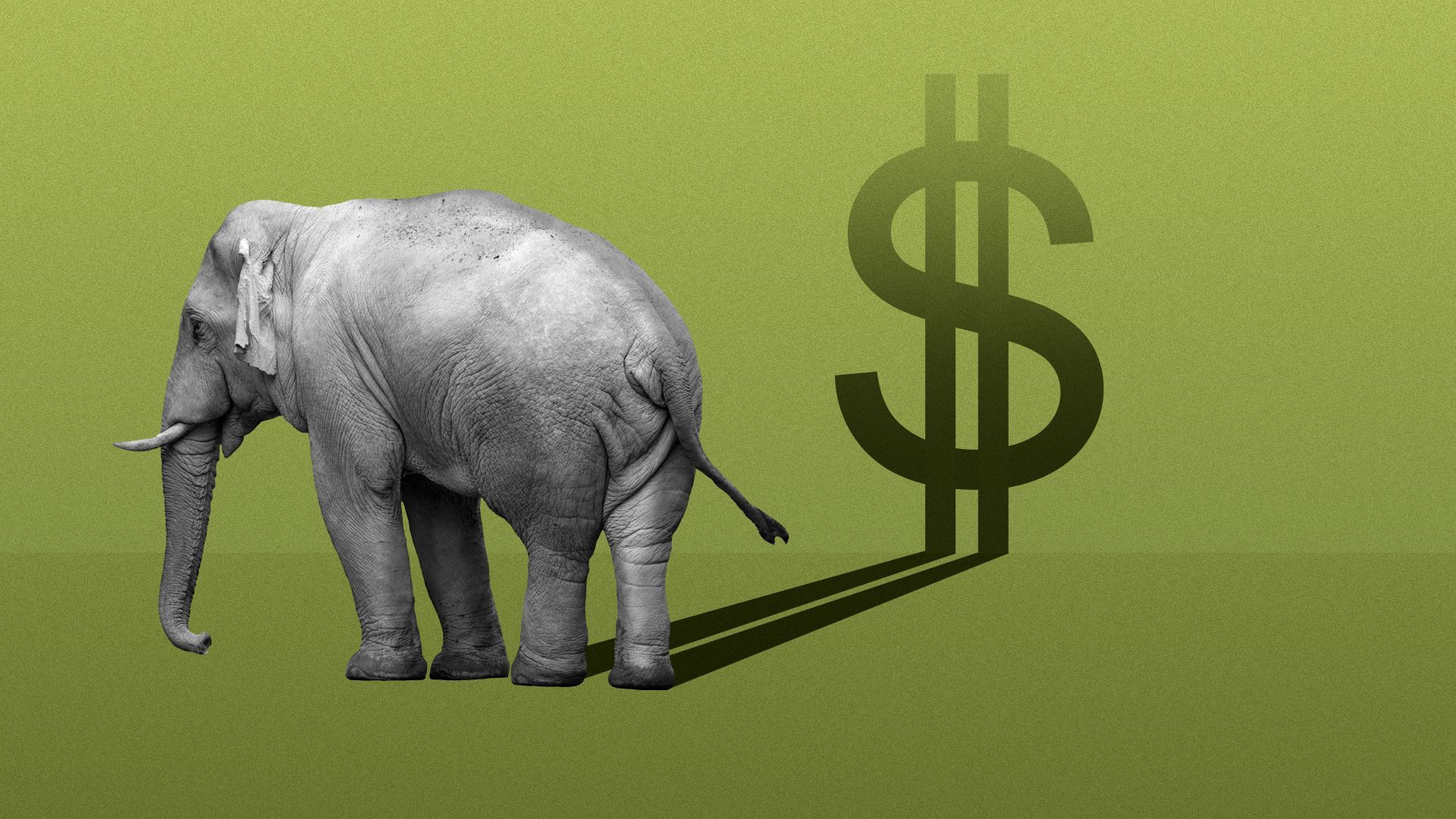 16 House Republicans have never voted to raise the debt ceiling — even under former President Trump — complicating Speaker Kevin McCarthy's (R-Calif.) hand as he seeks to browbeat the Biden administration into spending cuts.
Why it matters: The entrenched opposition means McCarthy could need Democratic votes for any package that ties hiking the debt ceiling to budget cuts.
As it stands, Republicans are already divided over which government programs to cut — handing Democrats an opening to accuse them of wanting to axe Social Security and Medicare.
The Biden administration, meanwhile, has thus far refused to negotiate while the debt ceiling is being held hostage — casting it as a bipartisan obligation that Congress has accepted under presidents of both parties.
State of play: The unofficial caucus of 16 — identified with data from Quorum — includes only Republicans who have been in office since at least 2017.
The ranks include three GOP "rebels" who initially refused to back McCarthy as speaker, demanding promises of spending cuts — Reps. Andy Biggs (R-Ariz.), Matt Gaetz (R-Fla.) and Ralph Norman (R-S.C.).
It also includes McCarthy loyalists like Majority Whip Tom Emmer (R-Minn.) and GOP leaders such as NRCC Chair Richard Hudson (R-N.C.) and Republican Policy Committee Chairman Gary Palmer (R-Ala.).
Driving the news: In preparing for a summer slugfest on the debt ceiling, Democrats like to note that a Republican-controlled Congress voted to raise or suspend the debt ceiling when Trump was the one asking Congress to pay its bills.
The overall point is undeniably true, but there's a rump caucus of House Republicans who have consistently opposed raising the debt ceiling, regardless of who controls the White House.
Zoom in: The group of 16 also includes Ways and Means Chairman Jason Smith (R-Mo.), Oversight Chairman James Comer (R-Ky.) and Natural Resources Chairman Bruce Westerman (R-Ark.).
Rounding out the 16 are Reps. Ken Buck (R-Colo.), Warren Davidson (R-Ohio), Thomas Massie (R-Ky.), Tom McClintock (R-Calif.), Alex Mooney (R-W.Va.), Bill Posey (R-Fla.) and David Rouzer (R-N.C.).
Hudson and Posey each missed one vote on the debt ceiling.
Rep. John Curtis (R-Utah) also has never voted to raise the debt ceiling but was not included because he entered Congress late in 2017 via a special election.
What they're saying: Axios reached out to the office of every member on the list. For a shot at some of their votes, much will depend on just how much McCarthy is able to negotiate.
A spokesperson for Norman said the congressman "will almost certainly not support a 'clean' debt-ceiling increase" but "remains optimistic" about the current negotiations leading to spending cuts.
Emmer did not say whether he would vote to raise the debt ceiling but told Axios in a statement that the "United States will not default on its debt. Period." He added that Republicans have a responsibility to meet "our obligations while fulfilling our promise to voters who elected us to rein in reckless federal spending."
The other side: Democrats have already cast doubt on McCarthy's ability to round up the votes on any plan for spending cuts, given the GOP's deep divisions.
"[W]e know why the speaker has struggled and is unable to produce a plan — delaying it or avoiding it — he doesn't have the votes for one, in all likelihood," Senate Majority Leader Chuck Schumer (D-N.Y.) said from the floor this month.
What to watch: The Treasury Department has already initiated what it calls "extraordinary measures" after the U.S. officially hit its $31.4 trillion debt limit in January.
The real deadline for raising the debt ceiling will likely come in late summer, after which the U.S. will risk defaulting on debt payments, but no one knows for certain just when. The Congressional Budget Office puts it in late July or early August.
Go deeper