Biden White House touts GOP "receipts" on Social Security cuts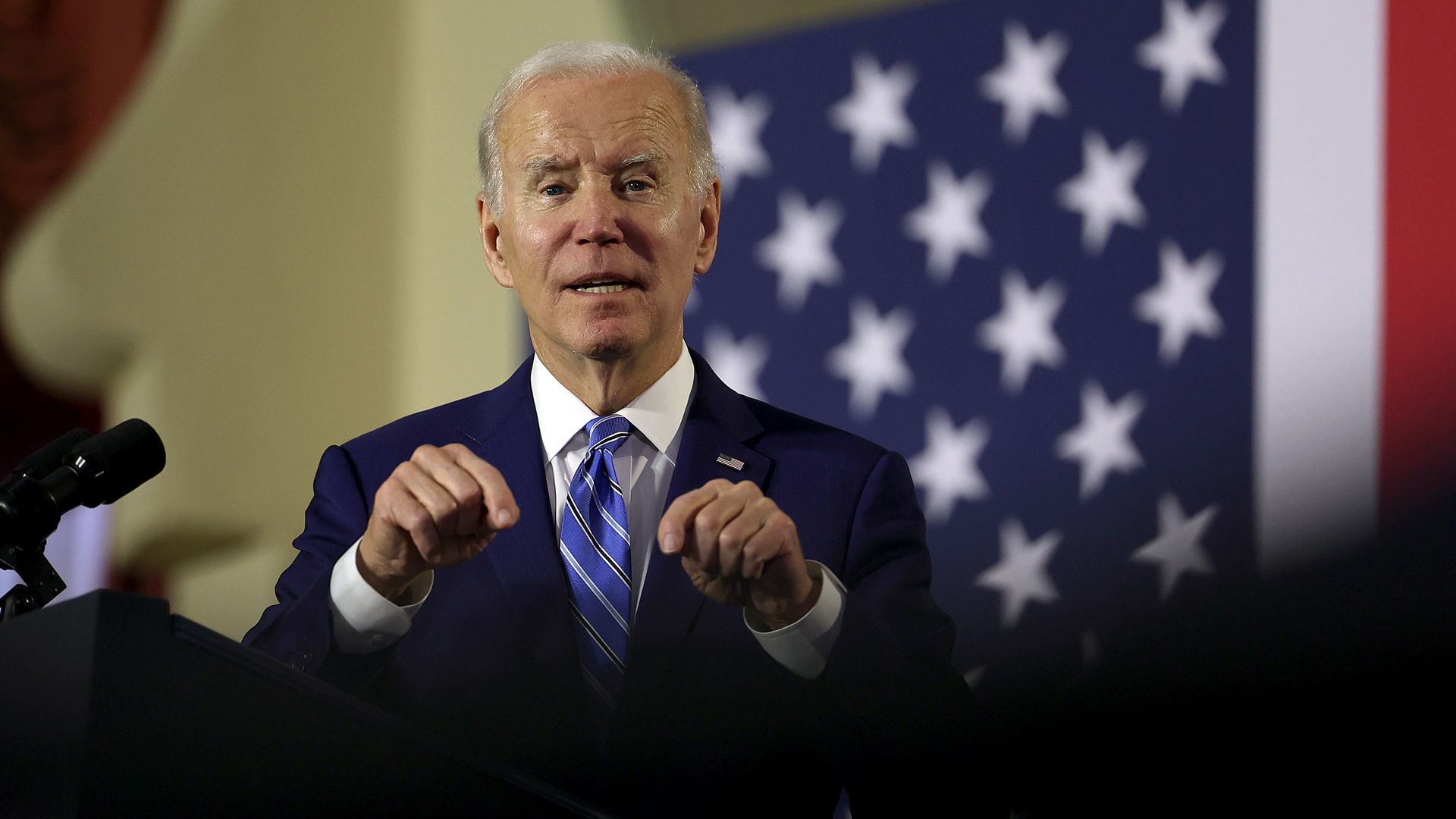 President Biden's State of the Union address was just the start of Democrats' strategy of seizing on years of Republican efforts to restructure or decrease long-term spending on Social Security and Medicare.
The big picture: The back-and-forth over these programs has dominated headlines while Biden and House Speaker Kevin McCarthy (R-Calif.) negotiate over the debt ceiling.
Republicans may turn to slimming down other federal, non-defense programs, but the wrangling over Social Security and Medicare underscores the economic — and political — stakes for both parties and the people they represent.
McCarthy said the House would not pass a "clean" debt ceiling with no strings attached.
Many Republicans have demanded that the Biden team stop saying the GOP wants to do away with those retirement programs, but Sen. Ron Johnson (R-Wis.) called Social Security a "Ponzi scheme" the day after Biden's speech.
Driving the news: "The receipts are undeniable," White House spokesperson Andrew Bates told Axios in a statement, pointing to a "continuing list of congressional Republicans" like Johnson and Sen. Rick Scott (R-Fla.), who has proposed sunsetting all federal legislation after five years.
Biden's advisers are also calling attention to a proposal by more than 160 conservative House Republicans to raise the age requirement for Social Security to 70, and a separate effort by nearly two dozen House Republicans to repeal the Inflation Reduction Act.
"It's irreconcilable to support Medicare and Social Security benefit cuts in the name of supposed 'fiscal responsibility,' while at the same time adding $3 trillion to the national debt with a seemingly endless gravy train for rich special interests," Bates said.
State of play: Republican leaders of both chambers have distanced themselves from outright cuts to the two programs.
House Speaker Kevin McCarthy (R-Calif.) said Social Security and Medicare should be "completely off the table" in broader spending negotiations tied to raising the debt ceiling.
Senate Minority Leader Mitch McConnell (R-Ky.) has rejected Scott's plan. "That was the Scott plan, that's not a Republican plan, that was the Rick Scott plan," McConnell said in a recent podcast interview.
McConnell's remarks elicited pushback from Sen. Mike Lee (R-Utah), who tweeted in response: "Would Chuck Schumer ever do this to any member of his conference?"
Go deeper