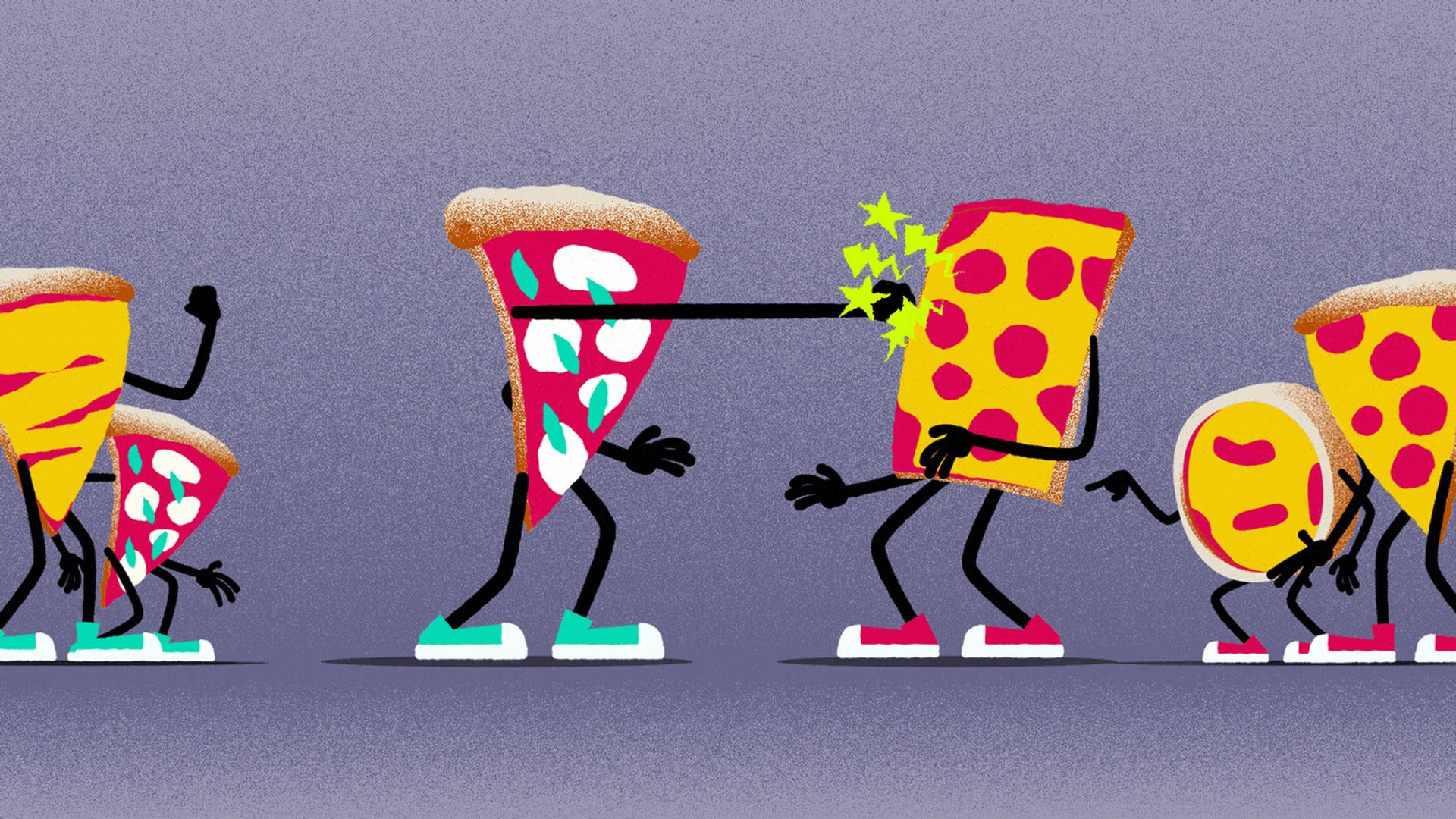 Nothing brings a city together — or tears it apart — like arguing over pizza.
What's happening: After five rounds of competition, and more than 22,000 votes from Axios readers across our 26 local newsrooms, we can now crown a winner of our ultimate pizza bracket … *drumroll please* … Chicago!
State of play: Detroit put up a good fight, but lost to Chicago by more than 500 votes in the final round.
Of note: We left pizza monolith New York City off the bracket because Axios Local doesn't have a newsroom there — yet.
Chicago wins bragging rights and a free pizza party for its Axios readers.
Axios Chicago's thought bubble: Champs! Far too many people think Chicago pizza is just one style, but our readers know that our pizza is tops in several different categories. Most Chicagoans don't even like deep dish.
Deep dish is what you get at O'Hare. Tavern-style is our pie of choice, and we will defend it against any other city.
Superlatives
While there can only be one best pizza city, we still wanted to name some notable runner-ups and biggest losers:
🤬 Best smack-talking: Richmond beat much-bigger Columbus in round one with the power of shade. "Columbus is a city that takes the simple perfection of pizza, puts it on a cracker, is stingy with sauce and calls that a unique city style. We in Richmond call that a lunchable."
💪 Best underdog: Austin knew going into the bracket they'd have a tough time taking down heavy-hitters like Chicago and Detroit, but they forged on and made it to the Final Four.
💩 Sorest loser: Philadelphia. After losing in the Elite Ate (and the Superbowl — ouch!), the Philly newsletter ran a diatribe of disses for all four of the remaining cities. "What's more Philly than talking trash after a loss?"
🤯 Biggest upset: Denver beating Phoenix in round 1. "How on Earth did Denver beat Phoenix?" one Axios reader asked. "Phoenix has Chris Bianco! Does Denver even have restaurants?"
🚀 Most surprising run: Nashville. After making it to the Elite Ate, I guess Nashville does have more than bachelorette parties, country music and hot chicken. They didn't make it to the Final Four, but they exceeded everyone's expectations.
🫣 Worst loss: Dallas received only 14% of the votes against Chicago in the Elite Ate — the biggest blowout of the bracket thus far.
🥊 Best rivalry smackdown: Atlanta vs. Charlotte. In one of the closest races of the bracket, Atlanta beat out its "cute little Southern shadow."
Read more:
Editor's note: This story has been updated with the final results of Axios Local's pizza bracket.
Go deeper