Blinken eyes balloon détente in possible China meeting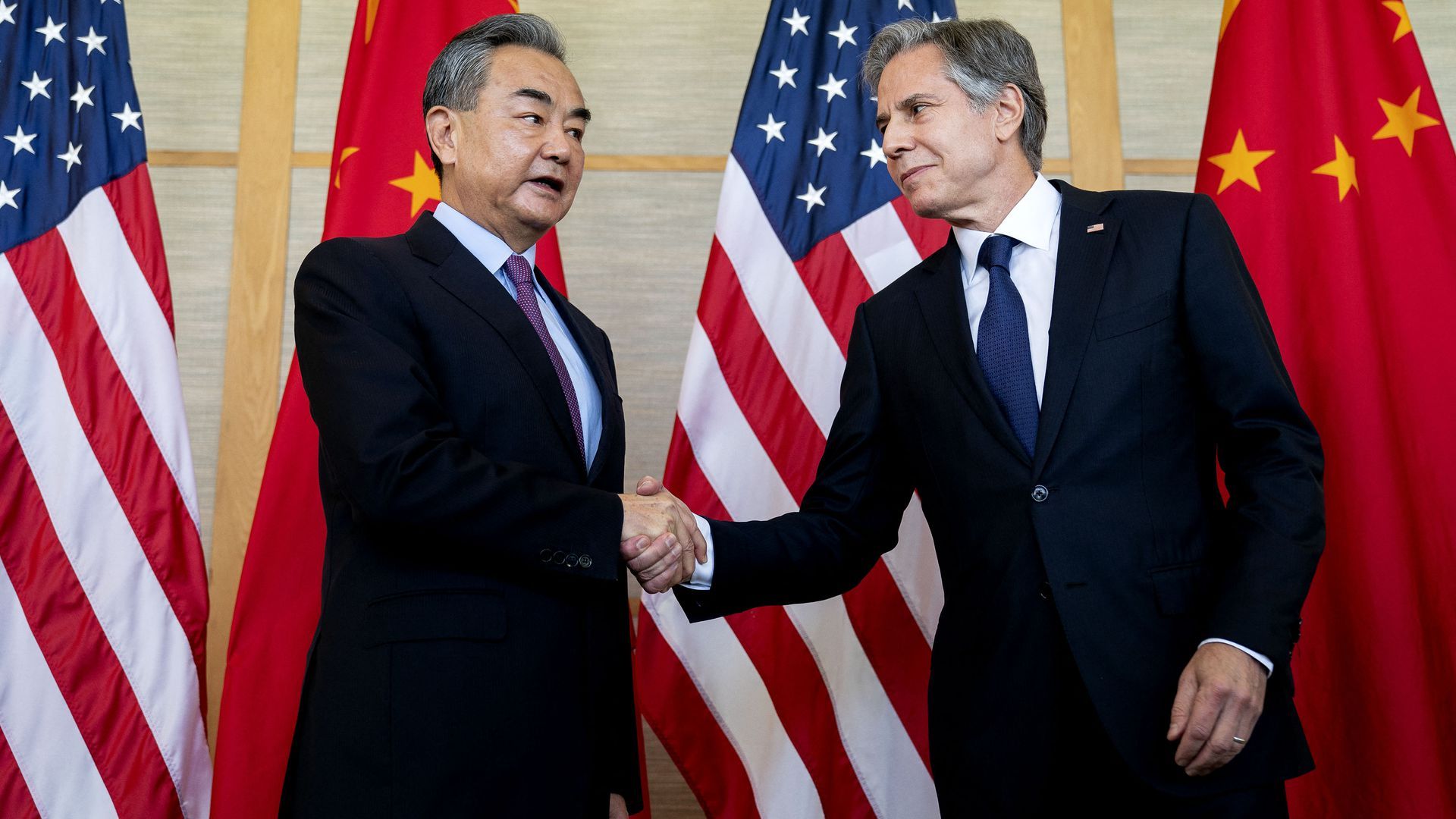 U.S. officials privately expect Secretary of State Antony Blinken to use a potential meeting with China's top diplomat this week to de-escalate tensions over the downing of a Chinese government spy balloon this month.
Driving the news: The State Department on Wednesday formally announced Blinken's plan to attend the Munich Security Conference, giving him an opportunity to re-establish high-level communications by sitting down face-to-face with his Chinese counterpart, Wang Yi.
Between the lines: The meeting has not been officially confirmed, but administration officials are preparing for it to take place. A failure for Blinken and Wang to meet would indicate how far the U.S.-China relationship has deteriorated.
The detection of the balloon, which Beijing claimed was a civilian airship that blew off course, forced Blinken to postpone his planned trip to China on Feb. 4, citing a "clear violation of U.S. sovereignty and international law."
Beijing on Wednesday threatened to take unspecified "countermeasures" over the downing of the balloon, after accusing the U.S. of sending surveillance balloons over China's territory at least 10 times — an allegation U.S. officials promptly rejected.
Context: The annual Munich Security Conference is held at the Hotel Bayerischer Hof, an intimate setting designed to facilitate easy conversations — and lasting relationships — among government officials from across the world.
Vice President Kamala Harris, the highest-ranking U.S. official in attendance, will deliver a speech as part of the conference.
Harris also indicated this week that the U.S. is ready to move on from the balloon incident, telling Politico that she does not believe it should affect relations: "We seek competition but not conflict or confrontation."
The big picture: Blinken's previously planned trip to China was a key step in a carefully choreographed diplomatic dance to improve the Biden administration's relations with Beijing after two tumultuous years.
In addition to President Biden's meeting with Chinese leader Xi Jinping on the sidelines of the G20 in November, Blinken and Wang have met several times outside of China over the last two years.
U.S.-China relations have been especially strained over the last year due to tensions over tech competition, cybersecurity, Beijing's support of Russia's invasion of Ukraine, and aggression toward Taiwan, Axios China author Bethany Allen-Ebrahimian writes.
Following Blinken's visit, Treasury Secretary Janet Yellen was scheduled to travel to China for important conversations on the state of the global economy.
After a positive meeting with her counterpart, Liu He, in Zurich last month, she both announced her trip and extended an invite to Liu's successor to the U.S.
Not only are those trips on ice, but Beijing also declined to schedule a conversation between Defense Secretary Lloyd Austin and his counterpart hours after the U.S. downed the balloon.
Bloomberg first reported the possibility of a Blinken-Wang meeting.
What they're saying: "It's possible, but no meetings have been confirmed," a U.S. official told Axios.
"We're always assessing options for diplomacy," State Department spokesman Ned Price told reporters Monday. "I'll have to let the PRC (People's Republic of China) speak to Wang Yi's potential travel."
"We are open and we are committed to keeping lines of communication open," he said.
Flashback: As a senator, Biden was a frequent attendee in Munich and chose the security conference as the destination of his first foreign trip as vice president in 2009.
Less than a month into his own presidency, Biden used the 2021 Munich summit, which was virtual, to declare that "America was back," emphasizing his commitment to diplomacy after the Trump presidency.
He also previewed his China policy: "Competition with China is going to be stiff," Biden said.
Go deeper