Senators demand Biden speech after classified briefing on aerial objects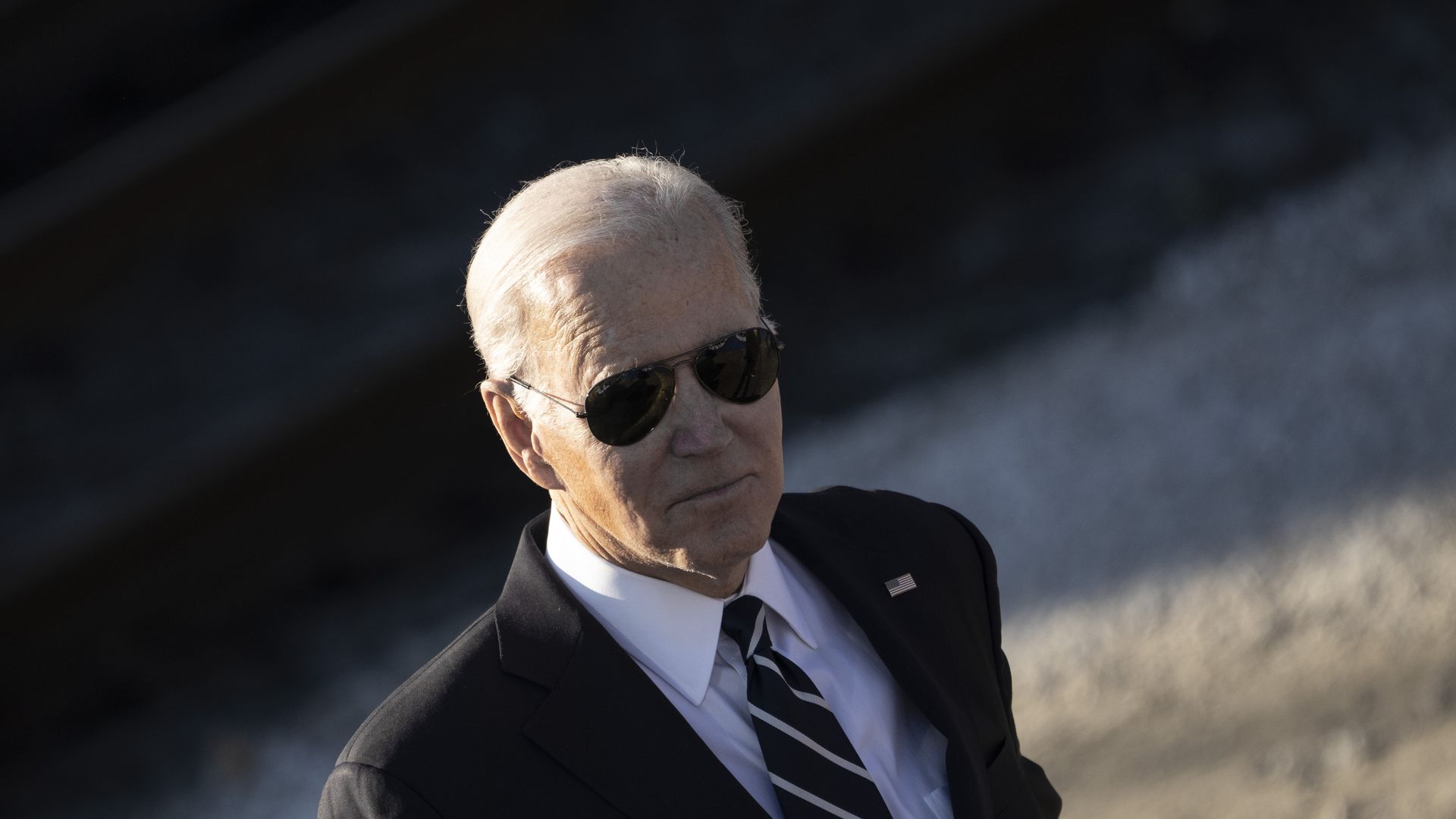 Senators who attended a classified briefing Tuesday on the three UFOs shot down over the weekend — referred to as "UAPs" by briefers — said they hope to get more information as recovery efforts get underway.
Why it matters: Lawmakers in both parties are demanding greater transparency from the administration on these incidents, with several Senate Republicans saying Tuesday that President Biden should address the nation on the operations.
"Americans are worried, they're concerned, they're interested and they have a right to know why President Biden directed the actions they did over the last week," said Sen. Tom Cotton (R-Ark.), whose call was echoed by Sens. Roger Marshall (R-Kan.) and Josh Hawley (R-Mo.).
"[We need to] get more information. They need to be more transparent to the American public and to us," said Sen. Rick Scott (R-Fla.) as he left the briefing.
"What I'm pressing for is greater transparency," said Sen. Ron Johnson (R-Wis.), "If we have pictures of these things, release them. The American people can handle them."
The other side: Sen. Kirsten Gillibrand (D-N.Y.) said Biden "can make his own decision about whether ... this rises to the level that he needs to address the nation."
"They're trying to give us information as best they can, but they don't have a lot of new data yet," said Sen. Mike Rounds (R-S.D.). "[T]hey're trying to get the data so they can actually give us the information that is supported with hard facts."
Yes, but: Senators in both parties said they want further briefings as more information becomes available.
"I think we still need more information," said Sen. Gary Peters (D-Mich.), chair of the Senate Homeland Security and Governmental Affairs Committee. "They don't want to make any definitive statements until they've actually recovered the debris."
Zoom in: Pentagon and NORAD officials said the remoteness of the locations — the Alaskan coast, Canada's Yukon Territory and Lake Huron — is making it difficult to recover the objects, according to more than a half dozen senators.
The briefers were also careful not to classify the objects, senators told Axios. "They didn't rule anything out other than they don't think they are balloons on the order of the Chinese balloon," said Hawley, "[and] they didn't think they were aliens."
Briefers also said the objects did not pose a direct danger to people on the ground. "We [don't] have confirmation yet as to whether they had surveillance capabilities, but they certainly didn't pose any kinetic threat to the United States," said Sen. Chris Murphy (D-Conn.).
Sen. Thom Tillis (R-N.C.) said he left the briefing believing the administration has responded well: "They've done a good job of getting our situational awareness [about these objects] to where it is today."
What they're saying: Several senators suggested there was a change in how the Pentagon responds to these objects after they allowed a Chinese spy balloon to fly across the U.S. mainland earlier this month before shooting it down over the Atlantic — which prompted criticism from Republicans.
"What's new is that they were shot down, which is extraordinary, because we've never shot down any of these things," said Sen. Marco Rubio (R-Fla.), the top Republican on the Senate Intelligence Committee, "and over one weekend, we shot down three."
Hawley said his "distinct impression" is the Chinese balloon saga has made the administration more trigger happy, telling Axios that senators pressed the briefers on this point and "they acknowledged the change, but nobody has answers as to why."
"All of a sudden they're shooting down [these objects] … they don't know what these things are, whether they're balloons or something else, and now they're doing it at a moment's notice," he said.
Several senators who spoke to Axios said that the briefers referred to the objects as UAPs, but there was some disagreement as to whether that stands for "unidentified aerial phenomena" or "unidentified aerial platform."
What we're watching: "It's an expensive endeavor to scramble planes and jets, shoot these down and then muster recovery teams," said Murphy.
"We just have to decide whether that's going to be our continued approach when we see one of these."
What's next: Senators said the briefers indicated they will have more information to share with Congress once the objects are recovered.
Go deeper